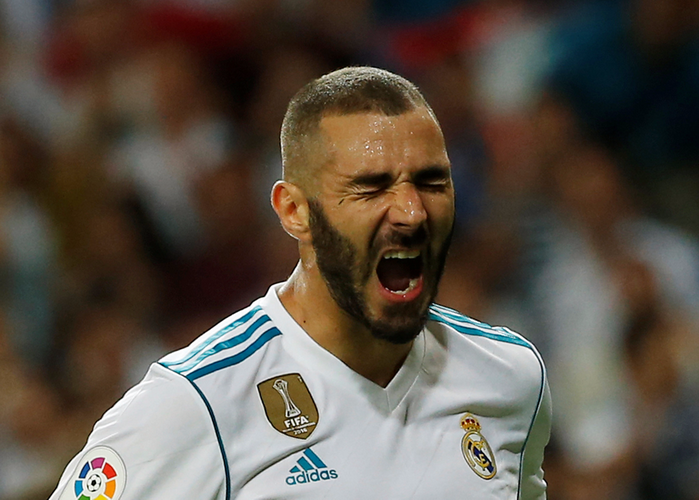 Karim Benzema a French national of Algerian descent is currently playing as a striker for Real Madrid and the France national team. The forward has been labelled as immensely talented many times by football experts however, he has been out of form for too long.
Benzema has been in the radar of English football club Arsenal for quite some time now and they are keenly interested in signing Real Madrid's striker.
Real Madrid, on the other hand are also not content by their forward's performance in this season as he has only been able to score 4 La Liga goals this term. This has hurt Real Madrid in the La Liga tournament as they their current standing has dropped down to the 3rd position with only 57 points in their possession.
Their arch rivals, Barcelona lead the table by 72 points and this has become quite worrisome for the Spanish club. This is also one of the main reasons as to why Madrid is looking to dispose off their striker and well Arsenal seems to be interested and they have been for some years now.
However, Real Madrid is prepared to accept a deal only if Arsenal includes Hector Bellerin along with the monetary value that they have put on the table.
But Arsenal's manager, Arsene Wenger is not willing to give up more than £35.5 million for the Madrid striker.
On the other hand, Real Madrid's Owner, Florentino Perez wants a raise of at least £20 million more of the price that Arsenal have offered. This offer is exclusive of Hector Bellerin's inclusion in the deal.
Real Madrid are keen to buy Bellerin as their rival cub Barcelona is also interested in the defender and this move by Madrid, if successful will kill two birds with one stone. They will get rid of Benzema who has been in poor form all season and subsequently disrupt their rival club's deal by taking Hector Bellerin who also happens to be a World class defender.
Meanwhile, Eden Hazard is also being targeted by Real Madrid but no official news has come out yet about the Chelsea striker regarding this matter.
For updates regularly visit: Allsportspk