Rugby Football Union: Steve Brown Resigns As Chief Executive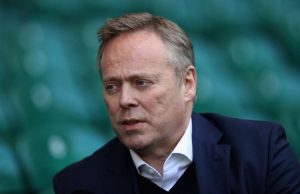 Following 14 months in the job, Steve Brown has resigned as CEO of the Rugby Football Union.
Steve succeeded Ian Ritchie in September 2017, however has declared he will leave the job toward the year's end.
Chief of professional  rugby Nigel Melville will be between time CEO until the point that a substitution is named.
Steve Brown is to step down as CEO of England's Rugby Football Union (RFU), the governing body said on Friday, days after the sport's biggest and richest union defended itself against claims by one his predecessors of poor financial management.

— Craig Weissenberger (@CraigWeissenbe1) November 16, 2018

Subsequent to joining the RFU in 2011, Brown was elevated to CEO in the wake of filling in as CFO and overseeing executive of the World Cup in 2015.
One of his first critical choices was to hand an agreement expansion to England manager Eddie Jones, which matched with the group's poor run, while the RFU's funds have gone under substantial examination, with in excess of 60 individuals from staff made repetitive, and cuts at grassroots dimension.
In spite of the challenges, Brown has remained a prominent figure, with senior RFU staff comprehended to be crushed by his takeoff.
RFU Chief Executive to stand down: NEWS: England's Rugby Football Union announced on Friday that Chief Executive Steve Brown will stand down at the end of the year – less than 10 months from the World Cup in Japan.

— PowerHouse Rugby Dot Com ? (@PHRTeamBrian) November 16, 2018
Senior RFU figures are comprehended to be crushed by the news of Brown's flight – and firmly dismiss proposals he has been constrained out in view of the monetary troubles at the association.
The CEO is accepted to have turned out to be tired and disappointed with the killing from RFU grandees, for example, Francis Baron, whose most recent assault in The Times this week is thought to have been the straw that broke the camel's back.
' RFU in turmoil after chief executive Steve Brown's shock resignation: • News follows 64 staff redundancies at Twickenham• Timing surprise as RFU prepares for World Cup yearSteve Brown is to step down as chief executive of the Rugby Football Union.. ' https://t.co/uzVnZgrRRh

— freebigbets.com (@freebigbets) November 16, 2018
Brown takeoff has no effect on Eddie Jones' situation as England head mentor. He marked Jones to an agreement expansion until 2021 – relying upon England's execution at one year from now's World Cup, with a semi-final finish accepted to be the base prerequisite.
The chase for Jones' successor is being driven by Melville, not Brown.
For more updates keep visiting allsportspk