LPC LAHORE: Hissam Ali Hyder struck nine goals to steer Black Horse Paints to a thumping 11-4 victory over Guard Group in the Samba Bank Lahore Open Polo Championship 2017 match played here at the Lahore Polo Club (LPC) ground on Wednesday.
Besides nine-star Hissam, Sufi M Amir and Sufi M Haris – who contributed with one goal each – completed the tally for the victors. Ahmed Nawaz Tiwana converted two goals while Taimur Mawaz Khan and Abdul Rehman Monnoo hit one goal apiece from the losing side.
It was a treat to watch how Hissam, who displayed quality polo skills to maintain his supremacy throughout the match and kept on scoring impressive goals one after another in all the four chukkers. Such a brilliant performance from Hissam shows why he is considered as the best polo player of the country.
Hissam opened Black Horse Paints' account with a fabulous field goal which was soon equalized by Guard Group through Abdul Rehman Monnoo. The highly-charged second chukker saw superhero Hissam playing flawless polo and smashing in back-to-back four goals to give his team 5-1 edge. In the dying moments of second chukker, Ahmed Nawaz Tiwana converted one for Guard Group to reduce the gap to 5-2.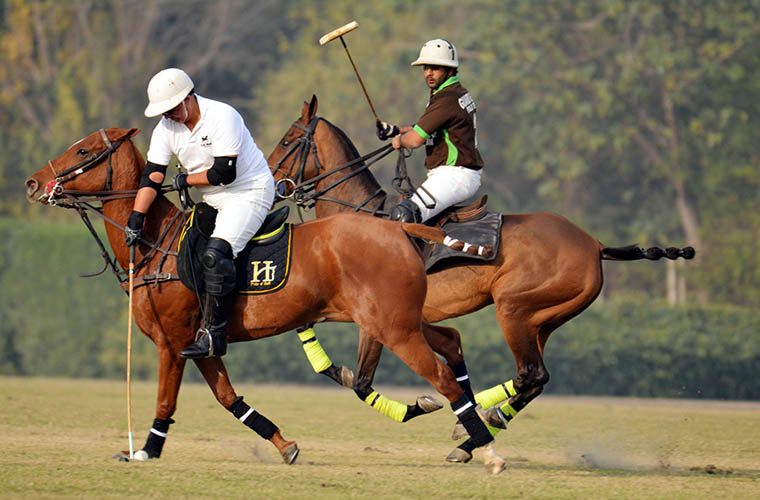 Hissam once again dominated the third chukker and hammered a convincing hat-trick to provide his team unbeatable 8-2 lead while Taimur Mawaz Khan struck one to reduce the margin to 8-3. Another hat-trick was hammered by Black Horse Paints but this time scores were two brother Sufi Amir and Sufi Haris, who pumped in one goal apiece, and Hissam had also his share this time as well as he contributed one more to complete his tally of nine goals and guided his team to 11-4 victory. Mumtaz Abbas Niazi and Major Omer Minhas supervised the match.
Two matches will be contested on Thursday, as Diamond Paints will face Allied Bank challenge in the first encounter of the day at 2:00 pm while Barry's will play against Future Developers/Rijas in the second encounter at 3:00 pm.
For updates regularly visit: Allsportspk