Shangrila Scrabble Champions Trophy: Moiz Ullah Baig – The Title Holder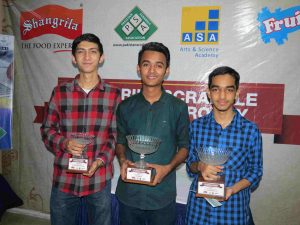 KARACHI: The inaugural Shangrila Scrabble champions trophy came to an end here at the Arts and Science Academy, Karachi.
The Shangrila Champions Trophy is the toughest scrabble tournament in the domestic circuit as only the top 26 players based on the national rating are eligible to play.
Former world youth champion Moiz Ullah Baig confirmed his status as the new giant of scrabble in Pakistan by winning the trophy and a cheque of Rs. 35,000.
Shangrila Scrabble Champions Trophy: Day 2 – Waseem Khatri Back On Top
2018 has been the best year of Moiz's career as he dislodged Waseem Khatri as the Pakistan's No. 1 ranked player for the first time and also won the national championship in July.
Moiz remained in the top 5 positions throughout the tournament but was in a serious danger of missing out when he lost a few crucial matches on the the final day. Moiz had to win his last two games to climb back to the top.
Moiz finished with 18 wins out of the 27 matches and maintained a spread of 1525.
The most serious threat to Moiz didn't come from the usual suspect Waseem Khatri but from the 12 year old Syed Imaad Ali. It is very rare to see a runner-up overshadowing the eventual champion but the way the preteen Imaad played the entire focused turned to him.
Shangrila Scrabble Champions Trophy: Day 1 – Moiz Baig Leads
The wonderboy defeated Moiz three times and Waseem Khatri twice and remained on top for most of the final day. In fact the little master had a two games lead with three matches to go but Moiz somehow managed to sneak through.
Imaad also won 18 matches but finished as the runner-up due to a lower spread that Moiz.
20 Year old Hammad Hadi; the reigning title holder of Princess Cup won in Thailand last year also shone on the last day and clinched the third spot after defeating Waseem Khatri in the final match of the day.
Hammad won 17 matched and maintained a spread of 921
Veteran Tariq Pervez made an astonishing recovery on the final day winning 9 of the last ten matches to climb to the 4th position winning 17 matches with a spread of 891
8-time national champion Waseem Khatri had one of the roughest days of his career. After ending day two on top Waseem lost 7 of the last ten matches and had to be contented with the 5th position
13 year old Hasham Hadi finished an admirable 6th while former national champions Sohaib Sanaullah was 7th
Jawed Shamim, Shahzaib Khatri and Faheem Naqvi made up the rest of the top ten
The chief guest Dr. Maleeha Ahmed awarded the trophies to the winners and announced that further tournaments will also be held at Arts & Science Academy.
For more updates keep visiting allsportspk