Squash-WSF Ambassador Programme, Kenya 2019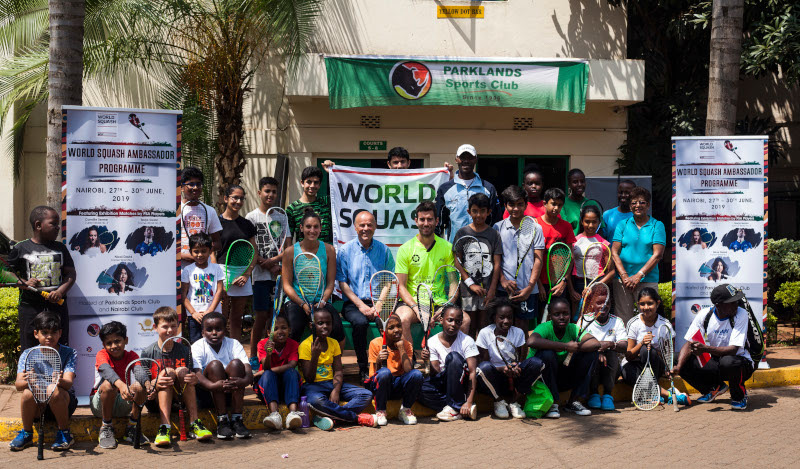 NAIROBI: Lead by the three legendary Squash players, the 2019 WSF Ambassador Programme concluded at the Nairobi Club.
The comprehensive programme of squash activities involved clinics of players, sessions of coaching, refereeing workshops, exhibition matches.
This effort was spear headed by 8 time World Champion and ex-world No. 1 from Malaysia Nicol David, world No.3 of France Camille Serme, and a former world No.5 Spaniard Borja Golan, alongwith with Belgian national coach Ronny Vlassaks and international referee Marko Podgorsek, from Slovenia.
The participants included players of all ages from across Kenya. Especially, the three international stalwarts played with the top Kenyan players Keriri Muya and Otto Kwach. And also the children of the Kenya's top two players, KhaaliqaNimji and Muqtadir Nimji availed the opportunity to learn from the greats.
Squash-Pan American Junior Championship '19: Hosts Canada Wins Gold

Khaaliqa at the age of 12-years, played Nicol David in the Mixed Doubles event of 2010 Commonwealth Games. After which she took a break from her education and trained for the 2018 Games in Scotland.
The WSF Ambassador Programme historical journey has been as follows:
2011 – First visit was to Latvia, a Baltic country,
2013 – African countries of Malawi and Namibia,
2913 – Panama and Venezuela,
2014 – Papua New Guinea,
2015 – Balkan region countries Serbia, Romania and Croatia,
2016 – Dalian and Macau in China,
2017 – Visit postponed,
2018 – Armenia and Ukraine.
For more updates keep visiting allsportspk