Squash-Pan American Junior Championship '19: Hosts Canada Wins Gold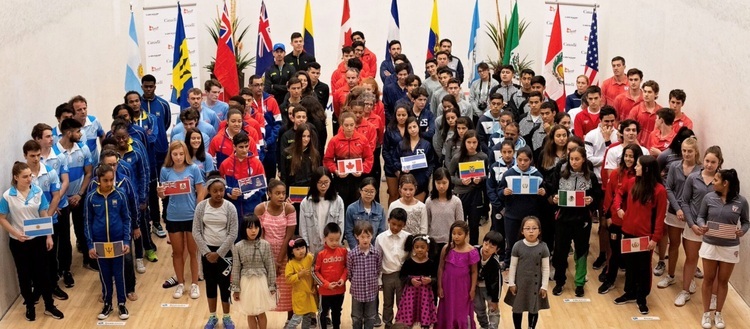 Canada strikes gold in the Pan American Junior Squash Championship, while hosting the event for the first time.
The 17th edition of the championships, including singles, doubles and team events, were held at Mayfair Lakeshore Racquet Club, Toronto.
Canadian players enjoyed a fair share of success as they recovered from a match down in the women's team final to beat Ecuador by 2/1.
Similar to the women's game, Argentina came from behind in men's team final to bet Mexico by 2/1 after the runner up conceded the second match.
Ecuador and Mexico shared the medal table at the top, each won single gold, two silvers and single bronze.
In men's singles finals, Mexico clinched historic gold when Leonardo Vargas defeated Juan Carlos Vargas in the first ever final between twin brothers.
Barbados surprised everyone with gold in mixed doubles when Meagan Best and Khamal Cumberbatch shocked No. 1 and No. 2 seeds to claim the title.
Colombia earned four medals in championship, winning gold in the women's doubles. Lucia Baustista and Rios after losing first game, fought back to overcome Naina Mital and Molly Stoltz of Untied States in the final.
Peru ended the journey with a medal as well. Rafael Galvez and Martin Leon upset two top seeds to conquest in the men's final and clinched gold.
The results were as follows:
Men's Individual Finals

[1] Leonardo Vargas (MEX) bt Juan Carlos Vargas (MEX) 10-12, 12-10, 11-9, 11-8
Women's Finals

Maria Moya (ECU) bt Meagan Best (BAR) 6-11, 11-9, 11-9, 11-8
Men's Doubles Finals:

Rafael Gálvez & Martin Leon (PER) bt [2] Nicolas Serna & Andres Villamizar (COL) 5-11, 11-7, 11-10
26th Asian Junior Individual Squash C'ship: Day 2
Women's Finals:

Lucia Bautista & Amalia Rios (COL) bt Nina Mital & Molly Stoltz (USA) 6-11, 11-6, 11-10
Mixed Doubles Finals:

Meagan Best & Khamal Cumberbatch (BAR) bt [1] Maria Moya & David Costales (ECU) 11-6, 9-11, 11-7
Men's Team Finals:
ARGENTINA bt MEXICO 2/1

Jeremías Azaña lost to Leonardo Vargas 7-11, 7-11, 3-11
Dylan Tymkiw w/o
Francisco Paita bt Axel Maldonado Juarez 11-7, 10-12, 7-11, 11-0, 11-4
Women's Team Finals

CANADA bt ECUADOR 2/1

Charlotte Orcutt lost to Maria Moya 7-11, 7-11, 6-11
Brianna Jefferson bt Maria Caridad Buenano 10-12, 11-7, 11-8, 6-11, 11-6
Erica McGillicuddy bt Emilia Falconi 11-6, 11-8, 11-4
For more updates keep visiting allsportspk