Tennis: Rafael Nadal Donates $1.15 Million To Flood Victims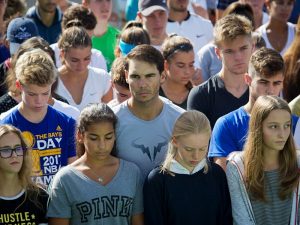 Spanish tennis star Rafael Nadal has given a million euros ($1.15 million) to the casualties of the floods that hit the Spanish Balearic island of Mallorca, the place where he grew up. An aggregate of 13 individuals died after floods hit Mallorca on October 9.
In a video distributed by the Spanish government, civic chairman Mateu Puigros focused on that Nadal gave a donation, despite being not able partake in a exhibition game, for helping individuals who were influenced by the catastrophe.
Tennis Corruption Report: Live Streaming Of Low-Tier Events Not Recommended
Nadal was compelled to suspend the match which was at first planned for December 7 as he needed to go through a surgery on his right ankle towards the beginning of November. The 17-time Grand Slam champion joined the clean-up tasks and opened up his foundation for the affected individuals.
Beyond what he's already done, Rafa Nadal just made a personal donation €1M to the municipality of Sant Llorenç, in the western part of Majorca, the most affected by the October floods. https://t.co/DrPQ7VYABq #tennis #charity

— (((?????? ?????™))) (@lynnlovestennis) December 20, 2018
"We know about his affection and humanity, which is as great as his talent and his results and he has shown that both on and off the court"https://t.co/IAOSVKsSV7

— India Today Sports (@ITGDsports) December 20, 2018
Tennis – ATP Finals: Five Cities Shortlisted As Playing Venues For 2021
Spanish tennis star Rafael Nadal turned up in Mallorca to help with the clean-up effort after flash floods killed 13 people and caused massive damage. Now the world number two has donated a million euros to help victims rebuild https://t.co/YnW46cYzAQ

— El País in English (@elpaisinenglish) December 20, 2018
World Tennis Rankings – 15th December '18: Djokovic Retains Top Position
For more updates keep visiting allsportspk