Test Cricket: England Move To 4th Position After Series Win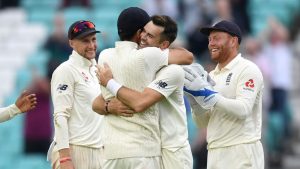 England have overtaken New Zealand to grab fourth position in the MRF Tyres ICC Test Team Rankings after completing a 4-1 series victory over India at The Oval on Tuesday.
David Miller Announces Retirement From First Class Cricket
The home side had started the series in fifth position and 97 points but the emphatic victory over top-ranked India has resulted in a big gain of eight points and lifted them to 105 points.
Joe Root's England test cricket side are now just one point behind South Africa and Australia, who are both on 106 points with the former marginally ahead on decimal points. With New Zealand not far behind on 102 points, there are now four teams within a space of five points of each other on the points table.
England Cricket – Alastair Cook Announces Retirement
India remain in top position despite the loss but the result has seen them lose as many as 10 points. The Virat Kohli-led side had started the series at 125 points and are now on 115 points.
In terms of the future of England.
Our current world ranking and where we finished in the World Cup is a false position. We are not the 4th best country in world football

It's a fantastic platform to build on we are a young side with limited international experience.

— Delaney Gibson (@Delaney8) 10 September 2018
Happy Farewell #AlastairCook!

Congrats @jimmy9 on becoming the highest wicket-taker as a pace bowler & moving to the 4th position for taking most wickets in Test Cricket.

Congrats @RishabPant777 on scoring your maiden ?.

Congrats England on winning the series 4-1.#INDvENG

— Ankit Agarwal (@ankitagarwal_10) 11 September 2018
India Vs England 5th Test Day 5: James Anderson Breaks Glenn McGrath's Record
For more updates keep visiting allsportspk