The AFP-Athletics Federation of Pakistan decided to send the Tokyo Olympics qualified Javelin thrower Arshad Nadeem to Kazakhstan for training.
Arshad threw the Javelin to a distance of 86.29 m during the 13th South Asian Games 2019, which rendered him qualified for the forthcoming Tokyo Olympics.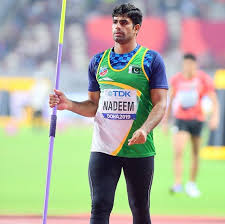 Along with the training in Kazakhstan, Arshad will keep testing his skill during international events in Middle East and Central Asia.
Viktor Yevsyukov who will train Arshad was a javelin thrower, who during his active career represented the Soviet Union and afterwards Kazakhstan. During his career Vicktors performances included:
1. Bronze Medal – European Championship 1986 in Germany.
2. Silver Medal – World Championship 1987 in Italy.
3. 5th position – Seoul Olympics 1988.
Arshad and his Pakistani Coach Fayyaz Bukhari will depart for Kazakhstan during October.
Arshad belonging to Mian Chunu, Khanewal will keep honing his skill under supervision of Fayyaz and Viktor in Kazakhstan till Tokyo Olympics set to commence on 23rd July 2021.
After the Tokyo Olympics, Arshad may proceed to Finland which was also the present choice, however, Kazakhstan was preferred.