WBSC Premier12 2019- Major Baseball Event: Details Revealed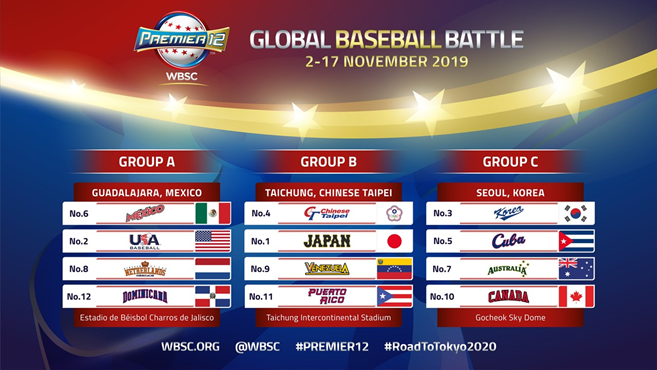 MEXICO CITY: The major international baseball battle will be held from 2-17th November 2019, in Jalisco – Mexico, Seoul – Korea and Taichung – Chinese Taipei.
WBSC – World Baseball Softball Confederation revealed the groups and locations for the II WBSC Premier12 event, which is the annual top international baseball competition and a qualifier for Tokyo 2020 Olympic Qualifier.
The Premier event will be staged during 2-17th November 2019 and will have participation of the 12 best world ranked Men's Teams of National standing.
The mentioned development was announced in the capital city of Mexico, which included:  – FEMEBE – Mexican Baseball Federation, LMP – Charros de Jalisco professional baseball club of the Mexican Pacific League, Mexico's National Commission for Physical Culture and Sport CONADE, and the Government of Jalisco.
Besides the trophy of the 2019 WBSC Premier12 was also unveiled by the Mexican President Andrés Manuel López Obrador and the WBSC President Riccardo Fraccari.
The Groups and Locations announced were as appended below:
Group A features:
The host will be the Charros at Estadio de Beisbol Charros de Jalisco.
The global tournament Game 1 will be held on 2nd November.
World No. 2 – USA
World No. 6 – Mexico
World No.8 – Netherlands
World No. 12 – Dominican Republic
Group B features:
These four teams will compete at Taichung Intercontinental Stadium.
The group will be hosted by CTBA – Chinese Taipei Baseball Association.
World No. 1 – Japan
World No. 4 – Chinese Taipei
World No. 9 – Venezuela
World No. 11 – Puerto Rico.
Group C features:
The teams will play at Gocheok Sky Dome, Seoul
World No.3 – Korea
World No. 5 – Cuba
World No. 7 – Australia
World No. 10 – Canada.
According to the rules, the two top teams in each group will move on to Super Round, which will be played by the six-team. This round will be hosted by Japan's Nippon Professional Baseball (NPB) league and played at Chiba's ZOZO Marine Stadium and the iconic Tokyo Dome.
In the final standing of the Premier12, six teams from the Asia/Oceania territory and the top finisher from the Americas will be directly entered into the Olympic Baseball event at the Tokyo 2020 Games, which will be without having to go through qualifiers.
For more updates keep visiting allsportspk