30th National Women Hockey Championships '18: Semi-Final Teams Decided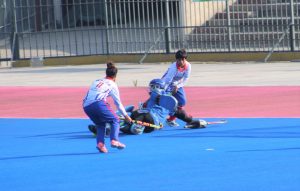 LAHORE: It was the last day of the pool stage of the 30th National Women Hockey Championships at the National Hockey Stadium, Lahore.
Qualification for Sunday's semifinals from the pool B went to the wire; between WAPDA, HEC and Railways.
As expected, the Higher Education Commission had an easy win over Sindh Whites (18-0) in the first match of the day.
Sana Akhtar (6) and Sidra Hakim (5) were the main goal getters.
It came down to the match between last edition's runners up Railways and the pool leaders Army. Railways required a win while a draw sufficed for army. All this led to an exciting encounter. The two sides displayed attacking game. Army created more chances but the strong defence by either side resulted in a goal less draw. Thus army moved to the last four, also topping the pool.
Hockey Series Open 2018-19: FIH Grants to Pak; PHF Calls 115 Probables
In the match between the two bottom placed, pointless and goal less sides of this pool, Islamabad prevailed upon KPK 2-0 Shafaq and Komal Sajjad scored for the federal capital.
Last match of the pool A was between the sides who had already qualified for the semis, defending champions WAPDA and Punjab Colours. Both had won the previous three games. WAPDA enjoying a better goal difference. only needed a draw to top the pool while Punjab required a win. WAPDA women showed electric form and ran way with a 5-0 win with goals from Afsheen, Hammara, Ambreen, Ishrat and Sana Allahditta.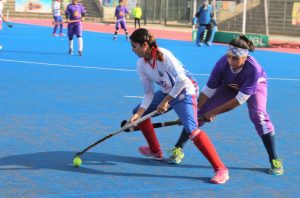 Results:
HEC beat Sindh Whites 18-0
Army drew Railways 0-0
Islamabad beat KPK 2-0
WAPDA beat Punjab Colours
POOL A
| | | | | | | | | | |
| --- | --- | --- | --- | --- | --- | --- | --- | --- | --- |
| PS | TEAMS | P | W | D | L | GF | GA | PTS | GD |
| 1` | WAPDA | 4 | 4 | 0 | 0 | 50 | 0 | 12 | +50 |
| 2. | PUNJAB (C) | 4 | 3 | 0 | 1 | 23 | 5 | 9 | +18 |
| 3. | PUNJAB (W) | 4 | 2 | 0 | 2 | 8 | 11 | 6 | -3 |
| 4. | SINDH (C) | 4 | 1 | 0 | 3 | 1 | 16 | 3 | -15 |
| 5. | BALOCHISTAN | 4 | 0 | 0 | 4 | 0 | 50 | 0 | -50 |
POOL B
| | | | | | | | | | |
| --- | --- | --- | --- | --- | --- | --- | --- | --- | --- |
| PS | TEAMS | P | W | D | L | GF | GA | PTS | GD |
| 1. | ARMY | 5 | 4 | 1 | 0 | 41 | 0 | 13 | +41 |
| 2. | HEC | 5 | 4 | 0 | 1 | 58 | 2 | 12 | +56 |
| 3. | RAILWAYS | 5 | 3 | 1 | 1 | 53 | 2 | 10 | +51 |
| 4. | SINDH (W) | 5 | 2 | 0 | 2 | 6 | 48 | 6 | -42 |
| 5. | KPK | 5 | 1 | 0 | 4 | 2 | 49 | 0 | -47 |
| 6. | ISLAMABAD | 5 | 0 | 0 | 5 | 0 | 59 | 0 | -59 |
For more updates keep visiting allsportspk