Women's Tennis: Simona Halep Suffers Back Injury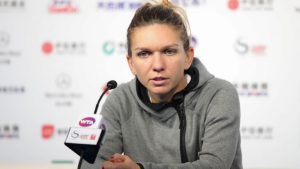 Earlier this week, the Women's No.1 tennis player, Simona Halep who retired from the China Open, due to an injury, has now updated her status on twitter.
Hi everyone, wanted to give you a quick update. I had an MRI on my back and found out I have a disk hernia.
I will discuss with doctors in the next few days but hope to be back soon and will keep you updated. Thanks for all your support ❤️ pic.twitter.com/tQ6cFTsB9o

— Simona Halep (@Simona_Halep) October 2, 2018
Tennis – US Open '18: Simona Halep Knocked Out
Prior to her injury, the Romanian had suffered defeats in consecutive matches, and it was her last match against Ons Jabeur in Beijing, where Halep suffered from disk hernia and was forced to quit.
To further investigate the implications of the injury, Halep has also gone through an MRI scan. At present, there has been no clear sign from the 27-year-old, as to how long she will be away from the tennis court.
"There is pain, I couldn't move properly. I'm very worried now", says Simona Halep after retiring (1-6) against Ons Jabeur due to back injury. The World number 1 will now go back home to do a MRI. Treatments done since last week obviously not helping enough. Get well soon,Simona! pic.twitter.com/4F15HB3Dde

— China Open (@ChinaOpen) September 30, 2018
Simona Halep: I'm just worried now… The muscle is better. But now I started to feel yesterday in the bones. So it's really tough when you have back injury because you cannot bend, you cannot react at the balls. All the body was really contracted.

.

— ഫഹദ് (@vikramanmuthu) October 1, 2018
You poor thing I hope you'll be ok! Here's hoping that you make a speedy recovery! Stay strong Simona! ?????

— Alex Peers (@dj_themes) October 2, 2018
For more updates keep visiting allsportspk