Shocking: Zimbabwe National Rugby Team Spend Night On Street In Tunisia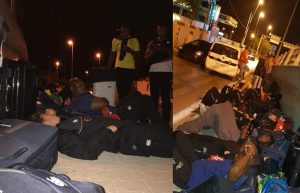 The Zimbabwe National Rugby team were in Tunisia for a Test match that is a part of the 2019 World Cup qualifying campaign. But, lack of travel allowances forced the Zimbabwean national rugby team to spend a night in the streets.
This incident was first pointed out on social media which became viral in a matter of hours.
Although, there was a pre-booked accommodation for the team but the standard plus the hospitality was so poor that Zimbabwe National Rugby team recorded their protest by sleeping on the street.
Overnight, this incident became such a big issue that in the morning, Tunisia Rugby Union and Rugby Africa made an official statement in which they apologized. And, assured that alternative accommodation has been arranged for the National Rugby team.
Here are some of the reactions of angry and concerned fans as they express their views about this incident regarding Zimbabwe National Rugby Team.
I'm told this is our national rugby team, sleeping in the open in Tunisia. How was such an embarrassment allowed to happen? A lot of of questions for the:

• hosts, Tunisia
• Zimbabwe Rugby Union bosses
• Sports & Recreation Commission
• Sports Minister and his team pic.twitter.com/lnz1zmfom1

— Alex T Magaisa ?? (@Wamagaisa) July 3, 2018
Zimbabwe Rugby Union says Rugby Africa has received an official complaint regarding the distasteful treatment of their Rugby players in Tunisia. They have been moved to a worthy hotel. Zimbabwe provided a luxury bus with AC & quality accommodation for Tunisian players in Zimbabwe

— Africa Facts Zone (@AfricaFactsZone) July 3, 2018
I today tabled Motion to the floor of the National Assembly that requests the National Government to promote Rugby sport through establishment of National Rugby Union Stadium and regional high performance centres in order to nurture gifted players.??

— Hon Gideon Keter (@GideonKeter) July 4, 2018
So @BrandKenya reinstates sponsorship of #Kenya7s but the fundamental problems at The Rugby Union prevail 1. Delayed player salaries 2. Player contracts expire every July and may/may not be renewed in October. 3. Lack of proper medical insurance for players etc #TheScoreKE

— Carol Radull (@CarolRadull) June 29, 2018
These were only some of the reactions. For more move on to the next page!