16th Men's Softball World Championship 2019, Czech: Groups & Schedule Announced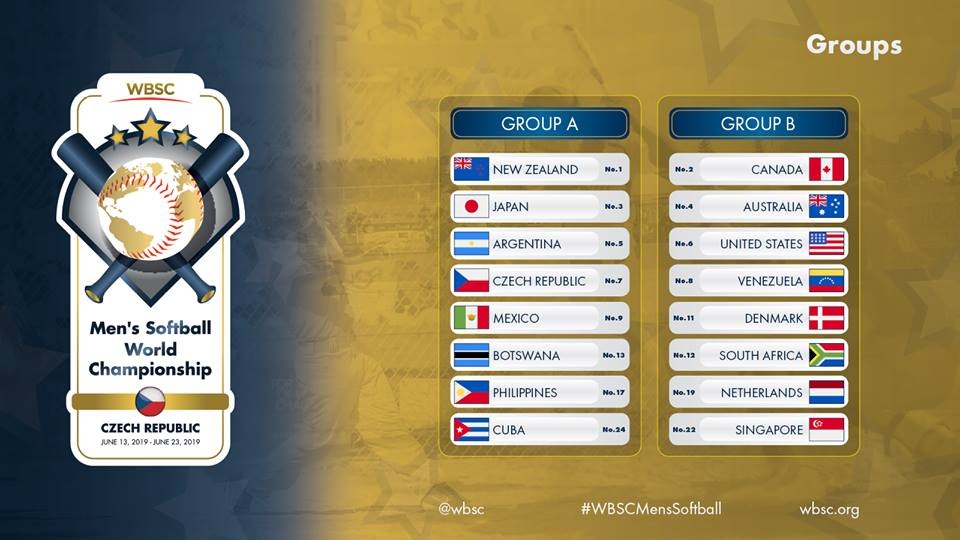 The 16th WBSC Men's Softball World Championship 2019 — the highest-level global softball competition will be held from 13th-23rd June in the Czech cities of Prague and Havlickuv Brod.
The WBSC – World Baseball Softball Confederation announced the group draw and a 72-game schedule, will determine the best softball country/team in the world
Global Groups
Group A includes:
World No. 1 New Zealand,
No. 3 Japan,
No. 5 Argentina,
No. 7 Czech Republic,
No. 9 Mexico,
No. 13 Botswana,
No. 17 Philippines and
No. 24 Cuba.
Group B includes:
No. 2 Canada,
No. 4 Australia,
No. 6 USA,
No. 8 Venezuela,
No. 11 Denmark,
No. 12 South Africa,
No. 19 Netherlands and
No. 22 Singapore.
According to WBSC Softball Division Chairman, Tommy Velazquez, "Having teams from every continent in each of the two groups is another manifestation of men's softball's global impact, and how WBSC softball competitions are embraced all around the world." Elaborated that, "Staging the first ever flagship men's softball world championship in Europe is just another step in the WBSC strategy to expand softball across the planet, and strengthen the game as a true worldwide, massive sport, both in men and women's branch."
The 72-Game Schedule
The men's softball pinnacle tournament will feature 72 games across 11 days of competition, before crowning the best softball team in the world.
Following the Opening Ceremony on 13 June at 18:00 local time, host Czech Republic and defending world champion New Zealand will officially open the global tournament.
The World Championship Finale is slated to be played on 23 June at 19:30, following the bronze medal match at 16:30.
After the Opening Round, the top four teams of each group will advance to the playoffs to battle For the Title of World Champion in an eight-team, single-elimination bracket.
To view the 
full schedule —
as well as all tournament information, including rosters, stats and standings — of the WBSC Men's Softball World Championship (MSWC) 2019, visit the official tournament website at 
 mswc.wbsc.org.
About the World Baseball Softball Confederation
Headquartered in Lausanne, Switzerland — the Olympic Capital — the World Baseball Softball Confederation (WBSC) is the world governing body for baseball and softball. WBSC has 208 National Federation and Associate Members in 135 countries and territories across Asia, Africa, Americas, Europe and Oceania, which represent a united baseball/softball sports movement that encompasses over 65 million athletes and attracts approximately 150 million fans to stadiums worldwide annually.
The WBSC governs all international competitions involving official National Teams. The WBSC oversees the Premier12, World Baseball Classic, Baseball World Cups, Softball World Cups and Softball World Championships, as well as baseball and softball events at the Olympic Games.
Got it, thanks!Received, thank you.Congratulations!
For updates regularly visit: allsportspk