Parkha Ijaz of Defence Raya who plays to a handicap of one was successful in emanating as the title winner in the First Fatima Jinnah Punjab Amateur Golf Championship, played at the Royal Palm Golf and Country Club Golf Course.
In the end a bit of luck played its part as Parkha Ijaz and her forceful opponent Ana James of Royal Palm ended up the championship with scores level at an aggregate score of 246, but as per rules Parkha was awarded the title as she had a better score in the last round. Flow of the competition was tight and the third position in handicap category 0-15 went to Rimsha Ijaz (Defence Raya). Her aggregate score was 247.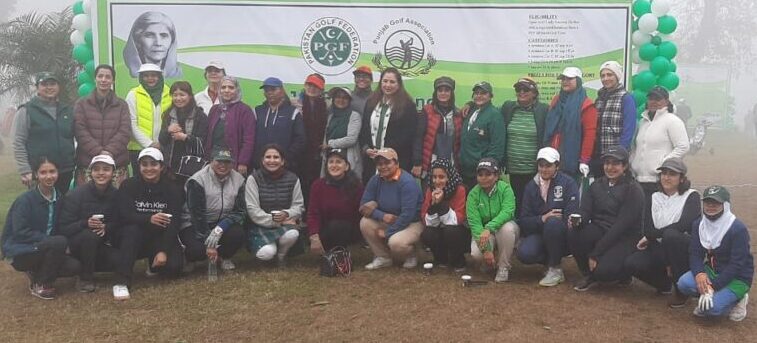 Winner net turned out to be Zaib un Nisa (Royal Palm) and in the race for honors in this category she beat Iman Ali Shah by one stroke. Third place net was secured by Ghazala Yasmin..
Winners in Handicap category 16-24 were Amina Tiwana, first gross, Ayesha Moazzam, 2nd gross and Shahzadi Gulfam, 3rd gross. Winner net was Laiba Ali Shah, while second net went to Dr. Fauzia Umber and third net was secured by Dr. Shaheen Irfan.
In Handicap category 25-36 winner gross was Rabia Tiwana. Second gross winner was Samina Ishtiaq and third gross went to Nighat Akram. Net section winners were Minaa Zainab, first net, Naveela Fahim, 2nd net and Iffat Zahra, 3rd net.
In the Senior Ladies category gross winner was Umber Javed,and gross runner up was Yasmin Mubarik.Ayesha Hamid was net winner and Fareeda was net runner up.
At the conclusion of the 1st Fatima Jinnah Punjab  Amateur Ladies Golf the prizes were awarded to the ladies by Justice (R) Nasira Iqbal, in a ceremony attended by Justice Abid Aziz, Mrs Asma Shami and the main organising lady, Mrs Mina Zainab.