On Day 4 of the Brighto Paints Lahore Open Polo Championship 2021, Remounts, HN Polo and Diamond Paints/Sheikhoo Paints record impressive victories in the ongoing matches played at the historic Lahore Polo Club grounds.
Remounts Vs BN/Diamond Paints
Remounts continued their journey towards earning another high-goal title as they have already won titles in this high-goal polo season. Remounts, this time, outpaced BN/Diamond Paints by 6-4 in the first match of the day. Nicolas Antinori and Raja Temur Nadeem were stars of the day from the winning team as both amused spectators with their splendid polo skills and techniques and contributed with three goals each. From the losing side, Ahmed Ali Tiwana and Abdul Rehman Monnoo banged in a brace each.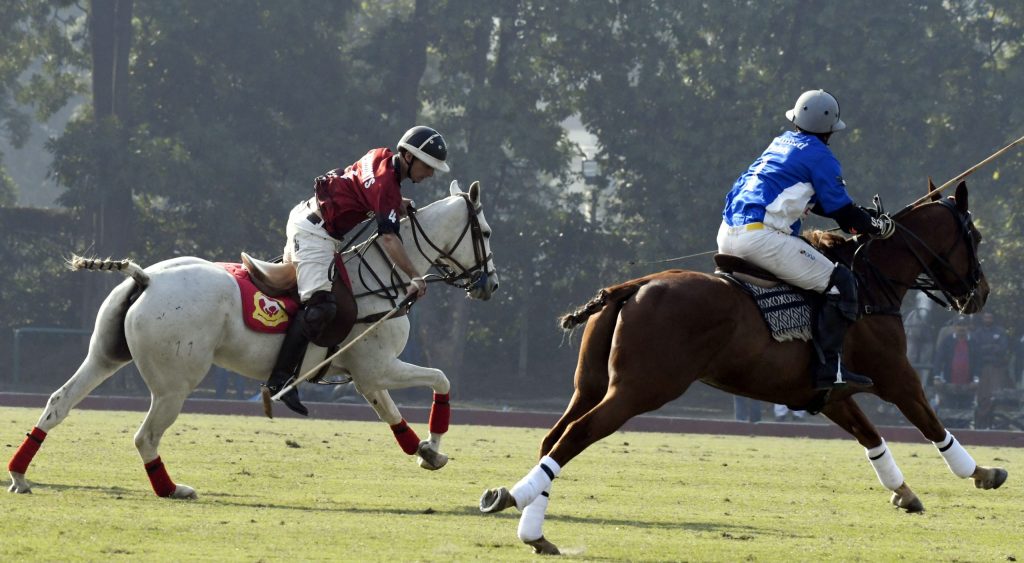 Lahore Open Polo Championship 2018: Day 5
HN Polo Vs Master Paints
The second match of the day was dominated by HN Polo, who outsmarted Master Paints with a good margin of 8-4. Experienced Raja Sami Ullah continued to shine for his team, as he played outstanding polo and smashed in superb six goals while his teammates Lt Col Omer Minhas and Haider Naseem scored one goal apiece. From the losing side, all the four goals were converted by British polo player Evan Power.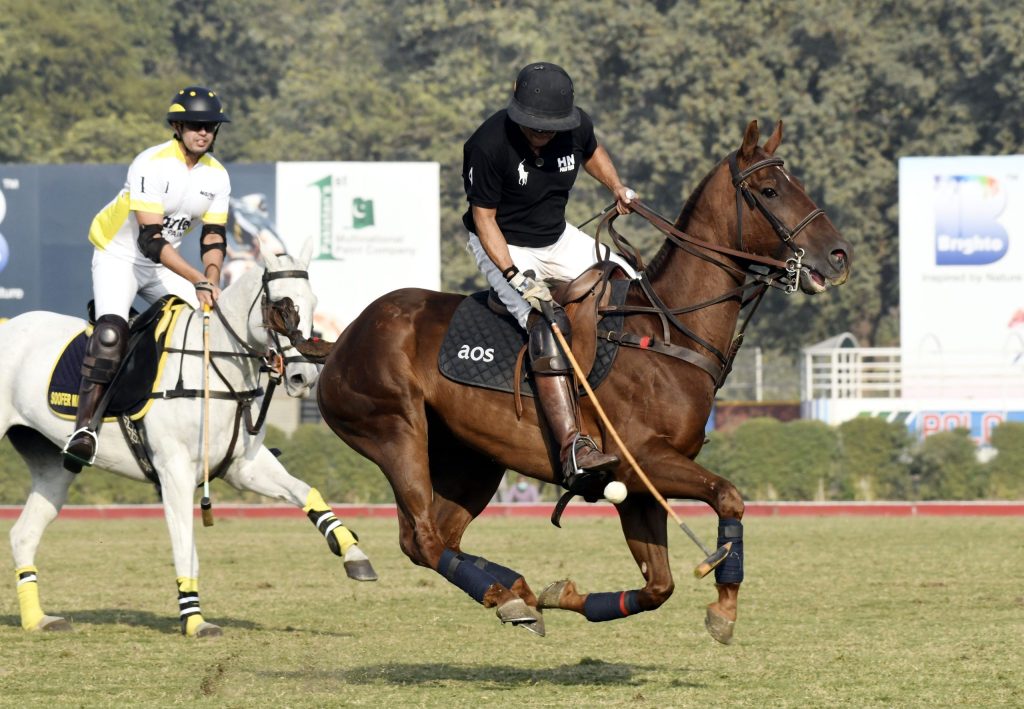 Diamond Paints/Sheikhoo Steel Vs Barry's/BN 2
The third and last match of the day proved to be a thrilling encounter, where Diamond Paints/Sheikhoo Steel defeated Barry's/BN 2 by a narrow margin of 8-7. Andres Llorente was hero of the day from Diamond Paints/Sheikhoo Steel as he displayed high-quality polo skills and techniques and hammered convincing six goals and he was ably assisted by another shinning star Saqib Khan Khakwani, who contributed with two goals each. From team Barry's/BN 2, Hamza Mawaz Khan played superb polo and cracked a classic quartet while Ernesto Trotz three tremendous goals but their efforts couldn't bear fruit for their side.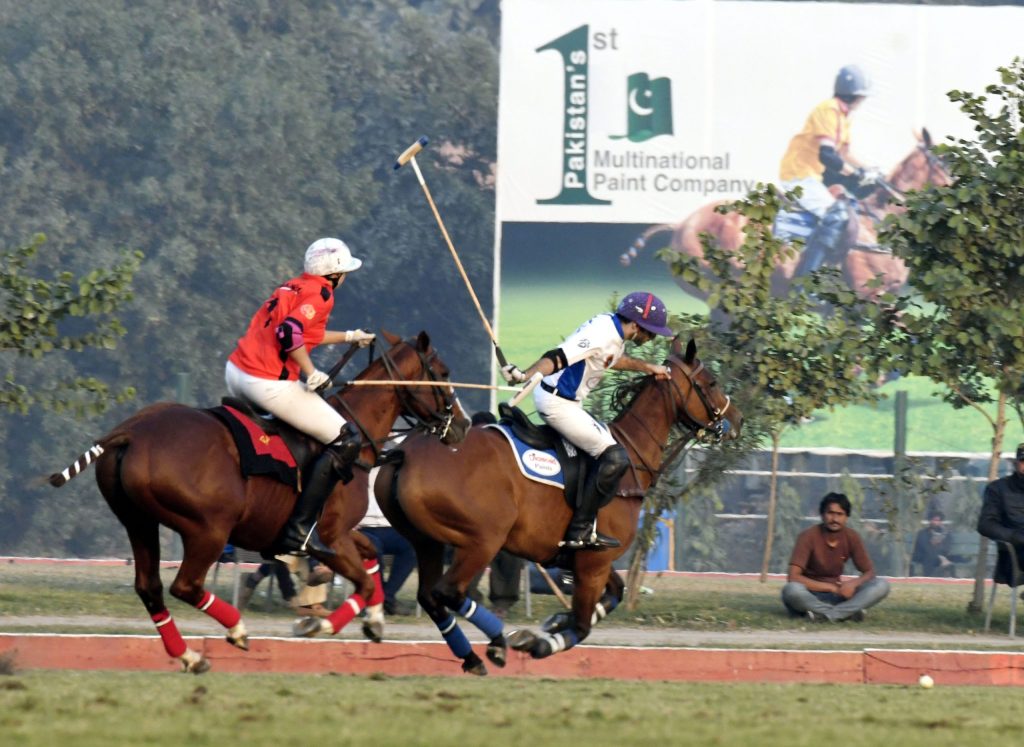 لاہور پولو کلب کے زیراہتمام برائیٹو پینٹس لاہور اوپن پولو چیمپئن شپ 2021ء کے پانچویں روز تین اہم میچز کھیلے گئے جن میں ری ماؤنٹس، ایچ این پولو اور ڈائمنڈ پینٹس /شیخو سٹیل کی ٹیمیں فاتح رہیں۔ تفصیلات کے مطابق برائیٹو پینٹس کے تعاون سے جاری میچز دیکھنے کیلئے تماشائیوں کی اچھی تعداد موجود تھی۔ اس موقع پر لاہور پولو کلب کے صدر عمر صادق، سیکرٹری آغا مرتضی علی، ایگزیکٹو کمیٹی ممبر شاہ قبلائی عالم، ثاقب خان خاکوانی اور آغا نجیب رضا اور فیلمیز بھی موجود تھیں۔ پہلے میچ میں ری ماؤنٹس نے بی این /ڈائمنڈ پینٹس کو 6-4 سے ہرا دیا۔ری ماؤنٹس کی طرف سے نکلوس اور راجہ تیمور ندیم نے تین تین گول سکور کیے جبکہ ٹیم بی این /ڈائمنڈ پینٹس کی طرف سے احمد علی ٹوانہ اور عبدالرحمان منوں نے دو دو گول سکور کیے۔دوسرے میچ میں ٹیم ایچ این پولو نے ماسٹر پینٹس کو 8-4 سے ہرا دیا۔ راجہ سمیع اللہ نے چھ خوبصورت گول سکور کیے جبکہ لیفٹیننٹ کرنل عمر منہاس اور حیدر نسیم نے ایک ایک گول سکور کیا۔ماسٹر پینٹس کی طرف سے چاروں گول ایون پاور نے سکور کیے۔ تیسرے اور آخری میچ میں ڈائمنڈ پینٹس /شیخو سٹیل نے سڈن ڈیتھ پر پانچویں چکر میں انتہائی سنسنی خیز مقابلے کے بعد ٹیم باڑیز /بی این ٹو کو 8-7 سے ہرا دیا۔ ڈائمنڈ پینٹس کی طرف سے ایندرس لورنٹے نے چھ، ثاقب خان خاکوانی نے دو گول سکور کیے۔ باڑیز کی طرف سے حمزہ مواز خان نے چار اور ارینسٹو اوسکر ٹروٹز نے تین گول سکور کیے۔ آج بروز اتوار تین لیگ میچز کھیلے جائیں گے۔