Lahore Open Polo Championship 2018: Day 5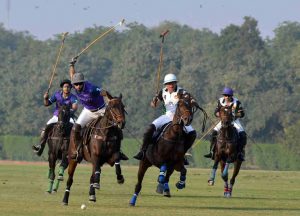 LAHORE: Team Eighteen carved out sensational 9-5 triumph over FG Polo team in the Lahore Open Polo Championship 2018 match played at the Lahore Polo Club ground.
Ahmed Ali Tiwana displayed outstanding polo skills and techniques and played key role in Team Eighteen's impressive victory with his fabulous five goals while Saqib Khan Khakwani and Shahnawaz Ayaz Durrani banged in a brace each. From the losing side, Mir Huzaifa struck two goals while Eulogio Celestino, Shah Shamyl Alam and Abbas Mukhtar contributed one goal apiece.
Lahore Open Polo Championship 2018: Day 4
FG Polo team started the match with a convincing goal through Abbas Mukhtar to take 1-0 lead, which couldn't last long as Team Eighteen fought back really well and thwarted three back-to-back goals to gain a healthy 3-1 lead. Shahnawaz and Saqib were the scorers who converted one and two goals respectively.
The second chukker saw both the sides hitting one goal each with Ahmed Ali scoring for Team Eighteen and Shah Shamyl netting for FG Polo as the second chukker ended with the winning side having 4-2 lead.
Team Eighteen stamped their authority in the third chukker and fully showed their dominance by slamming in fantastic four goals, including an outstanding hat-trick of Ahmed Ali while the fourth goal was converted by Shahnawaz as Team Eighteen got an unassailable 8-2 lead by the end of the chukker.
Ahmed Ali fired in another goal in the beginning of the fourth and last chukker to further enhance his team's lead to 9-2. FG Polo then made a comeback by hammering three consecutive goals to reduce the deficit to 9-5 but it was too little too late for them as when they were struggling to score more, the final whistle was blown and Team Eighteen emerged as winners by 9-5. Nicholas Pepper and Goffredo Cutinelli officiated the match as field umpires.
On Tuesday, PBG/Remounts will take on AOS Polo team in an important match of the tournament.
For more updates keep visiting allsportspk