2018-2019 PSA World Championships: Egyptian Athletes Crowned as World Champions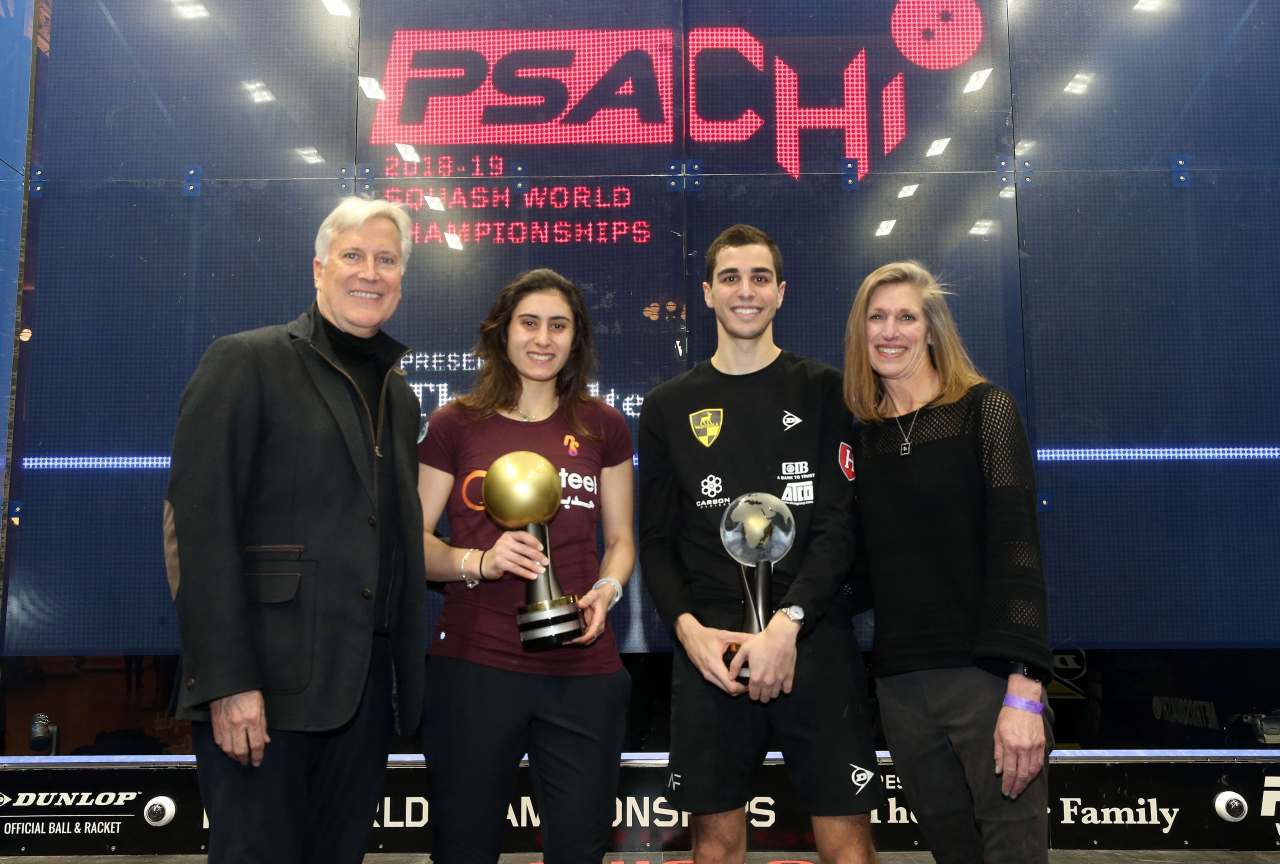 After getting the better of compatriots Nour el Tayeb and Tarek Momen, Egyptian duo ,Nour El Sherbini and Ali Farag have been crowned world champions to win the 2018-2019 PSA World Championships at Chicago's Union Station, presented by the Walter family.
This is the first time that such event has been conducted for both genders. The 2015 PSA World Championships (men only) was in Bellevue, Washington. The credit goes to Mark Walter, the CEO of the financial services firm Guggenheim Partners, who helped fund the prize money and enthusiastically managed the event. Although he is not a player of squash but he became interested in the sport at the 2015 Windy City Open, where he claims to be deeply impressed by the talent of the athletes.
The $1 million tournament of PSA World Championships was the first ever and only one of its kind to split 50% chunk out of the big piece equally between the female and male athletes. With over 2 hours of world-class squash show, Union Station's Great Hall hosted the 2 finals befitting squash's richest tournament.
Farag lifted the sport's most iconic title just twenty-four hours after ousting fellow Egyptian Mohamed El Shorbagy and rose to the World number one spot, by an 11-5, 11-13, 13-11, 11-3 scoreline after 79 holding minutes of action.
Becoming prominent for the first time in the World Championships title deciders list Momen and Farag paved their way through. After losing a game to Farag, the 2nd seed, Momen the 4th seed fought back. A happening 3rd game rolled onto Farag's side on the tea-break that proved to be miraculous for the 26-year-old, resultantly stamping his name into the history books.
Wife El Tayeb made it to the World number 2 in the women's final soon after Farag's win, while El Sherbini captured her 3rd World Championship crown at the age of just 23.
In the history of sports, Farag and El Tayeb made credible efforts to become the 1st married duo to ace the same defining sports titles on the same day of winning the 2017 U.S. Open. El Sherbini aced to the fourth to finally end El Tayeb's resistance, and became the 5th woman to be awarded with 3 World Championship titles after New Zealand's Susan Devoy , Australian duo Sarah Fitz-Gerald and Michelle Martin and Malaysia's Nicol David.
The largest prize winnings are taken home by the married couple : Farag and Sherbani- A total of of $ 70,000 being the largest prize amount in the history of professional squash. Mark and Kimbra Walter, the sponsors of the tournament pictured with the winners, Ali and Sherbini.
Results
– Men's Final
Ali Farag (EGY) beat Tarek Momen (EGY)
3-1: 11-5, 11-13, 13-11, 11-3 (79m)
– Women's Final
Nour El Sherbini (EGY) beat Nour El Tayeb (EGY)
3-1: 11-6, 11-5, 10-12, 15-13 (57m)
For more updates keep visiting allsportspk