On the 2nd day of All Pakistan National Ranking Badminton Tournament 2021 at Charsadda. Murad Ali, Amir Saeed, Anjum Bashir and Raja Muhammad Hasnain reached in the quarter final of the men singles. 
In the 2nd round Amir Saeed Ranked No 39 upset Azeem Sarwar No 4 seeded in the Men's singles category. All other top seeded players Murad Ali, Muhammad Ali Larosh and Irfan Saeed won their matches and moved into next round.
Results of 2nd Day matches played till later evenings are as under. Certain matches are still in progress. 
Men Singles – 1st Round
Ahmed Butt (PB) beat Abul Hassan (Army) by 21-14, 21-19
Muqsit Islam (Army) beat M Rizwan (Wapda) by 21-12, 15-21, 21-17
Awais Zahid (Wapda) beat Muhammad Adnan (Wapda) by 21-18, 24-22
M. Jamal (Army) beat Kashif Nawaz (Wapda) by 21-17, 21-14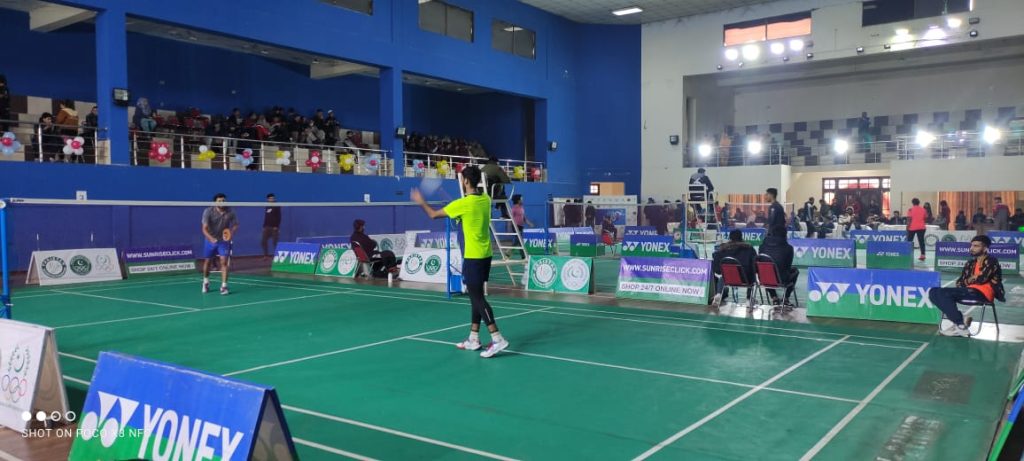 Rehman Haider Nizami (Army) beat Khalil Ur Rehman (KP) by 21-17, 21-19
Ali Mehdi (Wapda) beat Ahmed Faizan (Wapda) by 24-22, 21-13
Usman Shah (Army) beat Ashan Tanveer (ISB) 21-14, 21-17
Raja Hassan (PB) beat Ali Chishti (ISB) by 22-20, 21-14
Abdur Rehman (Wapda) beat Muteeb Sohail (KRL) by 21-13, 11-21, 21-17
Arbab Noman (Army) beat Waqas Aslam (Wapda) by 21-17, 21-19
Muqeet Tahir (Wapda) beat Shehroz Jamil (Wapda) by 21-12, 21-14
Tayyab Shafiq (PB) beat Anas Akhtar (PB) by 14-21, 21-14, 21-19
Shoaib Riaz (Wapda) beat Uaakeph Khan (KRL) by 19-21, 21-16, 21-18
Hamza Khan (KP) beat Mekaeel Khan (KP) by 21-10, 21-16
M Ali Larosh (Wapda) beat Shabbar Hussain (Wapda) by 21-18, 21-18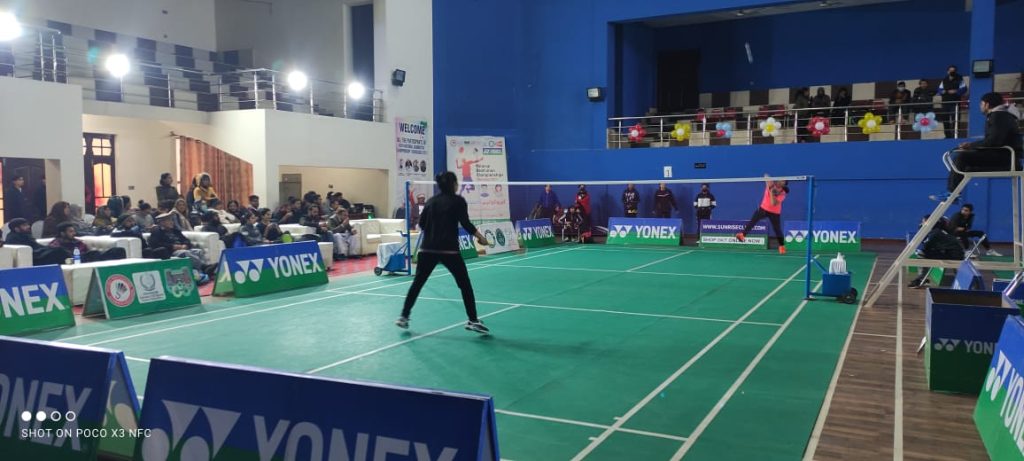 Women Singles – 1st Round
Mahoor Shahzad (Wapda) beat Ammarah Ishtiaq (Sindh) by 21-8, 21-8
Khizra Rasheed (Wapda) beat Mehmoona Ameer (Wapda) by 21-17, 21-14
Urooj Ahmad (KP) beat Rubab Imtiaz (Wapda) by 21-17, 21-9
Khadija Nasir (PB) beat Mehwish Khan (Army) by 13-21, 23-21, 21-17
Palwasha Bashir (Sindh) beat Shehnaz Shah (Wapda) by 21-6, 21-7
Sehar Majeed (PB) beat Aqsa Zikriya (SNGPL) by 21-11,14-21, 21-18
Anmol Rasheed (Wapda) beat Huma Javeed (Wapda) by 21-18, 22-20
Sehra Akram (Wapa) beat Hina Insad (Wapda) by 21-7, 21-17
Sumaiya Tariq (Army) beat Yasmeen Shahzadi (ISB) by 21-16, 21-17
Wardha Gohar (SNGPL) beat Rida Hanif (Army) by 21-15, 21-11
Laiba Masoud (Wapda) beat Umama Usman (Army) by 22-21, 21-11
Bushra Qayum (Wapda) beat Maryam Amir (Wapda) by 21-15, 21-9
Saima Waqas (Wapda) beat Sana Hanif (Sindh) by 21-16, 21-13
Alja tariq (Balo) beat Imama Khuram (ISB) by 21-2, 21-7
Zubaira Islam (SNGPL) beat Sidra Irfan (Wapda) by 21-10, 21-8
Ghazala Siddique (Wapda) beat Hadia Ashfaq (PB) by 21-8, 21-5
Boy's Singles U-13 Pre Quarter Final
Khuzaima Shahzad (PB) beat M. Aryan (KP) by 21-18, 21-11
M Sulaman (ISB) beat Raad Ahmad (PB) by 21-13, 21-15
Haseeb Khan (KP) beat Ragheeb Shah (PB) by 21-14, 19-21, 21-16
Hasnain Fareed (KP) beat Mirza Hafeez (ISB) by 21-10, 21-17
M Harish (KP) beat Samiullah Hashmi (Sindh) by 21-15, 14-21, 21-9
Zain Ul Abdin (PB) beat Deeraj Dhadani (Sindh) by 21-12, 21-11
Najam Ul Saqib (KP) beat Ibrahim Ahmad (PB) by 21-6, 21-8
Men Singles – 2nd Round
Murad Ali (KP) beat Uzair Khan (Army) BY 21-16, 21-16
Shahmeer Iftikhar (SNGPL) beat Ahsan Asif (Wapda) by 22-20, 21-13
Anjum Bashir (PB) beat Tahir Shah (KP) by 21-11, 21-7
Abuzar Rasheed (PB) beat Usama Shafi (PB) by 21-19, 21-15
Amir Saeed (Wapda) beat Azeem Sarwar (Wapda) by 21-19, 22-20
Raja Muhammad Hasnain (PB) beat Ibrahim Rasheed (ISB) by 21-11, 21-13
Muqsit Islam (Army) beat Ahmed Butt (PB) by 11-21, 21-16, 21-11
Ali Mehdi (Wapad) beay Rehman Haider Nizami (Army) by 21-16, 21-12
Hafiz Irfan Saeed (Wapda) beat Usman Shah (Army) by 21-18, 21-13
Awais Zahid (Wapda) beat Muhammad Jamal (Army) by 21-8, 21-12
Raza Ali (PB) beat Aoun Abbas (Wapda) by 21-12, 21-7
Raja Zulqarnain Haider (Wapda) beat Abdullah Latif (Army) by 21-13, 21-14
Muqeet Tahir (Wapda) beat Arbab Nouman (Army) by 21-12, 21-17
Abdur Rehman (Wapda) beat Raja Hassan (PB) by 14-21, 21-19, 21-15
Shoaib Riaz (Wapda) beat Tayyab Shafiq (PB) by 21-17, 21-18
M Ali Larosh (Wapda) beat M Hamza Khan (KP) by 21-14, 21-18
Men Singles – Pre Quarter
Murad Ali (KP) beat Shahmeer Iftikhar (SNGPL) by 21-17, 21-16
Amir Saeed (Wapda) beat Raza Ali (PB) by 17-21, 21-6, 21-12
Anjum Bashir (PB) beat Abuzar Rasheed (PB) by 21-13, 21-18
Raja Muhammad Hasnain (PB) beat Raja Zulqarnain Haider (Wapda) by 21-17, 21-11