On the Day 5, Coca Cola Polo Team, HN Polo and Rijas Development/Master Paints emerged victorious in the Brighto Paints Lahore Open Polo Championship 2021 at the Lahore Polo Club.
Coca Cola Polo Team Vs Newage Cables/Rizvi's
The first match of the day was superbly contested between Coca Cola Polo Team and Newage Cables/Rizvi's and after a tough battle, Coca Cola Polo Team emerged as triumphant by 6-4. Tomas Reinoso was hero of the day from the winning team as he fired in fabulous five goals while Mian Abbas Mukhtar struck one. From the losing side, Tomas Marin Moreno and Adnan Jalil Azam banged in a brace each.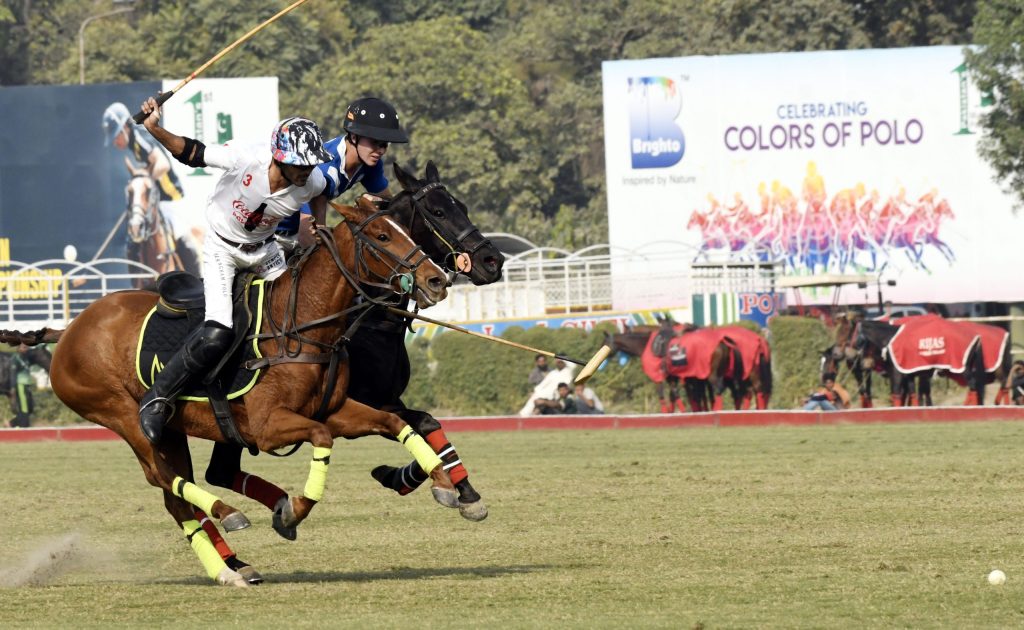 HN Polo Vs Guard Group
The second match of the day was dominated by HN Polo, who outpaced Guard Group by 9-4. Ali Arshad played superb polo and emerged as star of the day from HN Polo, as he he hammered five fantastic goals while he was ably assisted by phenomenonal Raja Sami Ullah, who contributed with a classic quartet. From team Guard Group, Muhammad Reza banged in a brace while Taimur Ali Malik and Naveed Sheikh struck one goal apiece.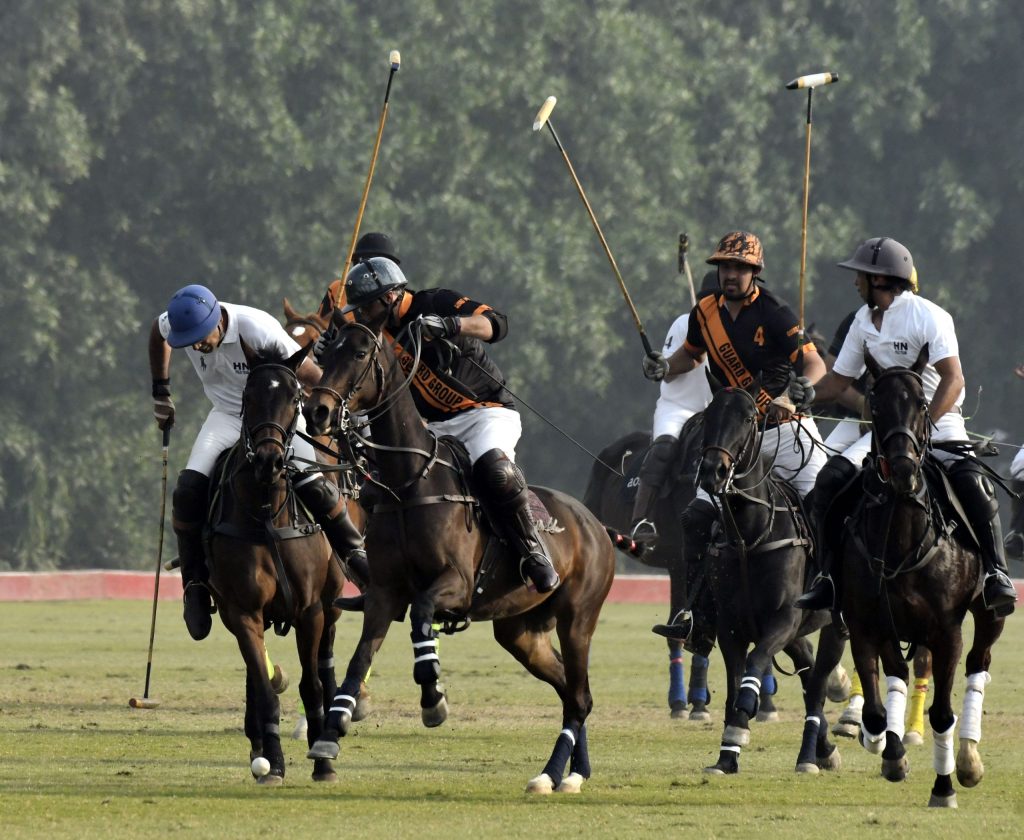 Rijas Development/Master Paints Vs BN/Diamond Paints
The third and last match of the day proved to be a nail-biting encounter, where Rijas Development/Master Paints defeated BN/Diamond Paints by a narrow margin of 6-5. It was team work and collective effort of Mannuel Carranza, Mumtaz Abbas Niazi and Sufi Muhammad Amir, who pumped in two goals each and helped Rijas Development/Master Paints win the encounter by 6-5. From team BN/Diamond Paints, Ahmed Ali Tiwana smashed in four goals while Agha Musa Ali Khan scored one goal.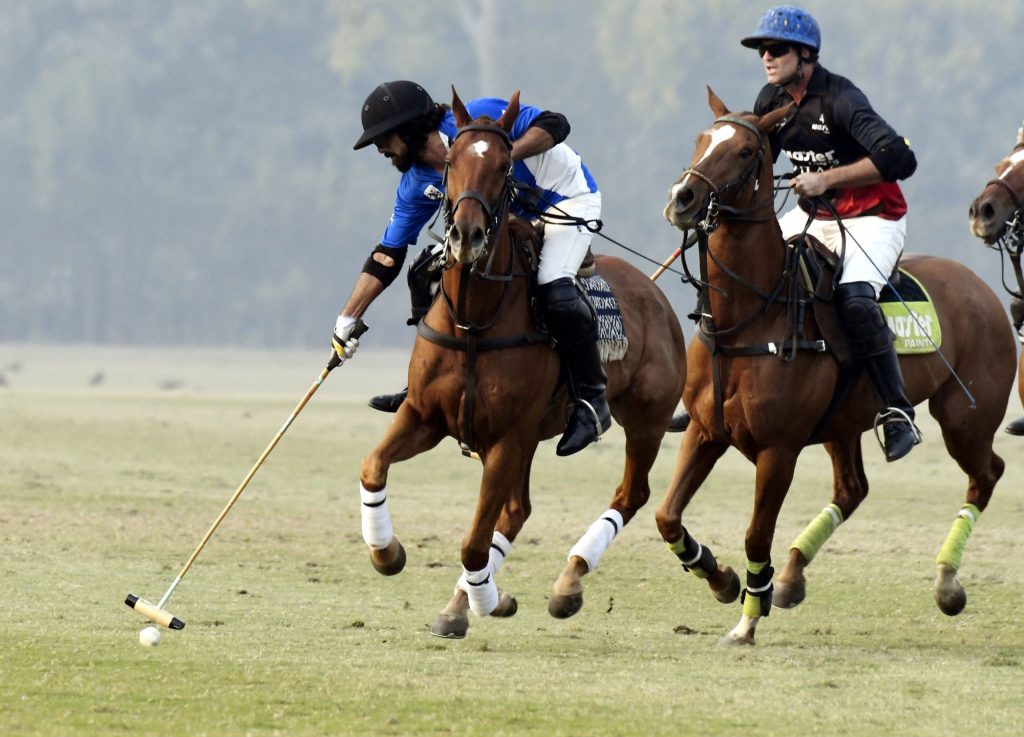 On Monday, 13th December only one match will be played at 2:30 pm.
لاہور پولو کلب کے زیراہتمام برائیٹو پینٹس لاہور اوپن پولو چیمپئن شپ 2021ء کے چھٹے روز تین اہم میچز کھیلے گئے جن میں کوکاکولا پولو ٹیم، ایچ این پولو اور ریجاس /ماسٹر پینٹس کی ٹیمیں فاتح رہیں۔ تفصیلات کے مطابق میچز دیکھنے کیلئے تماشائیوں کی اچھی تعداد اتوار کے روز موجود تھی۔ اس موقع پر لاہور پولو کلب کے صدر عمر صادق، سیکرٹری آغا مرتضی علی، ایگزیکٹو کمیٹی ممبر فیروز گلزار، شاہ قبلائی عالم،عثمان حئی، ثاقب خان خاکوانی، آغا نجیب رضا اور تماشائیوں کی بڑی تعداد خوبصورت موسم میں پولو کے میچز کو دیکھ رہی تھی۔ پہلے میچ میں کوکاکولا پولو ٹیم نے نیوایج کیبلز/رضویز کو 6-4 سے ہرا دیا۔ کوکاکولا پولو ٹیم کی طرف سے تھامس رینسو نے پانچ جبکہ میاں عباس مختار نے ایک گول سکور کیا۔ ہارنے والی نیوایج کیبلز /رضویز کی ًرف سے تھامس میرینواور عدنان جلیل اعظم نے دو دو گول سکور کیے۔ دوسرے میچ میں ایچ این پولو ٹیم نے گارڈ گروپ کو 9-4 سے ہرا دیا۔ ایچ این پولو کی طرف سے علی ارشد نے پانچ جبکہ راجہ سمیع اللہ نے چار گول سکور کیے۔ گارڈ گروپ کی طرف سے محمد رضا نے دوتیمور علی ملک اور نوید شیخ نے ایک ایک گول سکور کیا۔ تیسرے اور آخری میچ میں ریجاس /ماسٹر پینٹس کی ٹیم نے انتہائی دلچسپ مقابلے کے بعد سڈن ڈیتھ پر پانچویں چکر میں بی این /ڈائمنڈ پینٹس کو 6-5 سے ہرا دیا۔ ریجاس /ماسٹر پینٹس کی طرف سے مینول کرانزا، متاز عباس نیازی اور صوفی محمد عامر نے دو دو گول سکور کیے۔ بی این /ڈائمنڈ پینٹس کی طرف سے احمد علی ٹوانہ نے چار آغا موسی علی خان نے ایک گول سکور کیا۔ آج بروز پیر اڑھائی بجے ایک میچ کھیلا جائے گا۔