The four member national golf team for the 2022 Nomura Cup Asia Pacific Amateur Golf Championship was selected after four days of competitive golf at Rumanza Golf Club, Multan.
The final national team for Amateur category is Saad Habib, Syed Saim Shazli, Damil Ataullah and Qasim Ali Khan (reserve). The Senior Amateur team members are Raja Asif Mehdi, Tariq Mehmood, Omar Javed Zia and Maj. Shoaib.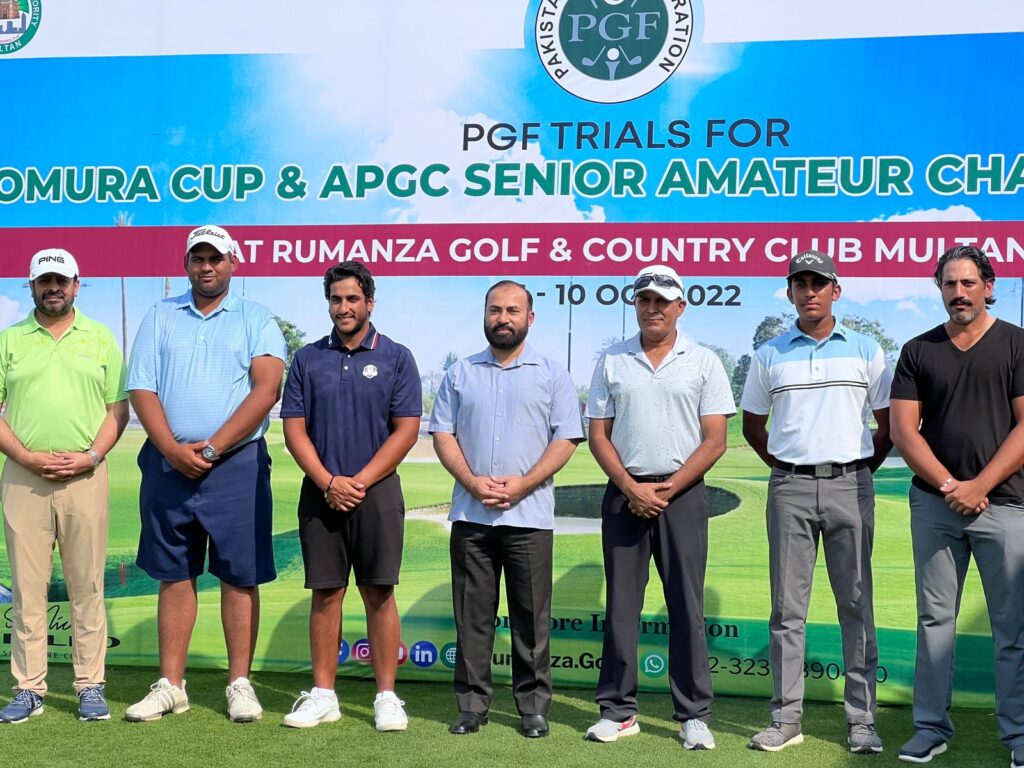 For Days 1; 2 & 3 Overviews Scroll Down
The concluding moments were full of twists and turns which culminated in sixteen year old school boy Saad Habib Malik of Rumanza Golf Club appearing lustrous and radiant was exceptionally outstanding. All through the final 18 holes on Monday, Saad Habib exhibited high caliber golfing expertise and his command and control can be gauged from the fact that he had regulation pars on the concluding five holes (from 13th to 17th hole ) and on the finishing 18th hole, he hit a marvelous bunker shot to score an exquisite par. His score of gross 73 on the final day was a fascinating effort and backed by previous three rounds scores of 74, 74 and 71 giving him a meritorious aggregate of 292, four over par for four days plus a masterful first position in the PGF National Selection Trials.
In the final standings Syed Saim Shazli of Karachi got selected with four rounds scores of 69, 77, 73 and 74 and an aggregate of 293 and he lost the top position to Saad Habib by a margin of one stroke. The double bogie on the concluding 18th hole turned out to be a spoiler.
Another young one who made it to the national team is Damil Ataullah of Lahore Garrison who played the four days trials rounds with ample grace and resoluteness. His four rounds scores were 73, 74, 77 and 73 and the four rounds aggregate added up to 297.
Five aspirants ended up at a score of 301 and they are all formidable players loaded with skills and talent. They are Qasim Ali Khan (Gymkhana), Hussain Hamid (Royal Palm ), Osama Nadeem (Ibex), Salman Jehangir (Gymkhana) and Rao Hassan (Rawalpindi). Out of these five Qasim Ali Khan gets selected as the reserve player as he had better scores in the last two rounds.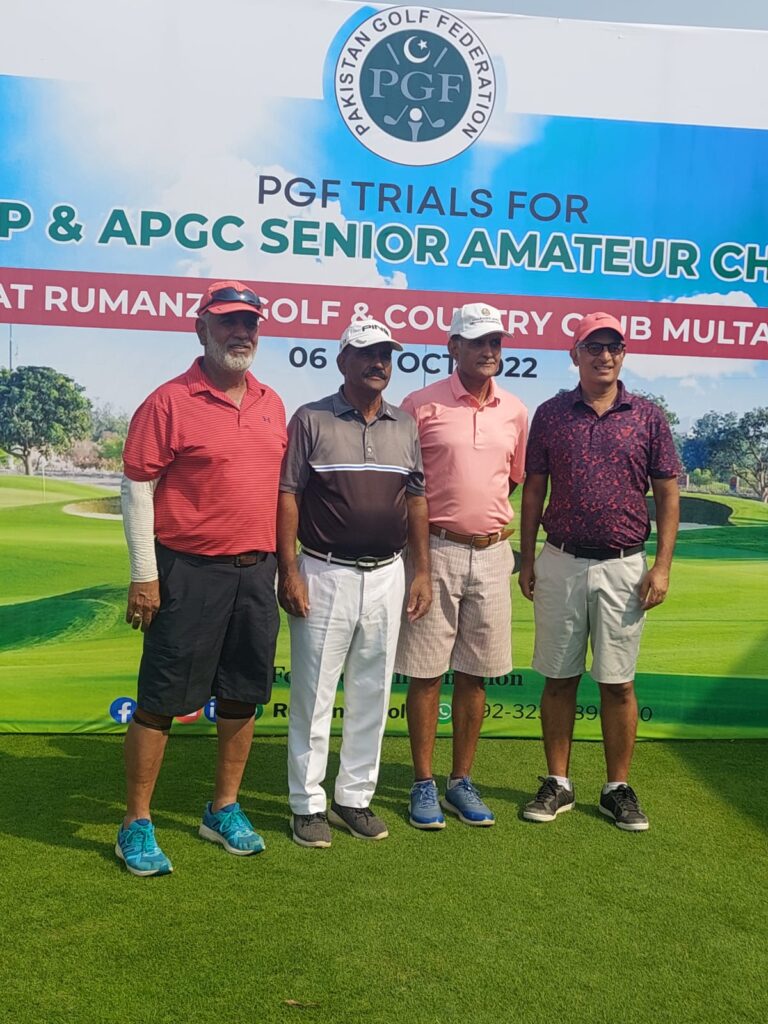 As for the race for selection amongst Senior amateurs (55 years plus), the trials were held over three rounds and noticeable was the fortitude and grittiness between the competing seniors. In the end Raja Asif Mehdi achieved the top slot while Tariq Mehmood was second, Omar Javed Zia came third and Major Shoaibuddin, fourth. These four senior champions will now represent Pakistan in the Asia Pacific Senior Amateur Golf Championship.
Day 3 Overview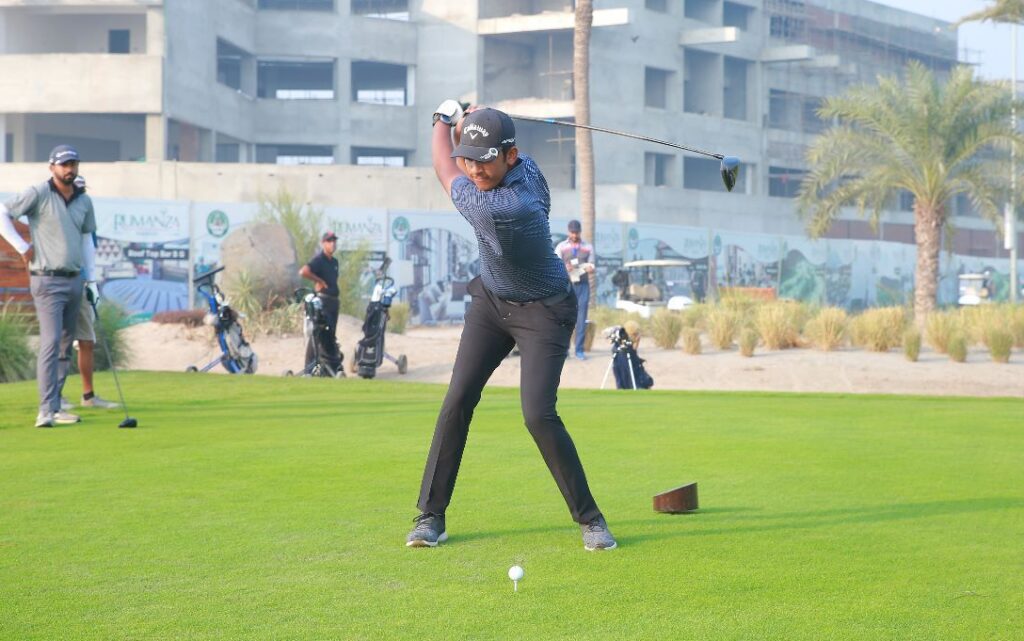 Noticeable is the way 16 years old, Saad Habib Malik of the host club has taken over command of the fiercely competitive ongoing golfing action. It is heartening indeed that a teenager, Saad Habib joins the leadership role through excellence and high quality display of golfing skills. His round of gross 71, one under par achieved in the third round and compiled through birdies on holes 5, 11 and 12, thirteen regulation pars and two bogies on holes 4 and 13. This enabled him to aggregate a three rounds score of 219 and occupy the top position on the leader board. And this position he shares with Syed Saim Shazli of Karachi who is also placed at an aggregate score of 219 and as the trials move into the final phase the challenge for final selection gets resilient.
While Saad Habib and Saim Shazli are bunched together at an aggregate score of 219, others in line for honours are Hussain Hamid of Royal Palm and Damil Ataullah of Lahore Garrison, whose aggregate scores for three rounds are 224. Both these players have strengths of their own, they are proficient and gifted players, have age on their side as well as wholesome parental and family support.
As for other aspirants, Umair Saleem is placed at an aggregate score of 225 and also placed at 225 is Rao Muhammed Hassan. Just one stroke down at a three days aggregate score of 226 lie four of the best amateurs of Pakistan. They are Ralfay Raja, Osama Nadeem, Qasim Ali Khan and Salman Jehangir.
The final round on Monday promises a real clash between the top amateur golf players of Pakistan.
In the race for selection amongst Senior amateurs, the leader after two rounds is Tariq Mehmood of Lahore Garrison. His two rounds scores aggregate to 155. At a score of 161 are placed four capable contenders Shahid Warriach, Raja Asif Mehdi, Major Shoaibuddin and Asim Tiwana. Brig Masood Qureshi is at 162 and Omar Javed Zia is also at 162.
Day 2 Overview
On the second day Syed Saim Shazli from Karachi Golf Club continued his dominance during the selection trials of the Pakistan contingent for the 2022 Nomura Cup to be held in Philippines during November.
For golf fans and enthusiasts to witness some of the Pakistan golf stars, on the 3rd Day, Sunday 9th October the first tee off will also be from 7.00 AM at Rumanza Golf Course, Multan.
During Round 2, the young golfer Saim conducted his game in a way that enabled to keep his hold on the top position and after two rounds he aggregated a score of 146 compiled through a brilliant gross 69 in the first round and a slightly mediocre gross 77 in the second round. Only one stroke away is placed a youthful Damil Ataullah of Lahore Garrison Greens. Damil's aggregate for two rounds is 147 and this aggregate is the result of gross 73 in the first round and a gross 74 in the round yesterday. And this position he shares with Zain ur Rehman of Lahore Garrison who came up with the only under par round of the second day. Capt Zain scored 76 in the first round and backed it up with a gross 71 in the round played on Saturday. By virtue of some formidable show of golfing skill Damil and Zain are strong contenders for ultimate selection. Others seeking cherished selection are Rao Muhammed Hassan and Saad Habib Malik of Rumanza Golf Club. Both these aspirants were resolute in their pursuit of honours and came up with scores that are worthy of admiration. Rao Hassan is placed at two rounds aggregate of 148 and so is the teenager Saad Habib Malik.
A few more contenders performing reasonably well are Umair Saleem, placed at 149 and Irtiza Hussain, Hussain Hamid and Ralfay Raja at 150. At 151 are Osama Nadeem, Abdul Moiz and Salman Jehangir. The cut was enforced after two rounds and only 22 contenders play over the remaining two rounds.
In the selection race in Senior Amateur category the top performer was Tariq Mehmood of Lahore Garrison and his score in the first round was gross 78. Azhar Abbas of DHA is placed at 79 and Shahid Warraich of Rawalpindi is at 80. Shafiq Bhatti and Omar Zia are bracketed at 82 while Raja Asif Mehdi and Shoaibuddin are at 83.
Day 1 Overview
The four days trials from 7th to 10th October, commenced to select a three member national golf team plus one reserve player, for participation in the Nomura Cup, also known as the Asia-Pacific Amateur Golf Team Championship. The second round will tee off at 7.00 am on Saturday.
The Cup is scheduled to be held from 15th to 18th November 2022 at the Jack Nicklaus designed Manila South Wood Golf Course and the trials are being held at the wonderful Nick Faldo designed Rumanza Golf Course in Multan.
Being conducted under supervision of PGF-Pakistan Golf Federation, the eligibility to participate is confined to national level golf players who play to a handicap of four and below. Noticeable was the presence of merit and calibre loaded aspirants, each one of whom evinced an ardent desire to perform to perfection. So after teeing off from the opening hole in pairings of three to a flite, they went on and on matching skills, playing to a plan and avoiding bogies and double bogies.
At the end of the first day, the masterful one turned out to be Syed Saim Shazli of Karachi Golf Club who appeared technically brilliant and revealed his talent in a spectacular manner. The tee shots were perfect and so were the approach shots to the green. His first round 18 holes score was a stirring gross 69, three under par and he appears as the front runner at the conclusion of first round.
Out of his adversaries, young Damil Ataullah reflected good form and ended the opening day, four shots behind the leader with a gross score of 73. At a score of 74 are placed two very talented amateurs, one is Rao Muhammed Hassan and the other one is Saad Habib of Rumanza Golf Course. Both these artistic players are adroit and dexterous.
Other potentially loaded players are Irtiza Hussain of Margalla Greens and Umair Saleem bunched together at a score of gross 75 followed by Zain ur Rehman at gross 76 and Muhammed Ibrahim, Qasim Ali Khan, Abdul Moiz, Salman Jehangir and Hussain Hamid at gross 77.
Trials are also being held for selection of senior amateur team and the seniors will fight it out over three rounds and 54 holes .