FG/Din Polo Team overpowered Master Paints/Diamond Paints by 8-2.5 in the Maj. Gen. Saeed-uz-Zaman Memorial Polo Cup, sponsored by JS Bank match played at the Fortress Stadium, Lahore.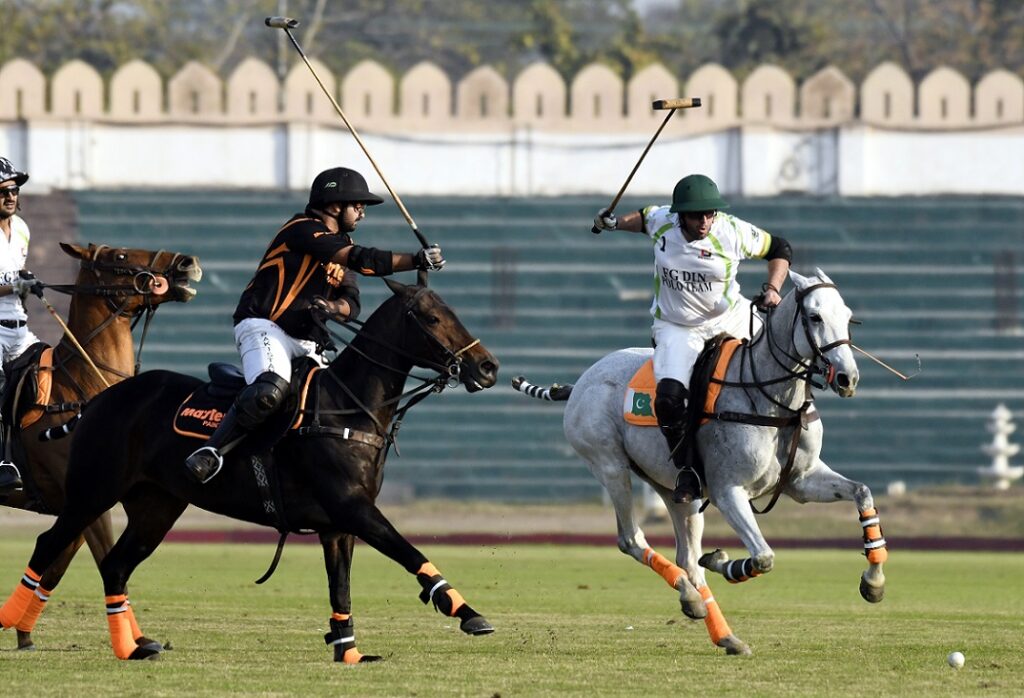 Master Paints/Diamond Paints though started the match in great style as they fired in a field goal to gain 1-0 lead but FG/Din Polo Team then started playing aggressive polo which helped them dominate the match fully and win the encounter by a good margin of 8-2.5. 
Mian Abbas Mukhtar did the magic with mallet and pony and hammered fabulous five goals from the winning team while his teammates Ramiro Zaveletta banged in a brace and Waqas Khan scored one goal.
From Master Paints/Diamond Paints, which had a half goal handicap advantage, Chaudhry Hayat displayed good polo skills and converted a brace. 
On Friday, two more matches will be played. Sheikhoo Steel/Diamond Paints will compete against Jubilee Insurance at 2:00 pm in the first match of the day while at 3:00 pm, FG/Din Polo Team will vie against Asean Polo Team in the second match of the day.
جناح پولو فیلڈز کے زیراہتمام میجر جنرل سعید الزمان جنجوعہ میموریل پولو کپ سپانسرڈ بائی جے ایس بینک کے دوسرے دن ایف جی /دین پولو ٹیم نے ماسٹر پینٹس /ڈائمنڈ پینٹس کو 8-2.5 سے ہرا دیا۔ تفصیلات کے مطابق فوٹریس سٹیڈیم لاہور میں ہونیوالے اس میچ کے مہمان خصوصی جے ایس بینک کے ریجنل ہیڈ سنٹرل ماجد قریشی تھے۔ اس کے علاوہ جناح پولو فیلڈز کے میجر (ر) بابر محبوب اعوان، کرنل طارق، پولو کے کھلاڑی اور فیملیز کی اچھی تعداد بھی موجود تھی۔ میڈیا سے گفتگو کرتے ہوئے ریجنل ہیڈ سنٹرل جے ایس بینک ماجد قریشی کا کہنا تھا کہ دوسری بار میجر جنرل سعید الزمان جنجوعہ پولو ٹورنامنٹ سپانسر کیا ہے۔ مستقبل میں بادشاہوں کے کھیل پولو کی سپورٹ جاری رکھیں گے۔ پولو ایک لائف سٹائل کھیل ہے اور جے ایس بینک بطور بینک اپنی معاشرتی ذمہ داری سمجھتے ہوئے کھیلوں کی سرگرمیوں کی سپورٹ جاری رکھے گا۔ ادھر جے ایس بینک میموریل پولو کے کھیلے گئے واحد میچ میں ایف جی /دین پولو ٹیم نے ماسٹر پینٹس /ڈائمنڈ پینٹس کی ٹیم کو 8-2.5 سے ہرایا۔ ایف جی /دین پولو کی طرف سے میاں عباس مختار نے شاندار کھیل پیش کیا اور پانچ خوبصورت گول سکور کیے جبکہ دیگر میں رومیروزیولیٹا نے دو جبکہ وقاص خان نے ایک گول سکور کیا۔ماسٹر پینٹس /ڈائمنڈ پینٹس کی طرف سے چودھری حیات نے دو گول سکور کیے جبکہ آدھا گول انہیں ہینڈی کیپ ایڈوانٹیج حاصل تھا۔ آج بروز جمعتہ المبارک پہلا میچ دوپہر دو بجے شیخو سٹیل /ڈائمنڈ پینٹس کا مقابلہ جوبلی انشورنس سے ہوگا جبکہ دوپہر تین بجے ایف جی /دین پولو کا مقابلہ آسیان پولو ٹیم سے ہوگا۔