Sheikhoo Steel/Diamond Paints clinched the title in the Maj. Gen. Saeed-uz-Zaman Janjua Memorial Polo Cup after outpacing Asean Polo team by 8½-5 in the final played at Jinnah Polo Fields.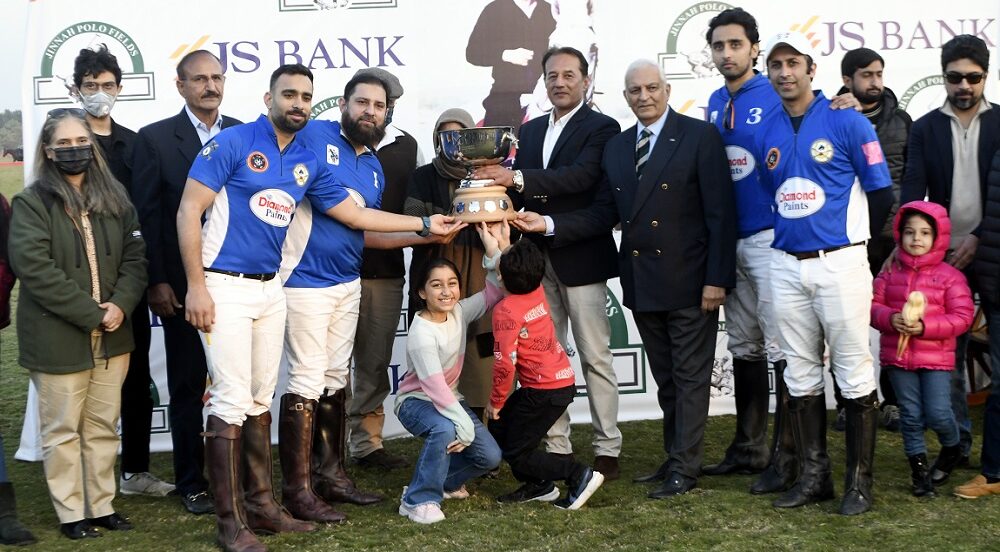 The final proved to be a challenging and enthralling encounter, where after a tough battle, Sheikhoo Steel /Diamond Paints, which had a half goal handicap advantage, recorded a convincing 8½-5 triumph. Saqib Khan Khakwani was the hero of the day from the title-winning team as he did magic with both mallet and pony and smashed in six superb goals. Ahmed Ali Tiwana and Raja Jalal Arslan also played well and scored one goal apiece.
From the losing team, Raja Sami Ullah and Raja Jalal Arslan converted a brace each while Mohib Shahzad scored one goal.  
Saeed-uz-Zaman Polo Cup 2018: Master Paints Wins
Earlier in the subsidiary final, FG/Din Polo team played superb polo against Jubilee Insurance and won the encounter with a good margin of 8-4. Ramiro Zaveletta and Waqas Khan displayed high-quality polo skills and techniques and converted tremendous three goals each while Sheikh Muhammad Farhad and Mian Abbas Mukhtar hammered one goal apiece. From Jubilee Insurance, Hissam Ali Hyder banged in a brace while Abubakar Siddique and Syed Muhammad Aun Rizvi converted one goal each.  
Former Army Chief Gen. (R) Jahangir Karamat and Mrs. Saeed-uz-Zaman as chief guest distributed the prizes and shields among the winners and top performers. 

جناح پولو فیلڈز کے زیراہتمام میجر جنرل سعید الزمان جنجوعہ میموریل پولو کپ سپانسرڈ بائی جے ایس بینک کا فائنل شیخو سٹیل /ڈائمنڈ پینٹس نے جیت لیا، فائنل میں دلچسپ مقابلے کے بعد آسیان پولو ٹیم کو 8.5-5 سے شکست کا سامنا کرنا پڑا۔ تفصیلات کے مطابق جناح پولو فیلڈز میں جے ایس بینک کے تعاون سے منعقدہ میموریل پولو ٹورنامنٹ کا فائنل دیکھنے کیلئے تماشائیوں اور فیملیز کی ایک بہت بڑی تعداد موجود تھی۔ اس موقع پر مہمان خصوصی سابق آرمی چیف جنرل جہانگیر کرامت اور مسز سعید الزمان جنجوعہ تھیں۔ اس کے علاوہ جے ایس بینک کے ریجنل مینجر ماجد قریشی، جنرل سعید الزمان کے صاحبزادے بریگیڈیئر بدر الزمان، کلب کے صدر لیفٹیننٹ کرنل (ر) شعیب آفتاب، سیکرٹری میجر (ر) بابر محبوب اعوان اور پولو کے کھلاڑیوں کی بڑی تعداد موجود تھی۔ آسیان پولو ٹیم اور شیخو سٹیل /ڈائمنڈ پینٹس کے درمیان فائنل میچ کافی دلچسپ رہا جو شیخو سٹیل /ڈائمنڈ پینٹس نے 8.5-5 سے اپنے نام کیا۔ شیخو سٹیل /ڈائمنڈ پینٹس کی طرف سے ثاقب خان خاکوانی نے شاندار کھیل پیش کیا اورچھ شاندار گول سکور کیے جبکہ دیگر میں احمد علی ٹوانہ اور راجہ جلال ارسلان نے ایک ایک گول سکور کیا۔ ہارنے والی آسیان پولو ٹیم کی طرف سے راجہ سمیع اللہ اور راجہ جلال ارسلان نے دو دو جبکہ محب شہزاد نے ایک گول سکور کیا۔ ادھر سب سڈری فائنل میں ایف جی پولو /دین پولو کی ٹیم نے جوبلی انشورنس کو 8-4 سے ہرا دیا۔ ایف جی پولو کی طرف سے رومیرزیولیٹا اور وقاص خان نے تین تین جبکہ شیخ محمد فرہاد اور میاں عباس مختار نے ایک ایک گول سکور کیا جبکہ جوبلی انشورنس کی طرف سے حسام علی حیدر نے دو جبکہ ابوبکر صدیق اور اون محمد رضوی نے ایک ایک گول سکور کیا۔ اختتامی تقریب میں جنرل جہانگیر کرامت، مسز میجر جنرل سعید الزمان اور جے ایس بینک کے ریجنل ہیڈ ماجد قریشی نے انعامات تقسیم کیے۔