On the final day; in the Open Category, Ahmed Asjad won the single title of ITC Twin City Tennis Tournament by beating Mian Bilal in well contested three set match, which lasted two hours and thirty minutes. Hamza Asim won the title of Under 16 event by eliminating Abdullah Mohammad. Ali Zain, a promising youngster claimed the title of Under 14 event by defeating Haziq Asim. Abdul Wasay an upcoming player and grandson of Mr. Fazal e Subhan clinched the title of Under 12 by displaying quality tennis in the final against Orhan Sohail 8-4. Ayesha Masood out classed the Amir Masood in the final of Under 10.
Total number of 80 players have participated in five different event. Mr. Tariq Murtaza Chairman/President, Islamabad Tennis Association along with Madam Khadeja Laghri the sponsor of this prestigious league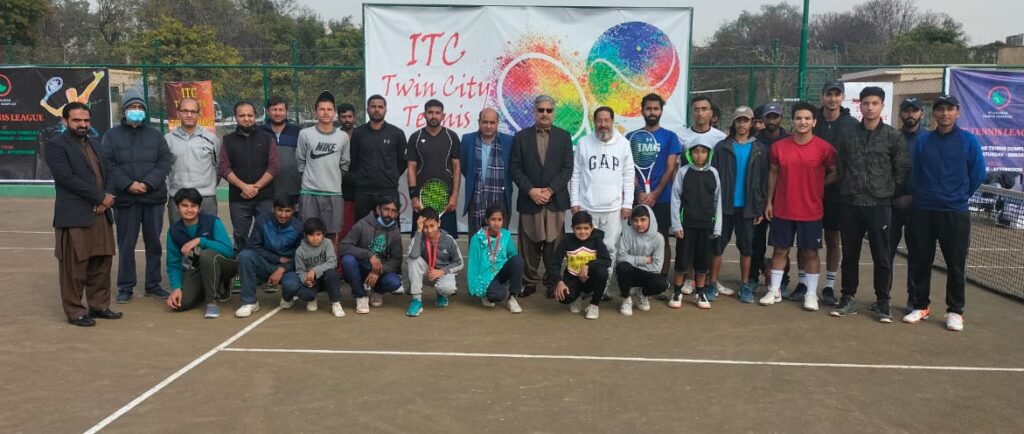 Results
Open Category (Men / Women Mix)
Semifinal
Mian Bilal Bt Jabir Ali 8-5; Ahmed Asjad Bt Hamza Asim 8-3.
Final Result
Ahmed Asjad Bt Mian Bilal 6-7(7), 6-3, 10-4 (super tie break).
Under 12
Matches-Semifinal:
Orhan Sohail Bt Hamza Ahmed 8-5; Abdul Wasay Bt Ozair Maqsood 6-0.
Final
Abdul Wasay Bt Orhan Sohail 8-4.
Under 10
Final Result
Ayesha Masood Bt Amir Masood 6-4.
Under 16
Semifinal Matches
Hamza Asim Bt Ali Zain 8-1; Abdullah Mohammad Bt Hamza Hussain 6-4.
Final
Hamza Asim Bt Abdullah Mohammad 8-1.
Under 14 (Boys/Girls)
Semifinal Matches
Ali Zain Bt Fahad Eessa 6-0; Haziq Asim Bt Hamza 6-2.
Final
Ali Zain Bt Haziq Hamza 8-1.