The Diamond category of WESPAC 2023 World Scrabble Championship was won by Pakistan's Hammad Hadi Khan. Whereas the third position winner of Open category was M. Inayatullah, also from Pakistan.
Hammad with masterful command on words and expert strategy, won 21 games out of 24 with a spread of 1854. His dominance was so pronounced that he was declared a winner with three games to go.
Jeremy Khoo of Singapore was the runner up with 16 wins while Stefan Kac of USA finished 3rd with 15 wins. The fourth and fifth positions were also occupied by Hammad's brothers – Hasham Hadi Khan and Hassan Hadi Khan respectively.
This is the third international title for Hammad Hadi. He has previously won the Princess Cup in Thailand 2017 and the open division of World Scrabble Championship in England 2018.  
The Open division was won by Charles Osadolor of Nigeria while his compatriot Emmanuel Egebele was the runner up. Pakistan's M. Inayatullah finished 3rd with 15 wins out of 24 and a spread of 973. Another Pakistani Tariq Pervez finished 7th.
2023 WESPAC Diamonds Category – Prize Table
| # | Description | Value | Winner(s) |
| --- | --- | --- | --- |
| 1 | Rank: 1st | USD 1,000 | Khan, Hammad Hadi; Pakistan |
| 2 | Rank: 2nd | USD 500 | Khoo, Jeremy; Singapore |
| 4 | Rank: 3rd | USD 300 | Kac, Stefan; USA |
| 3 | Class B Rank: 1st | USD 300 | Ebi, Aweh; Nigeria |
| 5 | Class B Rank: 2nd | USD 200 | Hamilton-Drape, Patrick; Sierra Leone |
World Scrabble Championship 2018 : World Champions – Nigel (Div A) & Hammad (Div…
2023 WESPAC Diamonds Category-Full Final Table
| Rank | Won-Lost | Spread | Class | Player |
| --- | --- | --- | --- | --- |
| 1 | 21–3 | +1856 | B | Khan, Hammad Hadi (12/PAK) |
| 2 | 16–8 | +1564 | A | Khoo, Jeremy (15/SGP) |
| 3 | 15–9 | −372 | A | Kac, Stefan (10/USA) |
| 4 | 14–10 | +865 | B | Khan, Hasham Hadi (13/PAK) |
| 5 | 14–10 | +461 | B | Khan, Hassan Hadi (14/PAK) |
| 6 | 14–10 | +51 | A | Whitmarsh, Bradley (21/USA) |
| 7 | 13–11 | +74 | A | Kantimathi, Sam (11/USA) |
| 8 | 12–12 | −73 | B | Ikolo, Anthony (09/NGA) |
| 9 | 12–12 | −157 | B | Ebi, Aweh (06/NGA) |
| 10 | 12–12 | −290 | B | Hamilton-Drape, Patrick (08/SLE) |
| 11 | 11–13 | +108 | A | Aka, Olobatoke (03/NGA) |
| 12 | 11–13 | −212 | B | Ojior, Osikhena (18/NGA) |
| 13 | 11–13 | −522 | B | Adeloye, Adetomiwa (01/NGA) |
| 14 | 10–14 | −71 | A | Dodd, Carmel (05/AUS) |
| 15 | 10–14 | −133 | A | Odelana, Sanmi (17/Eng) |
| 16 | 10–14 | −179 | A | Goldberg, Randi (07/USA) |
| 17 | 7–17 | −863 | B | Simanwe, Chipika (20/ZMB) |
| 18 | 3–21 | −2109 | A | Sjoholm, Chris (19/USA) |
2023 WESPAC Diamonds Open Category – Prize Table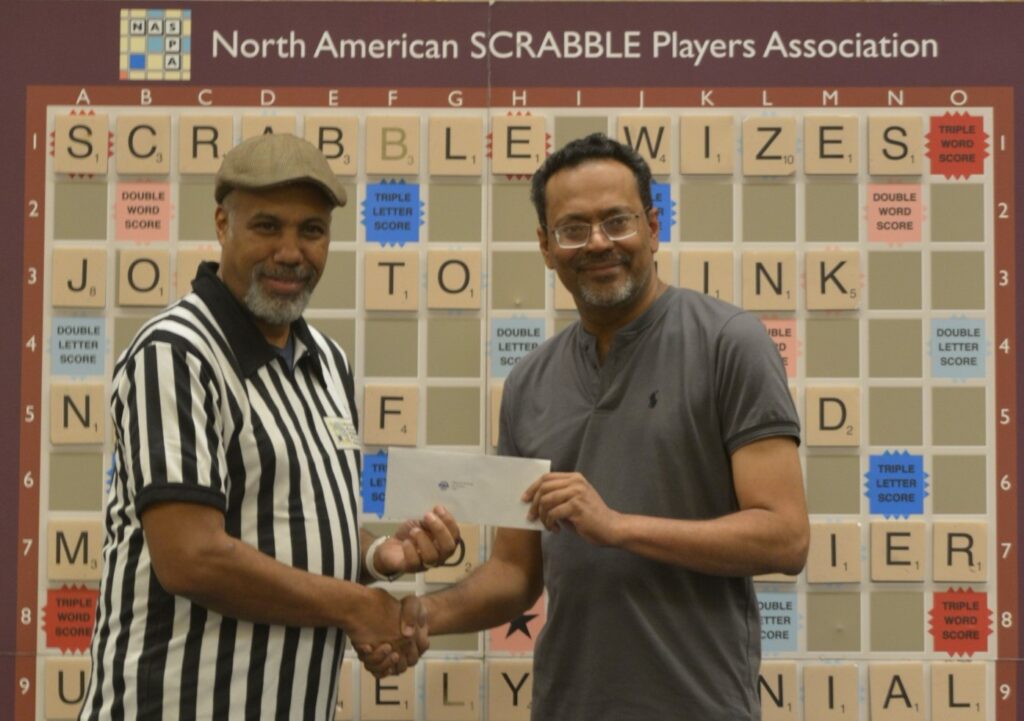 | # | Description | Value | Winner(s) |
| --- | --- | --- | --- |
| 1 | Rank: 1st | USD 800 | Osadolor, Charles Osamwonyi; Nigeria |
| 2 | Rank: 2nd | USD 400 | Egbele, Emmanuel; Nigeria |
| 4 | Rank: 3rd | USD 300 | Inayatullah, Mohammad; Pakistan |
| 3 | Class B Rank: 1st | USD 300 | Wilkie, James; Scotland |
| 5 | Class B Rank: 2nd | USD 200 | Paidikondala, Sridhar; India |
2023 WESPAC Diamonds Category-Full Final Table
| Rank | Won-Lost | Spread | Class | Player |
| --- | --- | --- | --- | --- |
| 1 | 17–7 | +487 | A | Osadolor, Charles Osamwonyi (07/NGA) |
| 2 | 16–8 | +843 | A | Egbele, Emmanuel (02/NGA) |
| 3 | 15–9 | +973 | A | Inayatullah, Mohammad (04/PAK) |
| 4 | 14½–9½ | +618 | A | Shin, Lindsay (11/USA) |
| 5 | 14–10 | +896 | A | Uzamere, Charles (13/NGA) |
| 6 | 14–10 | +618 | B | Wilkie, James (15/Sco) |
| 7 | 14–10 | −167 | A | MacInerney, Ruth (05/Eng) |
| 8 | 12–12 | +54 | A | Pervez, Tariq (09/PAK) |
| 9 | 11–13 | +199 | B | Paidikondala, Sridhar (08/IND) |
| 10 | 11–13 | +174 | A | Siddiqui, Sumbul (12/Eng) |
| 11 | 10½–13½ | −865 | B | Geamsakul, Warodom (03/JPN) |
| 12 | 10–14 | −620 | B | Melvin, Cheryl (06/USA) |
| 13 | 9–15 | −164 | B | Polak Scowcroft, Caroline (10/AUS) |
| 14 | 9–15 | −469 | B | Adeyera, Ade-Adedeji (01/NGA) |
| 15 | 8–16 | −1114 | B | Adamu, Haruna (16/GHA) |
| 16 | 7–17 | −1463 | B | Yip, Tsz Hin (14/HKG) |