The same semi-finalist DS Polo/Rizvi's and Diamond Paints qualified for the 2022 final as was the case for 2021 Jinnah Gold Cup Final.
DS Polo/Rizvi's Vs Adamjee Insurance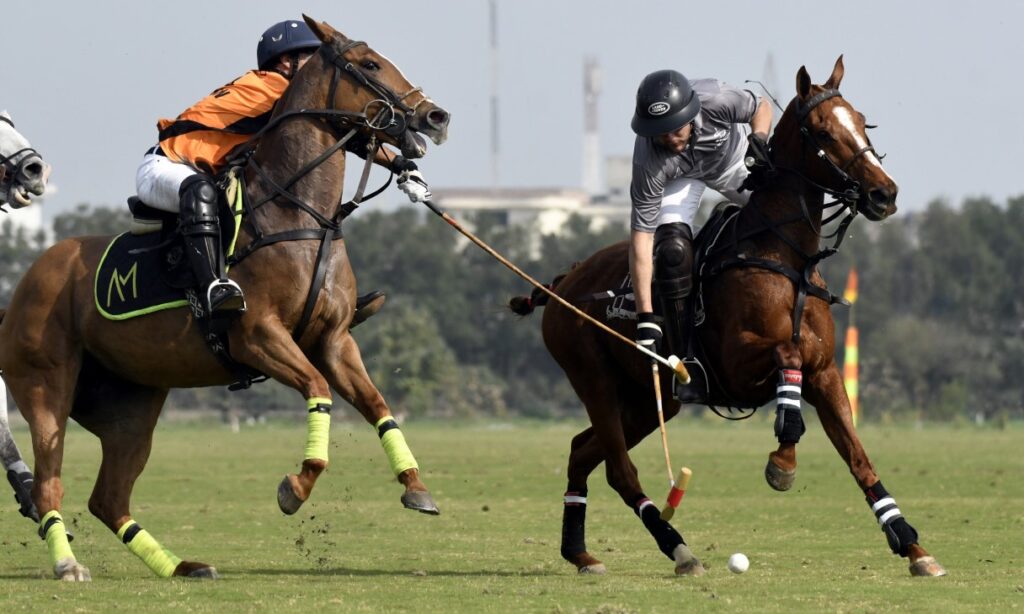 Max Charlton's heroics helped DS Polo/Rizvi's to outsmart Adamjee Insurance by eight goals to six and a half. The victory helped DS Polo/Rizvi's earn a place in the main final. DS Polo/Rizvi's dominated the crucial match right from the word go as they fired in four fantastic goals against one by Adamjee Insurance to gain a good 4-1 lead. The second chukker saw both the sides matching fire-with-fire and banging in a brace each with DS Polo/Rizvi's enjoying 6-3 lead. The teams continued to give tough times to each other and this time, they converted one goal apiece, making it 7-4 in favour of DS Polo/Rizvi's. The fourth and last chukker saw Adamjee Insurance slammed in two goals against one by their opponents but they had to face 6.5-8 defeat as they had a half goal handicap advantage as well.
Diamond Paints Vs Newage Cables/Master Paints
Collective efforts and team work guided Diamond Paints to a 9-7 triumph over Newage Cables/Master Paints and also helped them book berth in the main final, where they will take on DS Polo/Rizvi's. Ahmed Ali Tiwana, Guy Gibrat and Matias Vial Perez emerged as heroes of the day from the winning side, which also got all-out support from its patron Mir Shoaib Ahmed.
Ahmed Ali Tiwana was top scorer with fabulous four goals while Guy Gibrat contributed with a hat-trick and Matias Vial Perez with a beautiful brace. A great team work was also witnessed from Newage Cables/Master Paints, as three of their players Vieri Antinori, Gonzalo Deltour and Raja Temur Nadeem smashed in a brace and Adnan Jalil Azam struck one but their efforts proved futile in the end. 
Diamond Paints stamped their authority from the beginning by firing in fabulous five goals and then added two more in their tallies to take a healthy 7-0 lead. After that Newage/Master Paints though made their presence felt and pumped in four back-to-back goals in the second and third chukker to reduce the margin to 7-4 but Diamond Paints thrashed in two more goals to enhance their lead to 9-4. Newage/Master Paints then hammered a hat-trick to reduce the deficit to 9-7 but it was too little too late as they lost the crucial match by 7-9.Master Paints outpaced Astrada Polo Team by 7-4 to earn a spot in the subsidiary final.
Marcos Panelo was hero of the day from Master Paints with five superb goals while Martin Carlos and Sufi Muhammad Amir struck one goal apiece. From Astrada Polo, Abdul Rehman Monnoo banged in a brace and Saqib Khan Khakwani and Julio Astrada scored one goal each. Master Paints opened their account by firing in a field goal to take 1-0 lead in the first chukker. The action-packed second chukker saw Master Paints playing more aggressive polo and hammering four goals against one by Astrada Polo to gain a healthy 5-1 lead. The third chukker though saw Astrada Polo dominance as they converted two against one by their opponents yet Master Paints were still enjoying 6-3 lead. Both the teams converted one each in the fourth and last chukker with Master Paints winning the encounter by 7-4.

جناح پولو فیلڈز کے زیراہتمام دوسرا جناح گولڈ پولوکپ سپانسرڈ بائی ماسٹر پینٹس کے چوتھے دن ڈی ایس پولو /رضویز اور ڈائمنڈ پینٹس کی ٹیم نے مین فائنل کیلئے جبکہ ٹیم ماسٹر پینٹس نے سب سڈری فائنل کیلئے کوالیفائی کرلیا۔ تفصیلات کے مطابق جناح پولو فیلڈز میں پولو کے میچز دیکھنے کیلئے فیملیز اور کھلاڑیوں کی ایک بڑی تعداد موجود تھی۔ پہلے سیمی فائنل میں ڈی ایس پولو/رضویز نے زبردست مقابلے کے بعد مضبوط آدم جی انشورنس کی ٹیم کو 8-6.5 سے ہرا کر فائنل میں جگہ بنائی۔ ڈی ایس پولو /رضویز کی طرف سے میکس چارلٹن نے  سات اور حسام علی حیدر نے ایک گول سکور کیا۔ آدم جی انشورنس کی طرف سے  خوان امبراگیو نے تین، رومیرو زیولیٹا نے دو اور شیخ محمد رافع نے ایک گول سکور کیا جبکہ آدھا گول انہیں ہینڈی کیپ ایڈوانٹیج حاصل تھا۔ دوسرے سیمی فائنل میں ڈائمنڈ پینٹس نے سنسنی خیز مقابلے کے بعد نیوایج کیبلز /ماسٹر پینٹس کی ٹیم کو 9-7 سے ہرا دیا۔ڈائمنڈ پینٹس کی طرف سے احمد علی ٹوانہ نے چار، گی گبرٹ نے تین اور متیاس وائل پیراز نے دو گول سکور کیے۔ نیوایج کیبلز /ماسٹر پینٹس کی طرف سے گونزالو ڈیلٹور، ویری انٹینور اور راجہ تیمور ندیم نے دو دو گول جبکہ عدنان جلیل اعظم نے ایک گول سکور کیا۔ قبل ازیں ماسٹر پینٹس کی ٹیم نے اسٹارڈا پولو ٹیم کو 7-4 سے ہرا دیا اور سب سڈری فائنل کیلئے کوالیفائی کرلیا۔ ماسٹر پینٹس کی طرف سے مارکوس پنیلو نے پانچ، صوفی محمد عامر نے دو گول سکور کیے۔ اسٹارڈا پولو کی طرف سے عبدالرحمان منوں نے دو، ثاقب خان خاکوانی اور جولیو اسٹارڈا نے ایک ایک گول سکور کیا۔ اس طرح اتوار کو مین فائنل ڈائمنڈ پینٹس اور ڈی ایس پولو/رضویز کے درمیان جبکہ سب سڈری فائنل ایچ این پولو اور ماسٹر پینٹس کے درمیان کھیلا جائے گا۔