The J7 Group – 34th Federal Cup National Ranking Tennis Championships was indeed a joy to have professional tennis at PTF-SDA Tennis Complex, Islamabad came to conclusion after a splendid and illustrious final day of tennis flurry and liveliness. More than 120 players were seen in action in four events of Men's Singles & Doubles and Ladies Singles – Doubles.
In the Men's Singles Final, 20 year old 3rd seed Muhammad Shoaib won the Title by upsetting top-seed Aqeel Khan in a thrilling, see-saw match which lasted over 2 hours and the final score was 6-4, 3-6, 6-3.
33rd Federal Cup Tennis Championships 2020: Aqeel Wins Men's Singles Title
Shoaib got off to a flying start, taking a 3-0 lead, but Aqeel fought back to draw level, before Shoaib regained control and took the set 6-4. In the second set, after a few closely fought games, Aqeel took complete control of the game and won 6-3. The deciding set saw some exhilarating tennis with Shoaib taking the set 6-3, despite the best efforts and fighting spirit of Aqeel. Shoaib has been training  at the National Training Center since its inception in 2019, and is a scholarship holder.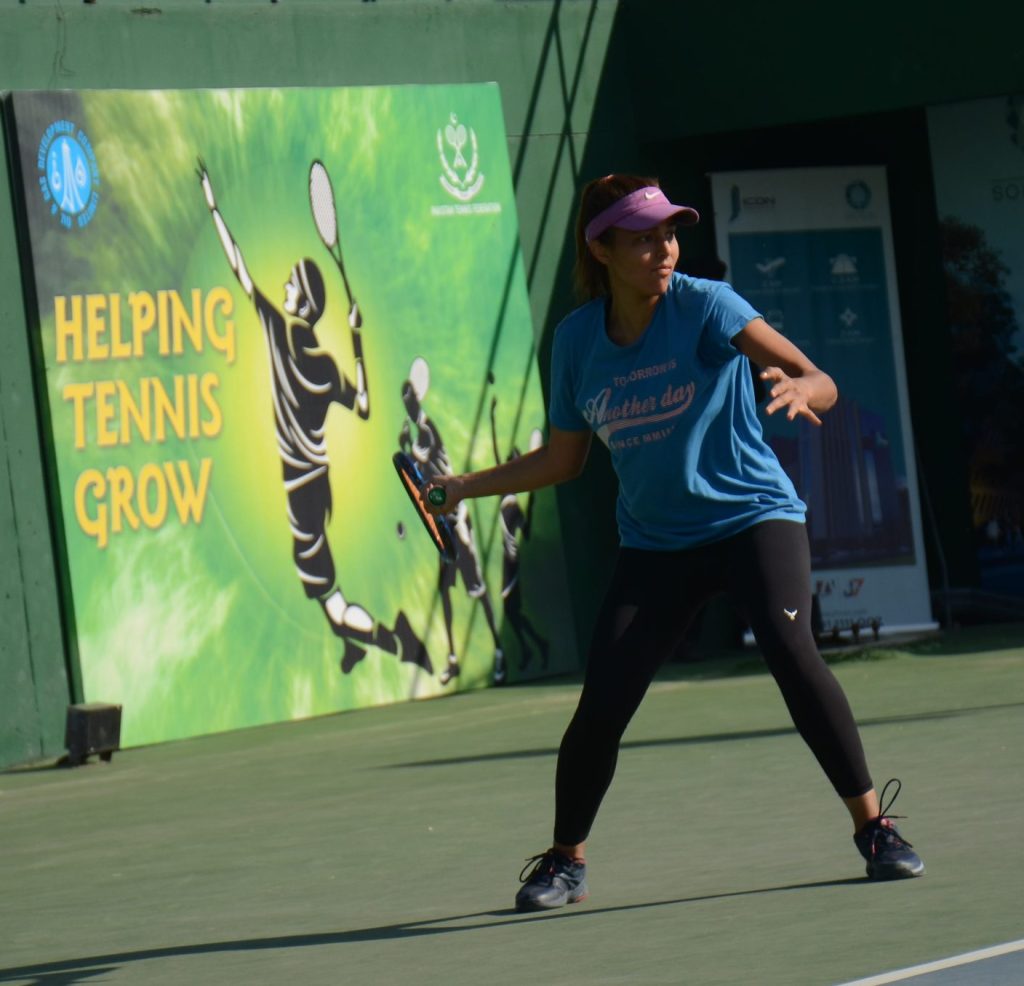 Earlier in the day, the Ladies Singles Sarah Mahboob beat Ushna Sohail in a 3-set thriller that lasted 3 hours. Although expectation were that the encounter would be closely fought out, but Sarah had chalked out her own game plan which worked with preciseness and exactitude and all through the 3 sets Sarah surfaced in a imperious and forceful way leaving her opponent astounded. Ushna played some calculated tennis in the first set to go up 5-2, but Sarah fought back to win the set 7-5. In the second set, Ushna again led 3-0 and 5-3, but Sarah came to to make it 5-5. However, Ushna regained her composure to take the set 7-5. The third set went down to the wire, with Sarah holding her nerve to take the match and the championships. Sarah was awarded a cash award of Rupees 40,000 whereas Ushna pocketed Rupees 24,000.
Yesterday Ushna Sohail and Noor Malik clinched the Ladies Doubles title by eliminating Sarah Mahboob and Mehaq Khokhar in a well contested three sets match. Sarah & Mehaq won the first set at 6-3 by breaking 8th game of Noor Malik. In the second set score went up to 3-3, all as all the players hold their respective serves, Noor and Ushna displayed excellent net game and broke 8th game of Mehaq and won the 2nd set at 6-3. The match decided in the super tie break which won by Ushna and Noor at 10-7.
Muhammad Shoaib and Barkatullah won the Men's Doubles title by defeating Heera Ashiq & Yousaf Khalil in a well contested three set match. All the players showed quality tennis and long rallies were witnessed from the base lines. Yousaf / Heera won the first set at 7-5 breaking 12th game of Barkatullah at love-40. In the second set Shoaib and Barkatullah changed the strategy and start attacking on the net and won the second set at 6-2 by breaking 5th and 7th game of Heera & Yousaf and level the match 1 set all. The match decided in the super tie break which won by Shaoib & Barkatullah at 10-6.
Following are the Final Day Results:
Men's Singles Final
Muhammad Shoaib beat Aqeel Khan 64 36 63
Ladies Singles Final
Sarah Mahboob beat Ushna Suhail 7-5,5-7,6-4
Men's Doubles Final
Barkatullah / Muhammad Shaoib beat Yousaf Khalil / Heera Ashiq 5-7 6-2 10-6
Men's Doubles Semi Finals
Yousaf Khalil / Heera Ashiq beat Aqeel Khan / Nofil Kaleem 6-4 1-6 10-7
Ladies Doubles Final
Ushna Sohail / Noor Malik beat Sarah Mahboob / Mehaq Khokhar 3-6 6-3 10-7
Ladies Doubles Semi Finals
Ushna Sohail / Noor Malik beat Hania Navaid / Syed Areej Batool 6-2 7-6(5)
Mehaq Khokar / Sarah Mahboob beat Mariam Mirza / Shiza Sajid 6-1 6-3