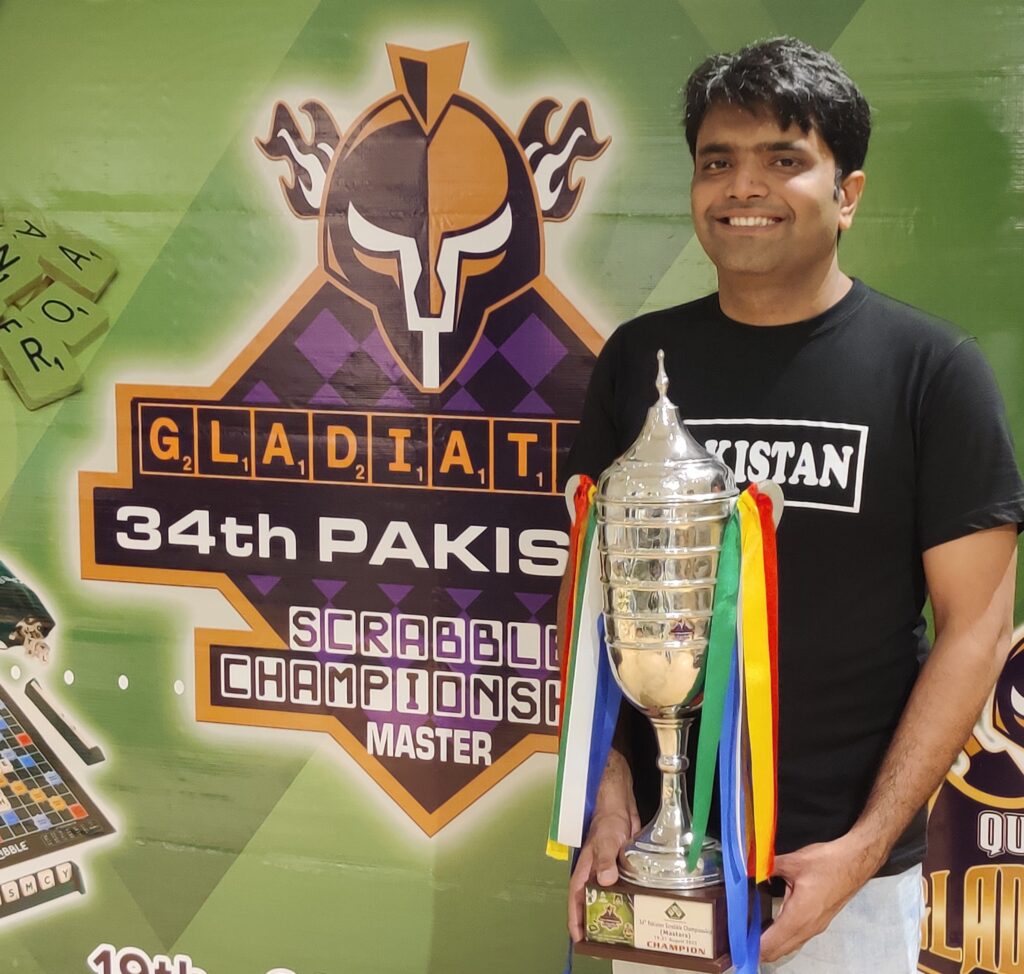 Waseem Khatri stamped his authority on a scrabble board by winning the prestigious title of Gladiators 34th Pakistan Scrabble Championship 2022 for a record tenth time.
The championship featuring 54 of the top rated players in Pakistan was played over three days at the historic and revamped NJV School in Karachi.
33rd Gladiator Pakistan Scrabble Championship: Waseem Edges Past To Win 2021 Title
A number of upsets and surprises were witnessed on the final day as tension mounted. By lunch time of the final day Waseem looked in command with a two-game lead over his nearest rival but young Hasham Hadi Khan set the cat among pigeons by beating Waseem in the next two games to climb to the No. 1 spot with a game to go. The final was a winner-take-all affair and Waseem with his immense experience outclassed his young opponent to take the trophy and the title of the National Champion yet again.
Overall Waseem won 19 of his 27 games and maintained a spread of 1555.
17 year old Hasham Hadi Khan who won the national title in 2019 at the age of just 14 gave Waseem a run for the money but stumbled at the last hurdle and was contended to take the runner-up trophy with 18 wins and a spread of 1458.
Hasham's elder broth Hassan Hadi Khan also won 18 games but finished 3rd with a spread of 1403.
The father-son duo of Rashid Khan and Ali Rashid were the surprise package of the day as both were making appearances in tournaments after a long gap. The son Ali Rashid finished at 4th while his father Rashid was 5th.
Reigning world youth champion S. Imaad Ali looked rusty but still finished a decent 6th while 15 year old Monis Khan had his best ever finish at 7th.
Chief Guest Mr. Nadeem Omar, the franchise owner of Quetta Gladiators gave the trophy to the winners.