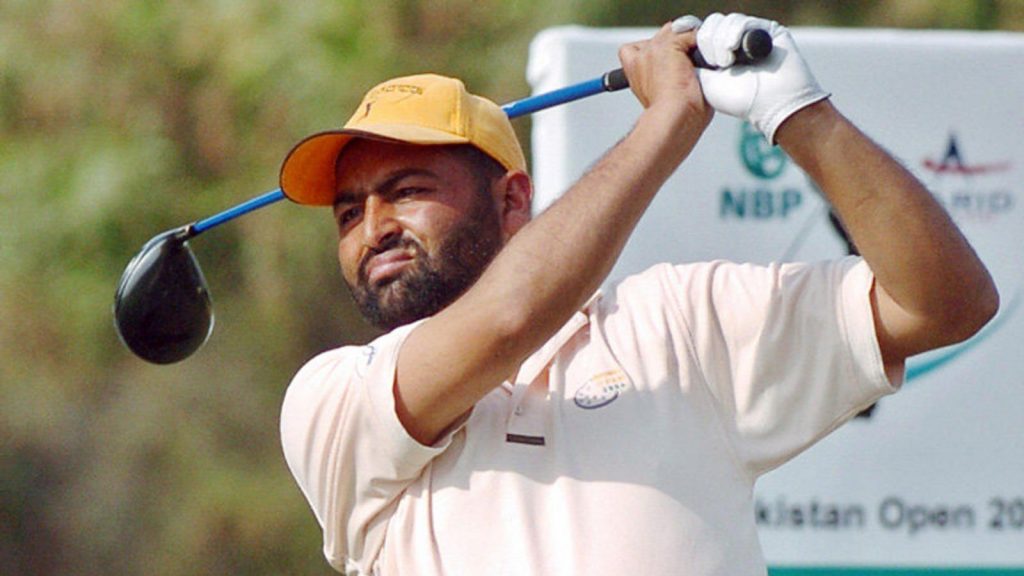 The 47th Pakistan Open Golf Championship came to an eventful conclusion with Muhammed Shabbir of Islamabad winning the title and surfacing as the Pakistan Open Champion for 2020-21.
Held at the 135 year old Rawalpindi Golf Club Golf Course after four rounds (72 holes) M. Shabbir seized the national title for the fifth time.
Shabbir was the man of eminence at the closing 18th hole on the final day, as he was virtuous enough to embrace his 21 years old young opponent Ahmed Baig and complimenting him for ending up the Championship as the runner up. The four rounds scores achieved by M. Shabbir were 71, 72, 73 and a remarkable 67 in the final round, his aggregate score adding up to 283, five under par. Scores of Ahmed Baig were 70, 70, 76 and a 70 in the fourth round, aggregate being 286, two under par for the championship. And third position was secured by Muhammed Munir of Rawalpindi Golf Club through four rounds scores 77, 71, 70 and 69, his score adding up to 287, one under par.
During the final round the run of play was controlled by the masterly Shabbir. His tee shots were forceful and precision oriented backed by flawless approach shots that resulted in the ball landing on greens, mostly within five to six feet of the flag stick. And that made putting uncomplicated and fetched him eight birdies on holes 1 ,4, 6, 10, 11, 13, 14 and 17. To make him look human, the bogies were also there, encountered on holes 4, 7 and the final hole of the championship, the par 4, 18th. And as the flow shows, the touch of the champion was admirably visible and imposing.
As for Ahmed Baig, he put up a gallant and spirited fight and was incessant about his pursuit of victory. At the end of nine holes Ahmed was level with Shabiir but then Shabbir applied what can be called an overwhelming charge that swayed the game in his favour. Yet it goes to the commendation of Ahmed Baig that he came up with exceptional play on holes 15 and 16 that brought him welcome birdies. A slight deficiency of luck cost him a birdie on the 17th and then a chance of ultimate victory completely faded.
The comment from the winner was heartening. He said "Young Ahmed Baig possesses all the traits of a champion and though I have won, I feel sorry for my young rival and hope this experience will add to his maturity and bring rewards and dividends for him in future."
The third position holder M. Munir is the number three ranked golf professional of the country who has managed to end up third in this championship with four rounds score of 287, one under par.
Other aspirants who ended up well are M. Nazir (Rawalpindi) with a score of 288. Fifth position went to M. Alam (Defence Raya) at a score of 289 followed by Muhammed Afzal of Sind Regiment, the score being 291. Following him in seventh position is Taimoor Khan of Peshawar, and his score also 291. Muhammed Umer Khokher of Rawalpindi, an amateur golfer came eighth with a score of 292. This is a big achievement for him. M. Rehman of Royal Palm ended up ninth and at 10th position is Matloob Ahmed. Score of M. Rehman was 292, and Matloob had a score of 293.
Prize Money for the Pakistan Open is Rupees 5 million. Winner received a sum of Rs 570, 000, Runner up earned Rupees 371, 250, and third position achiever fetched Rs 232, 500 plus the remaining 47 position achievers also collect prizes in accordance with an approved format.
Senior Professional Category Results; 1st Nisar Hussain (PAF ); 2nd Zulfiqar Ali (Multan); 3rd Muhammed Akram (Gym); 4th Raja Iftikhar Hussain (Rawalpindi).
Best Junior Professional of this championship is Abdul Wadood of Multan. Faizan Ali of Lahore Garrison is second and Ishfaq Ahmed of Multan is third.
The Best Amateur of the Championship was Muhammed Umer Khokher, his scores for the four rounds being 76, 70, 72 and 74, the aggregate score being 292. Second gross prize in amateur category was won by Salman Jehangir of Lahore Gymkhana, his scores being 76, 78, 74 and 71, total adding up to 299.
Organized by Pakistan Golf Federation, at the conclusion of the championship, Dr. Arif Alvi, President of Islamic Republic of Pakistan awarded prizes to the winners in the presence of Dr Fehmida Mirza, Minister for IPC, Lt. Gen. (r) Muhammed Hilal Hussain President of Pakistan Golf Federation.