At the conclusion of the 2nd of 48h Pakistan Open Golf Championship in progress at the Karachi Golf Club Golf Course, the overnight leader Waheed Baloch of the host club maintained his domination and emerged as the kingpin and front runner of this title bearing championship.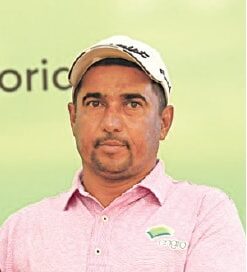 In the second round, Waheed Baloch asserted his authority over the fierce flow of the competitive proceedings through shot control and mastery on the greens. He came up with a score of gross 69 on Friday and that added to his first round 66 gives him an aggregate of 135, seven under par for two days. He now enjoys a sprightly two stroke advantage over his robust and lethal rival Muhammad Shabbir of Islamabad who is in the habit of acquiring ascendancy as the Championship cascades towards the final moments.
However, as the Championship stands, Shabbir came up with a round of gross 70 and his aggregate for two rounds adds upto 137, five under par. Out of the other contenders Ahmed Baig (PAF Skyview) is placed third with a two rounds aggregate of 138, four under par and this position he shares with Ansar Mehmood of Margalla Greens who is also at 138 and they trail the leader Waheed Baloch by three strokes. Competition wise that is not much of an advantage for the leader and it means an intense fight over the next two rounds and it will be youth versus experience.
More contenders in line for good positions are 55 professionals and only four amateurs namely Omar Khalid, Muhammed Umer Khokher ,Salman Jehangir and Syed Yashal Shah.
In the race for top positions in Junior Professional Category the outstanding one turned out to be Muhammed Sahil (Peshawar) and his score for the round was gross 73. M.Saqib of Lahore Garrison is placed second at 76 and Nabeel Khan of Airmen Golf Club is at 77.
Leader in Senior Professionals category is Tahir Naseem (Gymkhana) with a score of gross 70 while his nearest rival Naseer Khan (Peshawar) is at 71. And at gross 72 are placed three senior professionals. They are Muhammed Akram (Gymkhana), Ejaz Hussain(PAF) and Irfan Mehmood (Rawalpindi).
Tee off in the third round on Saturday will be at 8.30 am for the champion professionals in the 48th Pakistan Open Golf Championship at the Karachi Golf Club Golf Course.