Sheikhoo Steel/Diamond Paints and Asean Polo Team qualified for the main final of the Maj. Gen. Saeed-uz-Zaman Janjua Memorial Polo Cup sponsored by JS Bank after winning their respective semifinals, played at JPF-Jinnah Polo Fields.
The main final will be contested between on Sunday, 30th January, while Jubilee Insurance will vie against FG/Din Polo in the subsidiary final on the same day.
In the first semifinal of the day, Sheikhoo Steel/Diamond Paints outpaced Jubilee Insurance with a good margin of 14½-7. Saqib Khan Khakwani played hero's role in Sheikhoo Steel/Diamond Paints' victory as he hammered four fantastic goals while his teammates Ahmed Ali Tiwana and Mir Shoaib Ahmed slammed in two and one goal respectively. From Team Jubilee Insurance, Hissam Ali Hyder hammered a hat-trick of goals while Syed Muhammad Aun Rizvi scored one goal.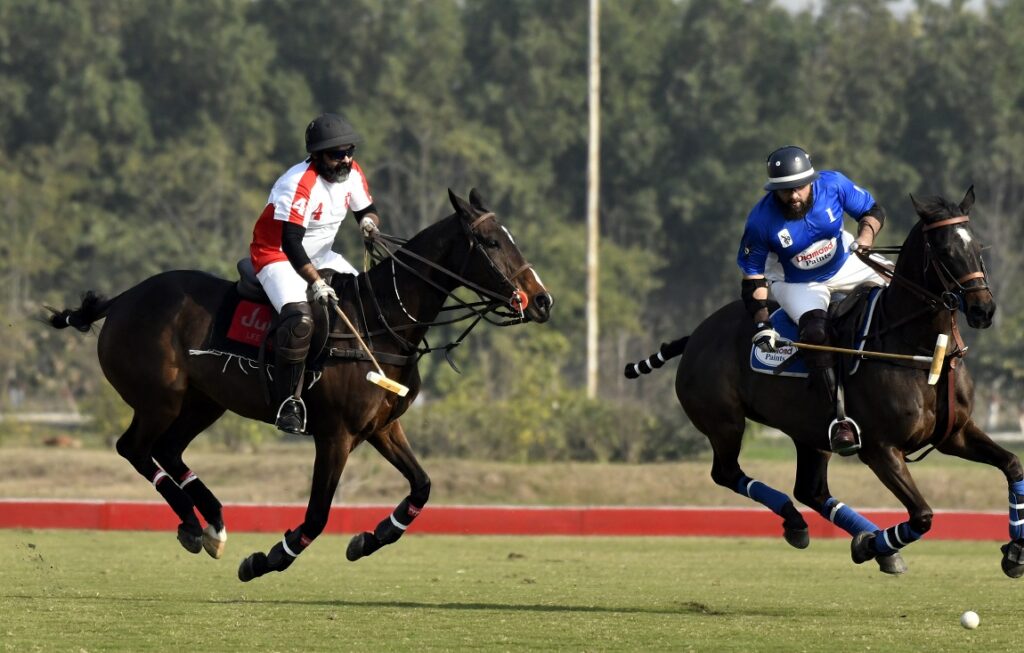 The second semifinal of the day, contested between Asean Polo Team and FG/Din Polo, proved to be a thrilling encounter and after a tough fight, Asean Polo Team won the thriller with a narrow margin of 6-5. Seasoned campaigner Raja Sami Ullah and Raja Jalal Arslan emerged as stars of the match as they displayed high-quality polo and skills and techniques and thrashed in three tremendous goals each from the winning side. On the other hand, Mian Abbas Mukhtar hammered a hat-trick of goals and Ramiro Zaveletta and Waqas Khan converted one goal each but their efforts couldn't bear fruit for FG/Din Polo, which lost the crucial match by 5-6.
جناح پولو فیلڈز کے زیراہتمام میجر جنرل سعید الزمان جنجوعہ میموریل پولو کپ سپانسرڈ بائی جے ایس بینک کے مین فائنل کیلئے شیخو سٹیل /ڈائمنڈ پینٹس  اور آسیان پولو ٹیم نے کوالیفائی کرلیا۔ دونوں ٹیموں نے اپنے اپنے سیمی فائنلز جیت لیے۔ تفصیلات کے مطابق جناح پولو فیلڈز میں دونوں سیمی فائنلز دیکھنے کیلئے تماشائیوں کی اچھی تعداد موجود تھی۔ اس موقع پرجے ایس بینک کے ریجنل ہیڈ سنٹرل ماجد قریشی، کلب کے صدر لیفٹیننٹ کرنل (ر) شعیب آفتاب، سیکرٹری میجر (ر) بابر محبوب اعوان، تماشائیوں اور فیملیز کی اچھی تعداد بھی موجود تھی۔ پہلے سیمی فائنل میں شیخو سٹیل /ڈائمنڈ پینٹس نے جوبلی انشورنس کی ٹیم کو ہرا دیا۔ آٹھ چکرز کا فائنل سکور شیخوسٹیل /ڈائمنڈ پینٹس 14.5 جبکہ جوبلی انشورنس 7 رہا۔ شیخو سٹیل /ڈائمنڈ پینٹس کی طرف سے ثاقب خان خاکوانی نے چار، احمد علی ٹوانہ نے دو جبکہ میر شعیب احمد نے ایک گول سکور کیا جبکہ جوبلی انشورنس کی طرف سے حسام علی حیدر نے تین جبکہ سید محمد اون رضوی نے ایک گول سکور کیا۔ دوسرے سیمی فائنل میں آسیان پولو ٹیم نے سنسنی خیز مقابلے کے  ایف جی /دین پولو کی ٹیم کو 6-5 سے ہرا دیا۔ آسیان پولو ٹیم کی طرف سے راجہ سمیع اللہ اور راجہ جلال ارسلان نے تین تین گول سکور کیے۔ اس طرح مین فائنل شیخو سٹیل /ڈائمنڈ پینٹس اور آسیان پولو ٹیموں کے درمیان جبکہ سب سڈری فائنل جوبلی انشورنس اور ایف جی /دین پولو کے درمیان کھیلا جائے گا۔