Zia Mehmood is a connoisseur of the game of bridge and because of his achievements he is reckoned to be one of the worlds's admirable and exceptional bridge player. Zia achieved global bridge fame, almost overnight during the 1981 Bermuda Bowl tournament, when he led Pakistan to a second-place finish.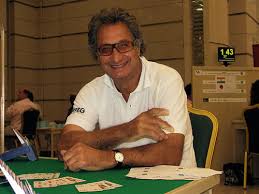 In yet another feather in Mahmoods' Bridge cap, he was elected almost unanimously to the Committee of Honour of the WBF-World Bridge Federation by the whole Executive Council and the living members of the Committee. Subsequent to the election, José Damiani, WBF President Emeritus and Chairman of the WBF Committee of Honour welcomed Zia.
The Committee comprises of experienced people who advise the WBF on various subjects like eligibility regulations, anti doping regulations, Systems Policy, Bidding Guidelines and other associated matters. And with the induction of Zia Mehmood, expectations are that much value will be added to the World Bridge Federation.
World Bridge Federation also awarded the WBF Gold Pin to Zia Mehmood, which is the highest award offered by WBF.
Over the years Zias' accomplishments include a masterful performance in the year 1981, when he led Pakistan to a second place final in the Bermuda Bowl Tournament, a biennial contract bridge world championship for national teams. Furthermore, in 1986 at the Rosenblum Cup, classified as the Open World Bridge Championship, Zia Mehmood made his country proud through a paramount performance that enabled Pakistan Team to become finalists. More notable attainments include his victories in the ACBL's Life Masters Championship where he gained top position on three occasions. First one was in the year 2000 and again in 2004 and 2007 and each time he surfaced as the champion with three different partners. 
The WBF Committee of Honour formed way back in 1972 for the purpose of recognizing the selfless efforts of individuals who make a significant contribution to the enhancement and growth of bridge throughout the world. With his nomination, the Council consists of thirteen members and stands completed. Besides Zia Mehmood, other members are Jose Damiani (France), Chen Zelan (Singapore), Patrick Choy (Singapore), Mark De Pauw (Belgium), Panos Genontopoules (Greece), Georgia Heth (Great Britain), Alvin Levy (USA), George Retak (Canada), Giannarrigo Rona(Italy), John Wignall (New Zealand), Robert S.Wolff (USA) and Mazhar Jafri (Pakistan).
Ihsan Qadir, the Honorary Secretary of Pakistan Bridge Federation stated that the bridge community of Pakistan is delighted with this international recognition  of an accomplished Bridge player from Pakistan. He also shared that Mazhar Jafri was elected Vice President of WBF way back in 1991 and in this capacity he attained historic recognition of Bridge as a Sport by International Olympic Committee. And while Zia Mehmood was honored with the Gold Pin , Mazhar Jafri was the recipient of a Gold Medal from WBF in 2004.
Who Is Zia Mehmood
Zia Mahmood aged 75 is a Pakistan-American legendary professional bridge player. He become internationally recognised during 1981 when under his leadership Pakistan finished at second-place in the Bermuda Bowl tournament.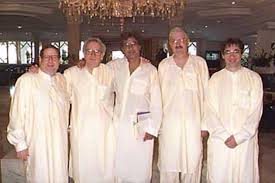 Although now Zia represents the United States in world competition, however, he still has strong affliation with original identity and considers himself Pakistani. He has stated, "I am proud and glad to represent America, but my Pakistani identity is not submerged in any way. I feel like a Pakistani who is living in America and playing for America." As a proof to his point of original identity, Zia and his American teammates once played their opening match in Pakistans' national dress.
Zia Mahmood has been involved in Bridge promotion. He has been a TV host and authored an autobiography namely, Bridge My Way. He wrote in The Guardian till January 2012, when the newspaper stopped bridge coverage.
Zias' regular partner was Late Masood Salim, after who's death Michael Rosenberg occupied the chair. Presently, it is Bob Hammam.
Zia family includes his wife – Lady Emma and two sons – Zain and Rafi.