American Football: Cleveland Browns Win First Game After 635 Days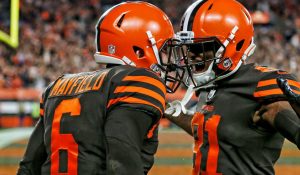 When Cleveland Browns last won a game, Barack Obama was the president of the United States. This is why, it came as no big surprise when the finish of their losing run was celeberated in style.
The victory came against New York Jets by 21-17, after a total of 635 days and 19 matches without a triumph, as Cleveland Browns made a comeback from 14 points behind to win the game.
The comeback was inspired by the rokkie quarterback Baker Mayfield, who was one of the best pick of the NFL draft.
Hey @ColinCowherd can you believe that show off @bakermayfield actually sat on the post game desk for 15 full minutes without any teammates??? It's like he thinks he led the @Browns to their first win in over a year…………..oh wait, should I call in tomorrow?

— Joel Klatt (@joelklatt) September 21, 2018
A concussed Tyrod Taylor was replaced by Mayfield, as they came late in the game to win back from 14-0 by completing 17 passes from 201 yards.
The Browns, who drew their opening match of the NFL season after they were defeated with a narrow margin in their 2nd match, got 2 goal-line touchdowns from running back Carlos Hyde.
The NFL is a copycat league. The Browns copy the #Eagles run a "Backwards Philly Special" for the two point conversion with left handed Jarvis Landry throwing to QB Baker Mayfield to help Cleveland beat the Jets. #FlyEaglesFly

— Garry Cobb (@GarryCobb) September 21, 2018
Cleveland Browns fans waking up like it's Christmas morning. The last time they woke up after a win it actually WAS Christmas morning… 2016 !! Well deserved and better days ahead for the Brownies.

— Neil Reynolds (@neilreynoldsnfl) September 21, 2018
For more updates keep visiting allsportspk