Golf – Tour Championship '18: Tiger Woods Tied In Front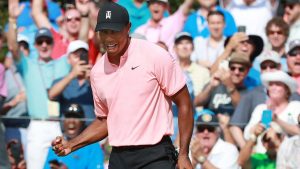 ATLANTA: The standards have changed for Tiger Woods. How could they not, after all that he's endured?
He already considers this season, his first in years that hasn't been interrupted by injury, a success.
In his prime, Woods would have never been content with a winless year. But, after four back surgeries, there was much to celebrate in 2018.
He started the year unsure how much he'd be able to play. Not only did his back hold up, but he quickly proved that he was capable of contending. And he qualified for his first TOUR Championship in five years.
2017 Masters Golf Cup: Tiger Woods Withdraws Due To Injury
A victory is the obvious next step in his comeback. He's given himself another opportunity for win No. 80 win after shooting 65 on Thursday at East Lake Golf Club. He shares the first-round lead with Rickie Fowler.
"It would just enhance the year," Woods, the only two-time FedExCup champion, said about a win. "To be able to play golf again and to earn my way back to this level is something that I was hoping I would do at the beginning of the year, but I didn't know. And I've done it."
He capped off Thursday's round with an eagle at 18 that was reminiscent of earlier times. After hitting a 320-yard tee shot on the downhill par-5, Woods hit a high, fading 5-wood that landed softly on the green. He holed the 28-foot putt for eagle.
"That was a good one," he said with a smile. Dustin Johnson was the only other player to eagle the hole Thursday.
Golf – Ryder Cup 2018: Tiger Woods, Phil Mickelson Included
This is the second consecutive tournament where Woods has shared the first-round lead. He opened with a 62 two weeks ago in the BMW Championship at Aronimink Golf Club. Woods said Thursday's round, though it was three strokes higher, was "far better" because of East Lake's demanding layout and slick greens.
He was in control of his game from tee to green on Thursday. His only mishit was a "necked" 3-wood off the 17th tee. He missed just four fairways and four greens.
"Conditions were soft there," Woods said about Aronimink Golf Club. "It's hard to get the ball closer (at East Lake). There's so much chase in it. If you drive the ball in the rough, you know you can't get the ball close. The Bermuda rough, you just can't control it. It puts a premium on driving and puts a premium on allowing for a little bit of chase on some of these greens. When I had some good looks, I went right after it, and otherwise I played pretty conservatively."
His first round at East Lake started inauspiciously, with a three-putt from 24 feet. It was his only bogey of the day. He made consecutive birdies at Nos. 5 and 6, holing putts of 26 and 15 feet, to make the turn in 1-under 34.
Tiger Woods Backs Jason Day To Reclaim No.1 Rank In Golf
He added birdies at 12 and 14 before his eagle at the finishing hole. On 14, he hit his 206-yard approach shot to 8 feet.
Woods finished T6 at the BMW Championship. He was hampered by his putting in his second-round 70, then shot 66-65 in the final two rounds. He pulled within a shot of the lead in the final round before finishing three back of winner Keegan Bradley.
Woods drove the ball well at the BMW Championship and continued that trend Thursday. He was 12th in driving accuracy at Aronimink while averaging 301 yards off the tee. Only two players – Paul Casey and Justin Rose – hit more fairways than Woods on Thursday.
He has thrived with his driver since increasing its loft and changing shafts at the first event of the Playoffs, THE NORTHERN TRUST.
Tiger Woods arrested on DUI charge
"I had enough of it that I couldn't turn the ball over," Woods said Thursday. "I was pretty one-dimensional with a flat cut, or if I hit a straight ball, it was just not carrying far enough. I'd have to make a different swing with a driver than I would with a 3-wood or 5-wood or 2-iron, and I didn't want to do that anymore."
With the TOUR Championship re-pairing after each round, Woods and Fowler will play in Friday's final group. They also were paired in the first two rounds at Aronimink, where Fowler shot 65-65 in his first start since an oblique injury.
"In my eyes, looking at it, the biggest win for him is just staying healthy and being out here all year consistently," Fowler said.
An actual victory would be an even bigger story. In the final event of the season, Woods has another opportunity to make it happen.
For more updates keep visiting allsportspk