American Football: Aaron Donald Becomes The Highest Paid Defensive Player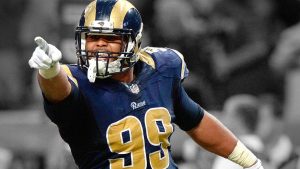 In the wake of concurring a six-year contract extension with the Los Angeles Rams worth $135 million, Aaron Donald has turned into the highest paid defensive player in NFL history.
The 27-year-old was named as NFL's 2017 defensive player of the year.
American Football: Aaron Rodgers Set To Become The Highest Paid Player
According to reports, the Donald will get a $40 million signing bonus and gain more than $22 million on an annual basis. This contract broke the record contract of Denver linebacker Von Miller, who signed a deal of $19 million a year.
Other Record Breaking Deals Of This Summer
Previously, Green Bay Packers quarterback Aaron Rodgers turned into the most generously compensated player in NFL history, in the wake of concurring a four-year contract expansion reported to have a worth of $134 million.
Meanwhile, Odell Beckham Jr marked a five-year contract expansion at the New York Giants worth a revealed $95 million, making him the most generously compensated wide receiver in the NFL's history.
Social Media Reactions
Did the @nfl turn the salary cap off on franchise mode? Money being thrown everywhere lol Aaron Donald 6 years 135 mill with 87 guarenteed! #madden #playmoney

— Joe Mike Favoroso (@Favoroso10) September 1, 2018
#clutchmoment
As the preseason comes to an end so do contract negotiations between DE Aaron Donald & the Los Angeles Rams. Donald signed a monster extension of 6 years $135 million with… https://t.co/4eAF01Hdfs

— Clutch City Network (@clutchcitynet) September 1, 2018
There's a lot of cash dropping in the @nfl baby!!! Congrats to @AaronDonald97 and @AaronRodgers12 on your extensions #AaronDonald #AaronRodgers #chingching pic.twitter.com/EPrsHmZHUb

— TAVON MASON (@tmason18) September 1, 2018
Congratulations to @AaronDonald97 on becoming the highest paid defensive player of all time in the NFL! Very much deserved. Take a look at what was delivered to his driveway last night. Mar Pacifico, good choice. #KarmaAuto https://t.co/ayqM3pXihd

— Jim Taylor (@JimTaylorKarma) September 1, 2018
For more updates keep visiting allsportspk