Tennis: Andy Murray Pulls Out From Citi Open & Rogers Cup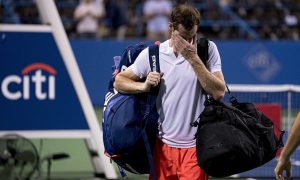 Murray, 31, was due to play the Australian tennis pro Alex de Minaur, in the quarterfinals of the ongoing Citi Open, however he decided to withdraw from the match.
Andrew Barron Murray is a British professional tennis player from Scotland and is currently ranked at number 832 in the tennis men's singles rankings.
Murray also bowed out of the upcoming Rogers Cup, and the primary reason behind it was his hip surgery, that was troubling the tennis player for a long time.
The Briton tennis player made his rebound to the sport after an 11-month gap, at Queen's tournament in June. Furthermore, he also played at Eastbourne tournament, before choosing he was not sufficiently fit to contend at Wimbledon a month ago.
Respect to @andy_murray – just at the start of a big comeback after nearly a year out injured. Totally understandable to withdraw from his QF after 3 epic matches and a 3AM finish! More days and hopefully not so late nights ahead for GB's greatest. #CitiOpen #AndyMurray

— Rich Jacobs ? (@richardjacobs1) August 4, 2018
The previous world number one will now take proper rest, which will help in aiding towards a full recovery of his hip muscles. And, the next plans for the British national will be now be centred around the Cincinnati Masters, which is scheduled to begin from 13 August.
In his own words, Andy Murray explained the situation by saying:
"I'm exhausted after playing so much over the past four days, having not competed on the hard courts for 18 months,"

"I also need to be careful and to listen to my body as I come back from a long-term injury."
Tennis fans were expressive on social media regarding Andy Murray's decision to withdraw from the match against Alex De Minaur, and were found to be divided in their opinion. Have a look:
@andy_murray @JudyMurray absolutely the right decision to withdraw. Your true fans support your decision and are with you all the way .Hope you recover well and look forward to seeing you at Cincinnati ?

— angie french (@angiefrench46) August 4, 2018
@ATPWorldTour please sanction Andy murray. Fatigue is no longer an excuse to withdraw. You pay a tournament, you pay it through unless injured. He's bringing the game into disrepute and it's shocking and disgusting he gets his own way. He is not bigger than the sport.

— Paul Denton (@Denton79) August 4, 2018
Why is it ok for him to withdraw? He robbed the fans of a match. He should have defaulted before the end of the match to give a worthy Copil a chance to go further in the tourney. This is not making me like @andy_murray any.

— vbresd (@vbresd) August 4, 2018
Why withdraw against next opponent ? Can't stand the heat? Be a man! Stop crying like a baby girl !! Get up! You won the match! What is your PROBLEM ?!!!

— Ho Wei Lin (@HoWeiLin1) August 4, 2018
Can't possibly expect Andy Murray to perform again at this time?! Ridiculous. He's a Sir! ?could you please look after him ???thank you ❤️Better to have him play after an acceptable amount of rest time than withdraw through scheduling?

— Jude Bumford (@bumford_jude) August 3, 2018
For more updates keep visiting allsportspk