Baroque Polo Cup 2018: Final; Guard Group Vs Remington Pharma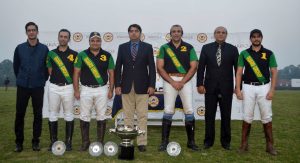 Sterling performance by Saqib Khan Khakwani and Taimur Ali Malik steered Guard Group to Baroque Polo Cup 2018 title after they outclassed Remington Pharma by 8-4 in the final played here at the Lahore Polo Club on Sunday.
Provincial Minister of Punjab for Higher Education and Tourism Raja Yasir Humayun Sarfraz graced the final as chief guest while Baroque CEO Bilal Sajjad was guest of honour and they distributed prized and shields among the winners. Also present on the occasion were Lahore Polo Club members Jawad Jameel Malik, Omar Saeed Niazi, Saqib Khan Khakwani, LPC Secretary Col (R) Shoaib Aftab, members and their families and polo enthusiasts, who all witnessed the exciting final.
Both Saqib and Taimur displayed outstanding polo skills and techniques and emerged as stars of the day by firing in fantabulous four goals for the winning side while from the losing side, Raja Temur Nadeem hammered a hat-trick and Dr Faisal Qadeer Khokhar converted one goal.
Baroque Polo Cup 2018: Day 4; Guard Group Vs Remington Pharma Final
Remington Pharma, who remained unbeaten throughout the tournament, started the match well by scoring a field goal through Raja Temur to take 1-0 lead. Guard Group made a comeback in the second chukker when Saqib scored an equalizer off a 40-yard penalty. Raja Temur once again provided 2-1 lead to Remington Pharma when he converted a 30-yard penalty successfully. Saqib then played aggressively and banged in a brilliant brace to help Guard Group take 3-2 lead, which couldn't last long as Raja Temur struck another equalizer to square the things at 3-3 just before the end of the second chukker.
The third chukker was fully dominated by Guard Group as they thwarted three more goals to enjoy unassailable 6-3 lead. Saqib struck the fourth goal for his team while Taimur Ali Malik contributed a brace in his team's total tally. Guard Group kept on maintaining their supremacy as they added two more goals through high-flying Taimur Ali Malik to further strengthen their lead to 8-3. In the dying moments, Dr Faisal Khokhar reduced the deficit to 8-4 by off a 30-yard penalty. Hamza Mawaz Khan and Omar Ajmad Malhi supervised the final as field umpires.
Meanwhile, Bilal Steel thrashed Newage-Diamond Paints by 11-5 to win the subsidiary final. Ahmed Zubair Butt and Omar Asjad Malhi hammered a hat-trick each for the winning side while the remaining goals came from Hashim Kamal Agha and Ali Riaz who struck two goals each and one of their goal was bonus from Bilal Steel, when their player Mir Huzaifa scored own goal. From the losing side, Adnan Jalil Azam scored three goals and Mir Huzaifa hit two. Raja Arslan Najeeb and Adam Khan officiated the match as field umpires.
For more updates keep visiting allsportspk