After back to back deliberations a deal has been finalised between the NBA National Basketball Association players and league, to resume the games from Saturday, 28th August.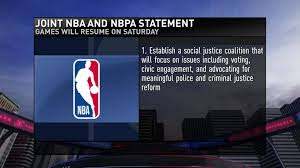 According to the understanding it was agreed, to at once establish a "social justice coalition" between the players, coaches and executives. The prime mission of which would be to focus on multiple issues – for advocating for meaningful police and criminal justice reform, increasing access to voting and promoting civic engagement.
Basketball NBA Playoffs: 'Black Lives Matter' Resurges – Three Matches Cancelled
Further, it is agreed that NBA arenas will be used for voter registration, as voting centres and as ballot receiving areas during and before the forthcoming elections to be held on 3rd November. For which owners will closely coordinate with local election officials.
On the other hand, US President Trump has criticised increasing politicisation of the sports community.
On Wednesday NBA called off three playoff matches because Milwaukee Bucks boycotted game to protest against the police shooting of a black Jacob Blake in Kenosha, Wisconsin. Thereafter, boycotts spread through the league's playoff teams, the WNBA Women's National Basketball Association games, MLB Major League Basketball contests and Major League Soccer matches.