Pakistan Cricket: PCB Chairman Najam Sethi Resigns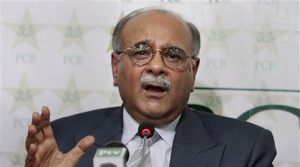 Najam Sethi has resigned from his position as Pakistan Cricket Board's Chairman. He was appointed as PCB's chairman on 10th August 2017 and ended his tenure today, on 20th August 2018.
Pakistan Cricket: Prime Minister Appoints New PCB Chairman
According to reports, the primary reason behind Sethi's resignation relates to the political tensions between him and the former cricketer and newly elected Prime Minister of Pakistan, Imran Khan.
Pakistan Super League (PSL) was the brainchild of Najam Sethi, and he also revived International cricket by inviting West Indies, Sri Lanka and World XI to Pakistan.
I was waiting for the new Prime Minister to take oath before submitting my resignation as PCB Chairman, which I have done today. I wish PCB all the best and hope our cricket team goes from strength to strength. Eid Mubarak. Pakistan Zindabad. pic.twitter.com/uiIVoiRAtq

— Najam Sethi (@najamsethi) August 20, 2018
.@najamsethi has performed remarkably as PCB/PSL Chairman. PM @ImranKhanPTI will win love of cricket fans if he worked with him to further uplift PCB/PSL. Personally acknowledged his 24/7 efforts for the revival of cricket and bringing back cricket into our home grounds.

— Javed Afridi (@JAfridi10) August 5, 2018
Najam Sethi resigns as Chairman PCB. A sad state of affairs in Pakistan when personal enmity washes up all your positive work and struggle. @najamsethi 's services must be remembered as the pioneer of @OfficialPSL and boosting the dead Cricket in Pakistan. pic.twitter.com/ehkOYKa0N1

— Shama Junejo (@ShamaJunejo) August 20, 2018
"Najam Sethi" Sir, you have taken a bold step at the right moment. There is a culture growing on here to bash everyone who doesn't support the one's point of view but I would appreciate all your efforts which you carried out to bring cricket and PSL back to the country. Be happy.

— Humayun (@Humayun45267788) August 20, 2018
For more updates keep visiting allsportspk