Breaking: World Cup 2018 – Portugal Vs Spain: 1st Half – Whose Leading?
Portugal took the lead early as Ronaldo scored a sensational penalty to put his team ahead.
Cristiano Ronaldo at the #WorldCup:

2006: ⚽
2010: ⚽
2014: ⚽
2018: ⚽⚽

A new personal best at the tournament after just 45 minutes. pic.twitter.com/kwRRiDIaJT

— Squawka Football (@Squawka) June 15, 2018
But, Diego Costa scored in at the 24th minute to make it 1-1.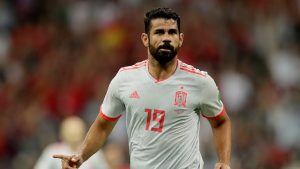 However, the legendary Cristiano struck a late goal at the 44th minute as the 1st half came to an end.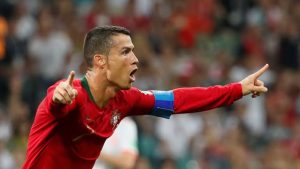 Diego Costa. Simply amazing. Would do anything for him to come back. pic.twitter.com/KWDLd7kicU

— ᴱᴰᴱᴺ (@DareToEden) June 15, 2018
A controversial no-call followed by a no-doubt finish by Diego Costa to level the score against Portugal #ESP⁠ ⁠pic.twitter.com/wHwydB28DO

— The Sports Quotient (@SportsQuotient) June 15, 2018
Chelsea fans watching Diego Costa single-handedly take on Portugal's defence: pic.twitter.com/NIi3nzGXrJ

— Footy Accumulators (@FootyAccums) June 15, 2018
Star player for #Por is not #Ronaldo its david #DeGea #ESP #FifaWorldCup2018 pic.twitter.com/hEhhV5g2nM

— Chennai Talkies (@Chennaiites) June 15, 2018
The best there is, the best there was and the best there will be…… Cristiano Ronaldo the greatest of all times. We are lucky to be able to live in Cristiano Ronaldo era. We won't be able to see anyone like him again. #WorldCup pic.twitter.com/h0jDclyRVw

— Satan• (@iWaqas_) June 15, 2018
Match Highlights To Follow