Champions League '18-19 – Highlights: Mohamed Salah Takes Liverpool To The Last 16
These are the first eight matches of Champions League, Group stage Match Day 6 of 6. The highlights are appended below:
Champions League '18-19 – Highlights: Messi Makes A Perfect Start With A Hattrick
For Complete Champions League 2018-19 team rankings, click here
For Complete Champions League 2018-19 schedule, click here
Champions League – Match 1 of 16: Schalke 04 vs Lokomotiv Moscow
Result: 1 – 0
Goal Scorers:
Schalke 04: Alessandro Schopf 90+1′
Match Statistics:
| | | |
| --- | --- | --- |
| Schalke 04 | Team Stats | Lokomotiv Moscow |
| 17 | Shots | 8 |
| 6 | Shots On Target | 1 |
| 58% | Possession | 42% |
| 520 | Passes | 391 |
| 81% | Pass Accuracy | 75% |
| 16 | Fouls | 14 |
| 3 | Yellow Cards | 3 |
| 0 | Red Cards | 0 |
| 3 | Offsides | 2 |
| 11 | Corners | 2 |
Highlights: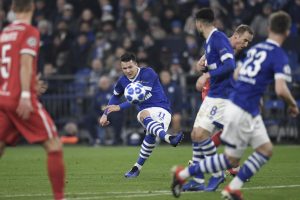 A place in the Europa League was on offer for Lokomotiv Moscow however they tumbled to a 1-0 Champions League crush at Schalke.
Lokomotiv Moscow botched their opportunity to meet all requirements for the Europa League as they were beaten 1-0 by Schalke at the Veltins Arena on Tuesday.
Schalke had effectively reserved their place in the knockout phases of the Champions League however Lokomotiv's expectations of European football in the new year were dependent on them getting a win in Germany and Galatasaray neglecting to pick up triumph at home to Porto.
UEFA Champions League Group D table:

1⃣ Porto – 16 PTS – Last 16
2⃣ Schalke 04 – 11 PTS – Last 16
3⃣ Galatasaray – 4 PTS – Europa League
4⃣ Lokomotiv Moskova – 3 PTS #UCL pic.twitter.com/cHJPK1hOwk

— shot2 Score (@shot2score) December 11, 2018
Gala were beaten 3-2 by the Portuguese victors yet Lokomotiv could not keep their very own finish of the deal, sending the Turkish club into the Europa League as Group D's third-set side.
The guests once in a while looked like breaking the halt in Gelsenkirchen and were eventually brought down by a stoppage-time strike from Alessandro Schopf.
The opening minutes were hindered by several wounds, as Lokomotiv striker Eder paused for a moment or two to recoup from a conflict of heads with Naldo and Schalke wing-back Hamza Mendyl must be supplanted by Baba Rahman following an overwhelming test from Dimitri Barinov.
90+2′ GOAL! Schalke 1-0 Lokomotiv Moscow (Schöpf)

Alessandro Schöpf wins it at the death for Schalke. #S04LMFC

— DW Sports (@dw_sports) December 11, 2018
Those two occurrences implied the clubs' physios were kept busier than their goalkeepers at an early stage, with neither Ralf Fahrmann nor Guilherme really tried amid a lukewarm first half.
Schalke developed for the second half with all the more assaulting purpose, yet Lokomotiv's Aleksey Miranchuk drew a noteworthy one-gave jumping save from Fahrmann in the 53rd moment.
Domenico Tedesco's men – much-transformed from their 2-1 alliance annihilation to Borussia Dortmund at the end of the week – began to make more possibilities as Lokomotiv went looking for the goal that would delay their European crusade, with Yevhen Konoplyanka and Suat Serdar seeing shots kept out by Guilherme.
The home side ought to have moved in front a little ways from time, when Matija Nastasic and Serdar some way or another figured out how to neglect to take care of business a touch on Naldo's ball crosswise over goal.
Moreover, Lokomotiv's expectations were at long last dashed a moment into damage time, with Schopf shooting home the bounce back after Serdar had a shot spared.
***************************
Champions League – Match 2 of 16: Galatasary vs Porto
Result: 2 – 3
Goal Scorers:
Galatasary: Sofiane Feghouli 45+1′ (P), Eren Derdiyok 65′
Porto: Felipe Augusto de Almeida Monteiro 17′, Moussa Marega 42′ (P), Sergio Oliveira 57′
Match Statistics:
| | | |
| --- | --- | --- |
| Galatasary | Team Stats | Porto |
| 18 | Shots | 4 |
| 7 | Shots On Target | 3 |
| 64% | Possession | 36% |
| 500 | Passes | 291 |
| 81% | Pass Accuracy | 70% |
| 14 | Fouls | 16 |
| 1 | Yellow Cards | 1 |
| 0 | Red Cards | 0 |
| 3 | Offsides | 3 |
| 7 | Corners | 4 |
Highlights:
Sofiane Feghouli scored one penalty and missed another yet Galatasaray go into the Europa League in spite of losing 3-2 at home to Porto.
Galatasaray fit the bill for the Europa League in spite of an exciting 3-2 home annihilation to Porto, who end their Group C crusade with five wins out of six on account of Sofiane Feghouli's penalty miss.
Felipe headed Porto ahead and Moussa Marega's fifth Champions League goal of the season broadened their lead, despite the fact that Feghouli lessened the deficiency before half-time with a fruitful first spot-kick.
Its your freaking duty to play at your best. Not only need you to play as good as possible but prize money (win bonus) you received in champions league is good for the club on his own. So no. We wont have to thank you. #GS #Galatasaray #Schalke04 #Porto #GalavsPorto

— Jason Mason (@JasonMason1905) December 11, 2018
Porto multiplied their lead again with a short proximity complete from Sergio Oliveira before Eren Derdiyok started any desire for a fightback for the hosts, which Feghouli smothered when he hit the banish from 12 yards.
In spite of slipping to a fourth thrashing in six Group C recreations, Galatasaray will go into the Europa League with Lokomotiv Moscow's late misfortune at Schalke leaving the Russian side base.
Gala began on top with Derdiyok missing from short proximity when found in the box by Feghouli, the striker then blameworthy of another expensive mistake at the opposite end in the seventeenth moment.
Porto wins at Galatasaray to finish CL group unbeaten – TSN https://t.co/bPzfmYuAxV Porto wins at Galatasaray to finish CL group unbeaten  TSN

ISTANBUL — FC Porto finished the Champions League group phase with an unbeaten record after earning a 3-2 victory at Galatasaray on Tu…

— Galatasaray Haber (@sadecehaber) December 11, 2018
Alex Telles conveyed a heavenly free-kick into the core of the Galatasaray box, with Felipe losing marker Derdiyok to control a header past goalkeeper Fernando Muslera.
Porto multiplied their lead from the punishment spot, Marega beating Muslera after Mariano stumbled Hernani, however ref Aleksey Kulbakov gave a spot-kick to Galatasaray minutes after the fact when Felipe fouled Garry Rodrigues, and Feghouli ventured up to opening home and give Gala trust.
Following awful misses from Feghouli and Henry Onyekuru, Porto made it 3-1 in the 57th moment as Marega and Hernani joined to tee up Oliveira.
FC Porto unbeaten through group of play, Tottenham face starter-less Barcelona in must win and Liverpool vs. Napoli looking like the match of the day! Winner most likely in! #ChampionsLeague

— Al Montaño (@almontano) December 11, 2018
Derdiyok at last got on the scoresheet when he completed off a low cross from Rodrigues and Fatih Terim's men ought to have promptly leveled when Kulbakov indicated the spot for a third time in the match.
Rodrigues drew a foul from Maxi Pereira however this time Feghouli could not change over, hitting the crossbar, yet Schalke beat Lokomotiv with a late victor to keep Gala in Europe.
***************************
Champions League – Match 3 of 16: Club Brugge vs Atletico Madrid
Result: 0 – 0
Match Statistics:
| | | |
| --- | --- | --- |
| Club Brugge | Team Stats | Atletico Madrid |
| 4 | Shots | 9 |
| 2 | Shots On Target | 3 |
| 42% | Possession | 58% |
| 392 | Passes | 547 |
| 73% | Pass Accuracy | 79% |
| 13 | Fouls | 8 |
| 2 | Yellow Cards | 3 |
| 0 | Red Cards | 0 |
| 1 | Offsides | 1 |
| 2 | Corners | 8 |
Highlights: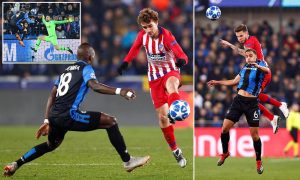 Club Brugge put on a vivacious showcase to hold Atletico Madrid to a goalless draw, costing the guests top spot.
Atletico Madrid were pipped to top spot in Champions League Group A by Borussia Dortmund on Tuesday as they were held to a goalless draw by Club Brugge in Belgium.
Add another clean sheet to Ethan Horvath's current run with Club Brugge, this time against Atletico Madrid in a 0-0 draw. #UCL #USMNT

— Larry Henry Jr (@lhenry019) December 11, 2018
The Spanish outfit required a win to ensure ahead of everyone else, or trust that Dortmund did not win in Monaco.
In any case, Dortmund triumphed 2-0 in the realm as Atletico experienced a mental blackout against an exuberant Brugge side, who practically grabbed triumph a little ways from time when substitute Luan Peres had a header spared by the foot of Jan Oblak.
FT – Club Brugge draw 0-0 with Atlético Madrid. The blue and black bow out of the Champions League as third with six points out of six games and enter the @EuropaLeague.#CLUATL #BrujasAtleti #UCL pic.twitter.com/2q6EpSC9P1

— Club Brugge English (@ClubBrugge_en) December 11, 2018
***************************
Champions League – Match 4 of 16: Inter Milan vs PSV Eindhoven
Result: 1 – 1
Goal Scorers:
Inter Milan: Mauro Icardi 73′
PSV Eindhoven: Hirving Lozano 73′
Match Statistics:
| | | |
| --- | --- | --- |
| Inter Milan | Team Stats | PSV Eindhoven |
| 22 | Shots | 6 |
| 9 | Shots On Target | 5 |
| 65% | Possession | 35% |
| 628 | Passes | 351 |
| 87% | Pass Accuracy | 78% |
| 15 | Fouls | 17 |
| 3 | Yellow Cards | 4 |
| 0 | Red Cards | 0 |
| 1 | Offsides | 4 |
| 6 | Corners | 2 |
Highlights: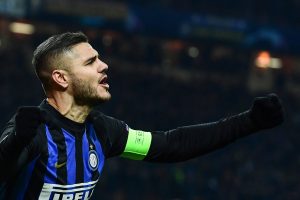 Inter Milan are out of the Champions League, as while Barcelona held Tottenham 1-1, Mauro Icardi just scratched a point with PSV Eindhoven.
The Nerazzurri realized their destiny was not by any stretch of the imagination in their grasp, as they needed to show signs of improvement result against PSV Eindhoven than Tottenham would away to Barcelona.
Radja Nainggolan was not completely fit, Matias Vecino harmed, Roberto Gagliardini, Joao Mario and Dalbert not on the UEFA list, so there must be a few changes. Antonio Candreva was moved to a midfield job in the 4-3-3. PSV began ex-Inter safeguard Trent Sainsbury, as Daniel Schwaab and Bart Ramselaar didn't make the outing.
And look at Inter Milan unable to subdue PSV that has been drinking goals throughout this campaign. Something fishy about these neat 1-1 draws. ?

— Davina Owombre (@dee_owombre) December 11, 2018
Striker Luuk de Jong needs to coordinate the unequaled club record of four successive Champions League goals, accomplished by Ruud van Nistelrooy in 1998 and Danny Koevermans in 2008.
Ivan Perisic had a colossal open door only six minutes in, running on to a long Mauro Icardi ball and turning his header on to the close post.
The group went wild when news got through that Ousmane Dembele had set Barcelona 1-0 up against Spurs. In any case, they overlooked the other essential piece of the capability confuse was beating PSV.
Spurs owe a massive thank you to PSV as well! Crazy that they managed to draw with Inter Milan despite having nothing to play for. #BARTOT #UCL

— Alex Batt (@AlexBatt) December 11, 2018
Eindhoven led the pack on 13 minutes when Kwadwo Asamoah was unpleasantly gotten under lock and key by Bergwijn, who crossed for Hirving Lozano's plunging header at the back post.
Asamoah was shaken by the blunder and kept on battling, his endeavor to stop Bergwijn transforming into an inadvertent help for De Jong, however Samir Handanovic surged off his line to repel.
Icardi scraped a major chance from the edge of the 18-yard box, yet Handanovic traveled to palm a Bergwijn depiction over the bar.
Despite #THFC's draw with #FCBarcelona, PSV have helped us greatly by drawing with Inter Milan as well, sending Spurs to the #UCL last 16!

We finish the group stage in 2nd place, level on points with Inter but with a superior head-to-head record! #COYS #BARTOT #INTPSV https://t.co/3tR2oN9ucD

— Everything Spurs (@EverythingSpur3) December 11, 2018
Straight after the restart, Icardi released a ground-breaking calculated drive that Zoet palmed round the far post, at that point the goalkeeper had his gloves stung by a Matteo Politano strike, however Marcelo Brozovic expanded well high and wide from Icardi's help.
Another Icardi endeavor was diverted to skim the upstanding, yet Inter at long last drew dimension when Icardi stripped far from his marker for an exact header at the back post on Matteo Politano's cross. It was an ideal method to check his 200th appearance in an Inter pullover.
Despite Mauro Icardi's 73rd minute leveller, ultimately @Inter have to be content with a place in the #EuropaLeague in the new year following this evening's draw with reigning #Eredivisie champions @PSV. #INTPSV #UCL https://t.co/LSCZHI27JY

— Total Dutch Football.com (@TotalDutchFB) December 11, 2018
Be that as it may, news came through from Camp Nou on 85 minutes that Lucas Moura had leveled for Tottenham. This implied Inter needed to win.
Keita's header was excessively near Zoet and there was a urgent last-discard handle with Icardi going clear, at that point Lautaro Martinez squandered the header.
For the next four matches, move on to the next page!