Champions League '18-19 – Highlights: Juventus Wins Amid Ronaldo's Red Card Controversy
These are the last six matches of Champions League, Group stage Match Day 1 of 6. The highlights are appended below:
Champions League '18-19 – Highlights: Messi Makes A Perfect Start With A Hattrick
For Complete Champions League 2018-19 team rankings, click here
For Complete Champions League 2018-19 schedule, click here
Match 9 of 16: Ajax vs AEK
Result: 3 – 0
Goal Scorers:
Ajax: Nicolas Tagliafico 46′, 90′, Donny van de Beek 77′
Match Statistics:
| | | |
| --- | --- | --- |
| Ajax | Team Stats | AEK |
| 16 | Shots | 4 |
| 6 | Shots On Target | 0 |
| 67% | Possession | 33% |
| 585 | Passes | 298 |
| 87% | Pass Accuracy | 70% |
| 13 | Fouls | 12 |
| 3 | Yellow Cards | 2 |
| 0 | Red Cards | 0 |
| 6 | Offsides | 2 |
| 13 | Corners | 3 |
Highlights: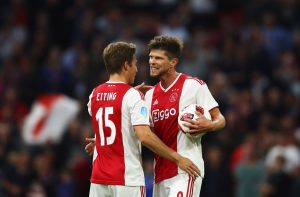 Nicolas Tagliafico scored two 2nd half goals, as Ajax denoted their arrival to the Champions League aggregate stages with a 3-0 triumph over AEK Athens.
Tagliafico scored in the 46th and 90th minute, and Donny van de Beek scored in the 77th, for Ajax, to guarantee triumph in their opening group stage coordinate out of the blue since 2002.
Nicolas Tagliafico scored twice (one of which is incredible) for Ajax in their 3-0 win against AEK in the Champions League. The goals here. https://t.co/Qpb2cSYBP1

— Roy Nemer (@RoyNemer) September 19, 2018
Ajax had a greater amount of ball possession in the opening time frame, however neither one of the sides made some obvious goal scoring possibilities.
Andre Simoes set out wide toward AEK from a corner with the best chance, yet Ajax were greatly enhanced after the break.
They progressed inside a moment of the restart as a corner was cleared to David Neres, and his ball into the penalty zone was volleyed into the net by Tagliafico.
500 – Nicolás Tagliafico's goal for Ajax was the 500th scored by an Argentinian in Champions League history (excluding own-goals). Quinientos.

— OptaJoe (@OptaJoe) September 19, 2018
He may have had a 2nd goal, when his header was halted by goalkeeper Vasilios Barkas, who pushed out an arm when Tagliafico appeared certain to score.
Van de Beek, who went ahead as a substitute in the 62nd moment, had a goal precluded for offside, yet a little ways from time, he volleyed home a 2nd goal with astounding finishing.
What a day this is going to be..having a tooth pulled in about an hour and a half, then if I'm still alive, prepare for Ajax' return in the Champion's League. Woohoo! #ajaaek #UCL

— Dorus van den Berg (@AFCANieuwveen) September 19, 2018
He was teed up by midfielder Dusan Tadic, who proceeded with his brilliant beginning to the season for Ajax with a pinpoint cross.
The triumph was fixed when Tagliafico got with a 25-yard shot from a tight point.
**************************
Match 10 of 16: Shakhtar Donetsk vs Hoffenheim
Result: 2 – 2
Goal Scorers:
Shakhtar Donetsk: Ismaily Goncalves dos Santos 27′, Maycon de Andrade Barberan 81′
Hoffenheim: Florian Grillitsch 6′, Havard Nordtveit 38′
Match Statistics:
| | | |
| --- | --- | --- |
| Shakhtar Donetsk | Team Stats | Hoffenheim |
| 13 | Shots | 19 |
| 4 | Shots On Target | 6 |
| 66% | Possession | 34% |
| 522 | Passes | 260 |
| 88% | Pass Accuracy | 77% |
| 9 | Fouls | 10 |
| 3 | Yellow Cards | 1 |
| 0 | Red Cards | 0 |
| 2 | Offsides | 3 |
| 5 | Corners | 9 |
Highlights: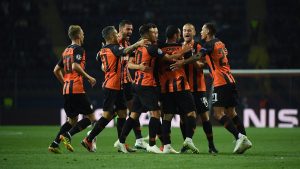 The most youthful mentor in Champions League history drew his introduction amusement Wednesday as Hoffenheim's match at Shakhtar Donetsk completed 2-2.
The 31-year-old Julian Nagelsmann needed to hold up only six minutes to see his group score a first Champions League objective as Florian Grillitsch put Hoffenheim 1-0 up.
#mcfc poor tonight. Like warping back 4/5 years in the CL. Better to lose that one rather than one that matters. Guessing us Berts going to Hoffenheim have more than just German beer to concentrate on now … looking forward to it

— Andy Leggott (@andyleg66) September 19, 2018
In any case, Shakhtar reacted with a performance exertion from Ismaily in the 27th as the Brazilian ran after the left flank before leaving protector Havard Nordtveidt sprawling as he cut inside and put a shot inside the far post.
Nordtveidt reestablished Hoffenheim's lead with a header in the 38th after a corner and his colleague Andrej Kramaric verged on scoring a third in the second half.
In any case, Maycon's long-extend shot in the 81st moment for Shakhtar implied the groups shared the focuses in Group F after a frenzied complete in which Hoffenheim held off a Shakhtar assault.
8 – With his appearance tonight for Hoffenheim against Shakhtar Donetsk, Reiss Nelson becomes the eighth Englishman to achieve this feat. Precocious. https://t.co/avHu3bKVSY

— OptaJoe (@OptaJoe) September 19, 2018
Nagelsmann, who turned 31 in July, assumed control at Hoffenheim in February 2016 matured only 28 and qualified the group for the Champions League last season without precedent for their history by completing third in the Bundesliga.
He's multi month more youthful than Belarusian Viktor Goncharenko was the point at which he trained BATE Borisov against Real Madrid in the Champions League in 2008.
While Hoffenheim follow their history back to 1899, they are a youthful club at the tip top level.
Check out Hoffenheim's delicious counter-press tonight. Will look to play long diagonal balls to create overloads. If they lose possession, they are extremely organized in winning the ball back https://t.co/URqcEjT0g0

— Billy M (@Wideoverload) September 19, 2018
The group moped in the German beginner classes before programming extremely rich person Dietmar Hopp started to put extensive totals into the club beginning from 2000, taking them to the Bundesliga in only eight years.
**************************
Match 11 of 16: Real Madrid vs Roma
Result: 3 – 0
Goal Scorers::
Real Madrid: Isco 45′, Gareth Bale 58′, Mariano 90+1′
Match Statistics:
| | | |
| --- | --- | --- |
| Real Madrid | Team Stats | Roma |
| 30 | Shots | 13 |
| 11 | Shots On Target | 4 |
| 62% | Possession | 38% |
| 618 | Passes | 379 |
| 89% | Pass Accuracy | 81% |
| 7 | Fouls | 4 |
| 1 | Yellow Cards | 2 |
| 0 | Red Cards | 0 |
| 2 | Offsides | 3 |
| 16 | Corners | 11 |
Highlights: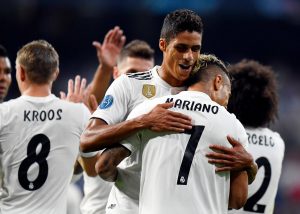 Real Madrid rode to triumph after goals from Isco, Gareth Bale and Mariano to a 3-0 win against Roma in their Champions League Group G opener at the Camp Nou.
The hosts saw two opportunities to lead the match before the 10-minute stamp, with Bale terminating a low strike only wide of the goal post, and Isco being full on the doorstep by Robin Olsen after Luka Modric sprang him in the Roma penalty territory.
?? Three golazos and three points – the perfect start to our defence of the Champions League title! #RMUCL pic.twitter.com/eGeMnmh7Mr

— Real Madrid C.F. ???? (@realmadriden) September 19, 2018
3-time defending victors Real were widespread all through the 1st half, scored a merited opener just before half-time when Isco nestled a free kick in the wake of a foul from Daniele De Rossi outside the Roma region.
Roma saw their most obvious opportunity with regards to the opening hour spared soon after the break when Keylor Navas went high and to one side to palm away Cengiz Under's swerving shot on 49 minutes.
? Mariano Diaz has scored 6 goals for Real Madrid from just nine shots on target in all competitions and he has scored with his first attempt in the Champions League. Phenomenon. [@OptaJose] pic.twitter.com/ashxYZVzID

— Madrid Centre (@madridcentre) September 19, 2018
Not long after Madrid had their 2nd goal, when Gareth Bale completed off a rankling counter-assault after Modric played him in behind the Roma resistance with a sharp through ball to the Wales national.
Marco Asensio went ahead for Bale soon after the hour stamp and nearly had Real's 3r goal in the 79th moment, just to see Olsen spare his short proximity shot after his perfect turn left him with simply the Roma defender to beat.
Marcelo assisting the Real Madrid's #7 who scores an absolute golazo on a CL night, imagine my shock

— Ryan. (@Rygista) September 19, 2018
Furthermore, Mariano, who just came back to the club in the mid year, in the wake of going through last season with Lyon, discharged in Real's 3rd goal and his 1st vocation Champions League goal with a relentless right-footed shot from outside the territory.
Julen Lopetegui's group will confront CSKA Moscow away in their next gathering stage coordinate on Oct. 2, while Roma have Viktoria Plzen around the same time.
**************************
Match 12 of 16: Valencia vs Juventus
Result: 0 – 2
Goal Scorers:
Juventus: Miralem Pjanic 45′ (P), 51′ (P)
Match Statistics:
| | | |
| --- | --- | --- |
| Valencia | Team Stats | Juventus |
| 26 | Shots | 10 |
| 6 | Shots On Target | 6 |
| 55% | Possession | 45% |
| 492 | Passes | 425 |
| 88% | Pass Accuracy | 86% |
| 14 | Fouls | 10 |
| 3 | Yellow Cards | 3 |
| 0 | Red Cards | 1 |
| 2 | Offsides | 2 |
| 10 | Corners | 2 |
Highlights: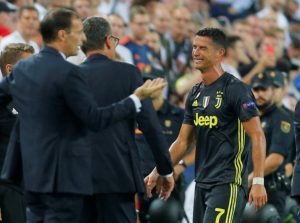 Juventus did not stutter from a 1st-half Cristiano Ronaldo red card, to beat Valencia 2-0 in their Champions League opener at the Mestalla.
Ronaldo was associated with a harmless looking conflict in the zone in the 29th moment and wound up being unlucky, when German referee Felix Brych gave him a red card. Be that as it may, Miralem Pjanic changed over from the spot on either side of the break to give 10-man Juventus a triumphant beginning to their European battle.
No way that was a red card for Ronaldo there has been so many tackles that has been worse in this game #UCL #JUVENTUS pic.twitter.com/sqhWXxbcG5

— Alan Fisher? (@AlanFisher_) September 19, 2018
Juventus were unfortunate not to score with two overlaid edged shots in the opening 17 minutes, with Mario Mandzukic going right over the crossbar from short proximity and Sami Khedira some way or another skying over from point-clear separation in the wake of being discovered alone in the 18-yard box by a Federico Bernardeschi cross.
Juventus were again thrillingly denied in the 21st moment when first Valencia goalkeeper Neto did well to obstruct a Bernardeschi shot from close and a trailing defender ventured in for Blaise Matuidi's cut exertion from the subsequent bounce back.
Great performance from Juve. 4 clear chances before Ronaldo's ridiculous red. Played with 10 men for an hour and didn't give up a single clear chance til a non existent pen. Chiellini (MOM), Bernardeschi and Cancelo's attacking all outstanding tonight #Juventus #Valencia #JUVVAL

— Carlo Garganese (@carlogarganese) September 19, 2018
Khedira went to ground and was in the long run taken off two minutes after; the previous Real Madrid midfielder analyzing the back of his knee before being substituted by previous Liverpool man Emre Can.
Moreover, Juventus went down a man just before the half-hour stamp when Ronaldo was sent off for powerfully pushing the leader of a fallen Valencia defender.
Did #CR7 get the memo that the reason he's at #Juventus is to deliver the #UCL ???
Getting red carded in a game ain't part of that deal. He's out for two games and that's not profitable to the team#BetwayDaily#UCL2018

— Mozez Praiz (@Mpraiz) September 19, 2018
In any case, Massimiliano Allegri's men recuperated, and it was Pjanic who placed them in front just before the half after Daniel Parejo was given a yellow card for an awful foul in the box.
Furthermore, it was Pjanic who again opened home from the spot 6 minutes after the restart when Jeison Murillo wrestled down Leonardo Bonucci amid a corner kick.
Valencia were given their very own penalty in 2nd-half stoppage time, when substitute Daniele Rugani's high arm got a jumping assailant in the container, yet Wojciech Szczesny spared Parejo's spot-kick to keep up the perfect sheet on the night.
It's pains me a lot seeing #Ronaldo in tears..The disgruntlement on his face tells you what this game means to him. Come on!you can't send him off in such a game of his life…Baffling?? #Juventus #CR7 #UEFAChampionsLeague

— ally_aden (@aly_adan) September 19, 2018
The triumph gives the Bianconeri an opening 3 points in Group H, however the shielding Serie A victors could be without Ronaldo for no less than one match going ahead, including the previous Manchester United man's arrival trek to Old Trafford on Oct. 23.
For the next 4 matches, move on to the next page!