Champions Trophy Match Peek Review: Sri Lanka vs India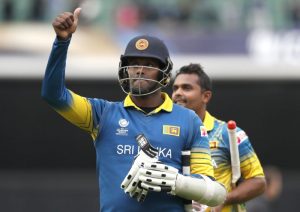 Match Basics
Match: Sri Lanka vs India
Group: B
Date: 8th June
Ground: Oval, London
Umpires: RA Kettleborough, England and RJ Tucker, Australia
Toss won by: Sri Lanka and decided to field
Scorecard Summary
1st Team Play: India 321 in 50 overs
–         Performers: Batsmen – S Dhawan 125, RG Sharma 78, MS Dhoni 63. Bowlers – SL Malinga 2-70
Target: 322
2nd Team Play: 322/3 in 48.4 overs
–         Performers: Batsman – BKG Mendis 89, MD Gunathilaka 76. Bowler – B Kumar 1-54, UT Yadav 59, JJ Bumrah 52
Result: Sri Lanka won by 7 wickets 
Man of Match: BKG Mendis, Sri Lanka
Highlights
Sri Lanka set the record of successfully chasing the highest run target in the Champions Trophy.
Sri Lanka set a record of successfully completing the ninth 300-plus chase away from home.
D. Gunathilaka included in the match team the evening before made his mark both as a bowler and a batsman (scored 76 runs in 72 balls).
Sri Lanka keep their hopes alive to enter the tournament semi-finals.
Indian captain Kohli says  "if a team executes there shots well, you have to sometimes take you hat off and say very well played"
Teams
Sri Lanka
N. Dickwella
M.D. Gunathilaka
B.K.G. Mendis
A.D. Mathews, Captain
L.D. Chandimal
M.D.K.J. Perera
D.A.S. Gunaratne
NLTC Perera
R.A.S. Lakmal
S.L. Malinga
N. Pradeep
India
R.G. Sharma
S. Dhawan
V. Kohli, Captain
Yuvraj Singh
H.H. Pandya
M.S. Dhoni
K.M. Jadhav
R.A. Jadeja
B. Kumar
U.T. Yadav
J.J. Bumrah
For updates regularly visit: Allsportspk