Cincinnati Masters '18: Djokovic Into The Finals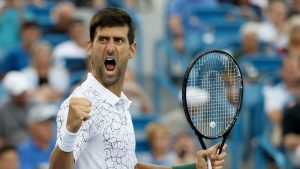 The Serbian national, Novak Djokovic beat Marin Cilic by 6-4, 3-6, 6-3 and proceeded into the finals of the ongoing Cincinnati Masters.
Money down the line! ??@DjokerNole comes through in the clutch at #CincyTennis pic.twitter.com/nG4oLc0XaI

— Tennis TV (@TennisTV) 18 August 2018
Djokovic, a five-time finalist in Cincinnati, is intending to lift the trophy at the sole Masters 1,000 arrangement occasion he has never won.
Watched half of 2nd set and all of 3rd set of Djokovic match – he was so stroppy again and does him no favours!

— Tracey Davies (@miss_traceydav) 18 August 2018
The Serbian is attempting to end up the first to win each of the nine major events since the arrangement began in 1990.
Music between games is a problem for @DjokerNole … seems that #Nole forgot that he is where he is and earns what he earns THANKS TO THE TENNIS FANS WORLDWIDE. Noblesse oblige Mr. #Djokovic. If you want complete silence built yourself a tennis court and play sparings. #pathetic

— Radek Rogowski (@RadekATP) 18 August 2018
One major obstacle: a potential rematch with Roger Federer, who confronted David Goffin in the other elimination round. Federer has won an exceptional seven Cincinnati titles, beating Djokovic three times in title matches.
Four 3-setters in a row ?

The moment @DjokerNole moved to within one step of his first #CincyTennis ? pic.twitter.com/Tt0fbMNniX

— Tennis TV (@TennisTV) 18 August 2018
It's not going to end well for federer against djokovic, although djokovic serving has been as bas as its ever been, if he wasn't the greatest return of serve he would have been out in R3

— Roli Tshindane (@RoliTshindane) 18 August 2018
I like Cilic but #Djokovic is my guy from day one till life. C'mon @DjokerNole You got the winning mind right now. Keep doing your thing! C'mon break, break, calling for it… #CinnyOpen

— Sandy Burke (@_Burky) 18 August 2018
For more updates keep visiting allsportspk