Cincinnati Masters '18: Djokovic Stuns Federer; Wins The Title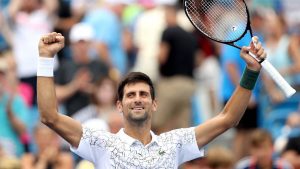 Having been beaten in five previous finals, Djokovic beat seven-time winner Federer 6-4, 6-4. It makes Djokovic the first to win all nine Masters series and he will now go into the US Open later in the month as one of the clear favourites to lift the trophy.
Novak #Djokovic defeats Roger #Federer and wins the #CincinnatiMasters for the first time, first ever player to win all 9 masters! Once again he raised his level against the greatest ever, pretty impressive. Way to go Nole!!! #ATP #tennis

— Jason Sputnik (@Sputniktechno) 19 August 2018
Federer looked nervous throughout, facing break points from the very first game and Djokovic took full effect of the Swiss legend's uncharacteristic errors to clinch the first set.
Both players were broken in the second set but once Djokovic broke in the seventh game of the set, he held on with no issues to win the title.
Social Media Reactions:
If winning Wimbledon and capturing his elusive Masters 1000 title in Cincinnati doesn't prove to some people that Novak Djokovic is back, then I don't think anything will.

— Mike McIntyre (@protennisfan) 19 August 2018
Novak Is Master Of The Masters!@DjokerNole 6-4 6-4 @rogerfederer
Career Golden Masters #CincinnatiMasters, #CanadianOpen, #IndianWells, #ItalianOpen #MadridOpen, #MiamiOpen, #MonteCarloMasters, #ParisMasters, #ShanghaiMasters in the bag! pic.twitter.com/h235iiVp1E

— ken Ochonogor (@kenochonogor) 19 August 2018
@DjokerNole Fantastic win!!!! You were so strong and controlled even in the tough moments!!! SO HAPPY for you! Enjoy it, you deserve it CHAMPION!!!
Now it's time to celebrate!???

— Liz Froehlich (@lizpfroehlich) 19 August 2018
Yes and my uncle is now considered to be my aunt, but that is not what this is about. Fact remains at the time it was still held in Hamburg, he did not win it.

— Brezorian (@quintenvh17) 19 August 2018
For more updates keep visiting allsportspk