Cincinnati Masters '18: Sabalenka Continues Her Winning Ryhthm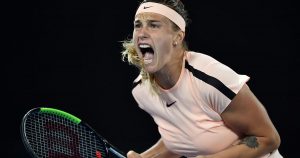 The unseeded Aryna Sabalenka, spared a match point and fueled to the fourth Top 10 triumph in her tennis career, by beating the No.6 seed Caroline Garcia by 6-4, 3-6, 7-5.
Aryna Siarhiejeŭna Sabalenka is a Belarus national and a professional tennis player. In her illustrious career so far, Aryna has won 5 ITF singles titles and 1 ITF doubles title.
Another three-set win for Aryna Sabalenka, and another Top 10 win at that.

Sabalenka comes back from 3-5 down in the third to beat No.5 Caroline Garcia 64 36 75 in 2h34m to advance to #CincyTennis QF to play Madison Keys.

— WTA Insider (@WTA_insider) August 16, 2018
In the post match conference, Aryna Sabalenka said:
I just say to myself, like, 'Come on. I will put every ball in. I don't know how [I saved match point] because she did a really great serve and I just played the [return], I don't know, like a baby. She was just going for the next shot, and I was going back, like, 'No, no, no.' Then I don't know. I saved it. So I was lucky a little bit.
It was not only an expert adversary that Sabalenka needed to manage, as the climate was also a major disappointment that she had to face. The beginning of the match was postponed for five hours on account of heavy rain, and even when the rain stopped, the players could only play two games as the downpour restarted.
That's now three top 10 wins from MP down in 8 days for Aryna Sabalenka

#2 Wozniacki in Montreal R2
#8 Pliskova in Cincinnati R2
#5 Garcia in Cincinnati R3

Great stat.

— José Morgado (@josemorgado) August 16, 2018
But, thankfully the play resumed in time and it was Sabalenka who won the first set, lost the second and then made a comeback to win the 3rd set and proceeded into the next round.
Sabalenka has now won four matches in a row and each of the four wins have come in the previous three months.
Aryna Sabalenka's excellent run in North America continues! She once again rallies to defeat a top-10 seed, this time saving a match point against Caroline Garcia in her 6-4, 3-6, 7-5 win. #CincyTennis

— Nikhila (@kokudum) August 16, 2018
The Belarusian No.1 started her monster killing adventures with Karolina Pliskova in Eastbourne tournament, and a week ago in Montreal, she defeated Caroline Wozniacki.
This was followed by a win over Pliskova and now by defeating Caroline Garcia in the Cincinnati masters, the 20-year-old, has become the youngest player in the Top 50 Women's singles tennis rankings.
@Madison_Keys is the last American woman standing in the @CincyTennis singles draw. She'll face #ArynaSabalenka in the QF.

— Michael Dickens (@michaelcdickens) August 17, 2018
Aryna Sabalenka with more of a look of disbelief, securing another terrific comeback win of late. Despite it all, Caro Garcia does give her a good handshake. Going to be fun drama with her and Keys tomorrow. pic.twitter.com/C2dE7BXMAQ

— Andrew Jerell Jones (@sluggahjells) August 16, 2018
No matter how big growing talent is, Aryna Sabalenka will certainly have a great chance at holding the #1 spot for player who annoys the rest of her colleagues the most on tour over the years.

— Andrew Jerell Jones (@sluggahjells) August 16, 2018
For more updates about Cincinnati Masters, keep visiting allsportspk