Cubing: WCA Announces "Cubing Pakistan Open 2018"

Cube puzzles or Cubing was a brainchild and invented in 1974 by Mr. Rubik a professor of architect from Hungary. Later known as Rubik's Cube this puzzle toy was designed and built, in order to make students understand 3D geometry.
As people got more and more expert in solving the cube, speedcubing became a sport. People started competing in solving the cube in the shortest time. As this sport become popular, in 1981, the first World Championship was organized in Budapest. The objective was to solve the cube in minimum possible time.
The first champion was Min Thai from USA, who solved the puzzle in 22.95 seconds. Since then, numerous championships have been held in different parts of the world and the shortest time anyone ever took to solve the puzzle was Lucas Etter in 4.9 seconds.
In 2018 cubing enters Pakistan under the umbrella – Cubing Pakistan Open 2018. Sanctioned by the World Cube Association, the event is scheduled on Saturday, 11th August, 2018, in the capital city Islamabad. It will be first speedcubing event to be held in Pakistan.
Cubing Pakistan founded by Mr. Abdullah Gulab, is the officially registered organization which will hold this competition. Abdullah who is a speedcuber himself explained that the goal of the organization is to promote the sport of speedcubing and give opportunity to the young sharp minds to connect and take part in international  speedcubing competitions.
World Cubing Rankings – 25th July 2018
Further, having participated in international competitions he realised that the speedcubers need to travel to different countries to explore their talent. So, to solve the problem, he started Cubing Pakistan and is organizing the Cubing Pakistan Open 2018 event, which is accredited by the World Cube Association.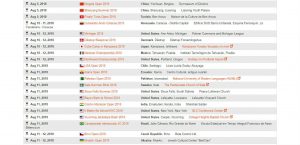 According to Cubing Pakistan the salient features of the event are:
The program is open for all nationals.
There's a non-refundable registration fee of Rs. 1000.
Each additional event will cost an extra Rs. 200.
For facilitate those who fail to register on time, walk-in registrations will be accepted on the date of the competition.
The competitions are free for spectators to watch so it's a wonderful chance to come with friends and family to witness the first-ever exciting speedcubing competition.
Details of the event can be found on the link:
http://cubingpakistan.com/
https://www.worldcubeassociation.org/competitions/PakistanOpen2018
For more details, keep visiting allsportspk