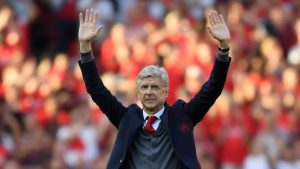 Arsene Wenger's contribution to Arsenal cannot be underplayed as he is all set to resign after giving 22 years of service to this club.
Wenger, 68, is a French football manager and holds the honour of being Arsenal's most successful and long-serving manager for 22 years. Not only that he is also one of the most successful managers of Arsenal of all-time in terms of major titles.
Arsenal was not a job, it was home for him
Being the manager of Arsenal was not just a job, it was a home that he built in his long career of 22 years. Wenger himself, described it as big love story but admitted that eventually everything has to come to an end.
Much has been written about Arsene Wenger's success or failures in 22 years, however no one can deny the influence he has had on Arsenal in all these years.
Under Arsene Wenger Improvement Knocked on Arsenal's Door
Victory came with open arms to Arsenal as Arsene Wenger made his debut as the club's manager in 1996. It was under him that Arsenal won a 2nd league and cup double in 1997-87.
Support of Arsenal Fans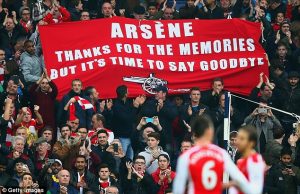 Arsenal fans didn't shy away from chanting Arsene Wenger's name in the whole match. Many fans showed their love for the manager that is illustrated by the pictures shown below.
First Team To Retain The FA Cup In Over 20 Years
Under Arsene Wenger's supervision, Arsenal became the first club to retain the FA Cup in over 20 years.
Arsenal – "The Invincibles"
In the year 2003-04 Arsenal were given the title of "The Invincibles" as they won the premier league without losing a single match. They won 26 matches with 12 draws and 0 losses to steer 11 points clear of 2nd placed Chelsea and win the premier league title.
Three FA Cups In 4 Years
A Golden period for Arsenal came in the 2013-2017 seasons as they won 3 FA cups in 4 seasons and it made them the most successful club in the history of this competition.
Last Home Game for Arsenal Under the Supervision of Arsene Wenger
Arsenal beat Burnley F.C by 5-0 as the team and fans gave a proper send-off to Arsene Wenger in his last home game for Arsenal in the Emirates stadium; A home he built from the ground.
Guard of Honour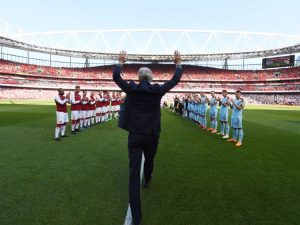 The Emirates stadium chanted his name as Arsene Wenger was given a guard of honor by players of both teams.
An emotional speech was made by the manager in front of his home crowd as he finished the speech by one simple sentence: "I will miss you".
For updates regularly visit: Allsportspk