The Bundesliga after Week 25, has to great extent separated the top five from the rest of the thirteen teams. And the following nine weeks are going to be very crucial in order to decide who will come out on the top and overdo the other four. Although Bayern has an upper hand, the rest four teams are close contestants.
The Allsportspk main highlights of Week 25 are:
Bayern Munich beat FC Augsburg 2-0 in what was a complete dominating performance by Bayern Munich. Thomas Muller opened the score line for Bayern in the 53rd minute and the cherry on top goal by Leon Goretzka in the 93rd minute led Bayern to a rather comfortable win against Augsburg. Bayern Munich is yet to lose a game in 2020 and they are just proving to be unstoppable in the Bundesliga.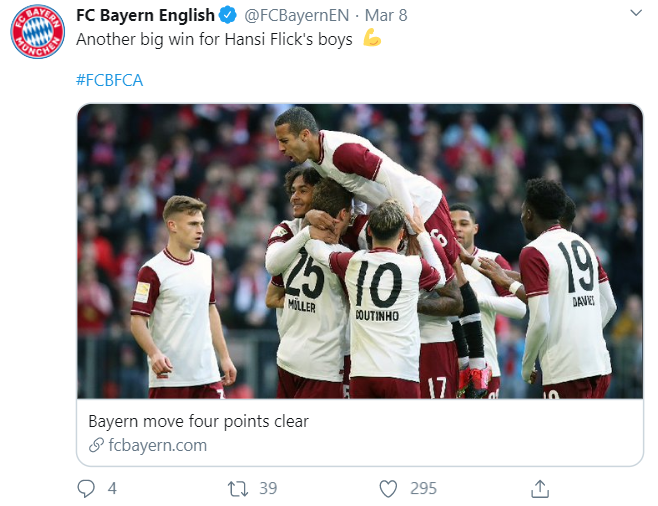 Dortmund yet again continued its comeback run and pipped Monchengladbach this time by 2-1. Dortmund dominated the game by possessing the ball for most of the time while they too had drawn early blood at the 8th minute, courtesy Thorgan Hazard's goal. The lead continued till the fiftieth minute but was undone by Monchengladbach's Lars Stindl who leveled the score line for his time. While Dortmund continued to have its shots on goal, Achraf Hakimi managed to net the ball past Augsburg's net and gave Dortmund a match-winning lead.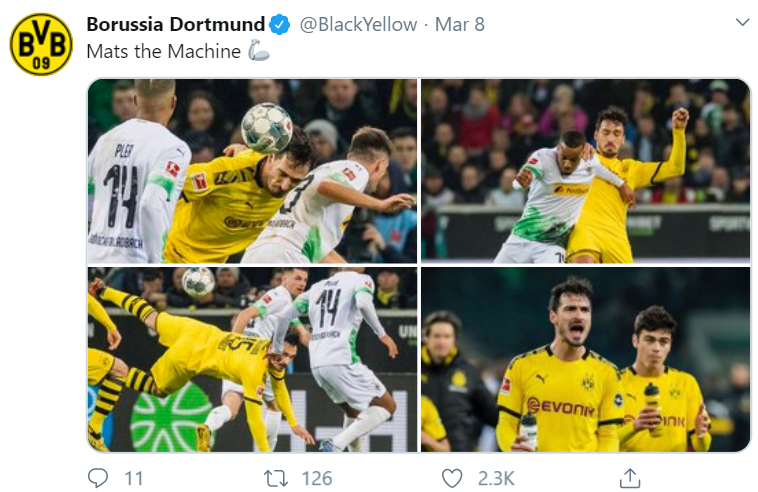 RB Leipzig drew its important game against Wolfsburg 0-0. Although RB Leipzig possessed the ball for most of the time, they could not score a single goal nor conceded any. The match therefore ended as a draw with both sides sharing a point each.
Bayer Leverkusen thrashed Eintracht 4-0 by putting up a phenomenal performance from the very start. They opened the score line in the fourth minute and netted the ball past Eintracht's goalie a quadruple time to win a great game. Kai Heratz and Karim Bellarabi scored a goal apiece, while Paulinho scored twice to be the top of goal-scorers.
Mainz vs Fortuna and Hoffenheim vs FC Schalke both ended as 1-1 with all the sides gaining a point each in this week.
Hertha vs Werder too ended as a tie but with a score line of 2-2.
FC Koln finally found a breakthrough this week as they beat FC Koln 2-1.
WEEK 25- Points Table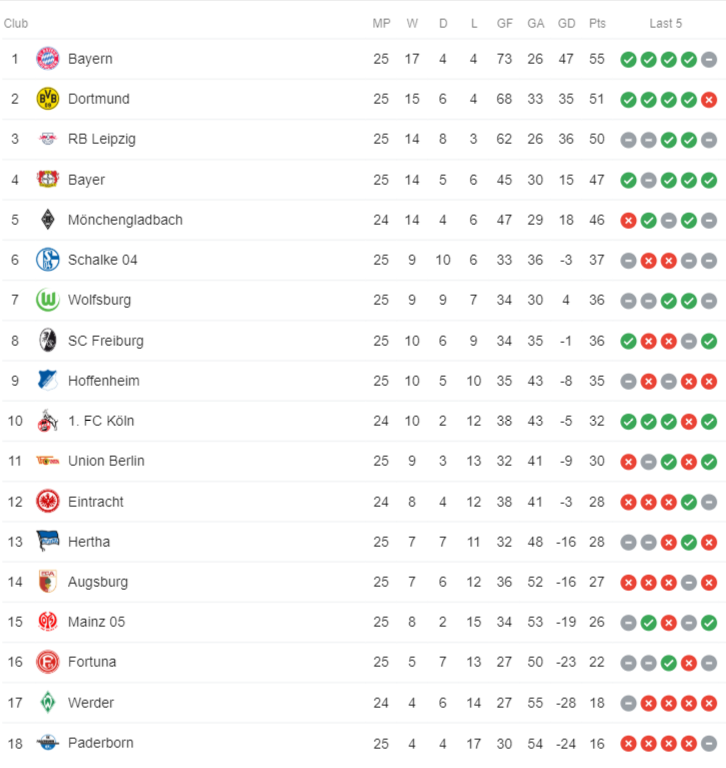 Points Table Overview
Bayern retain their top spot after winning an important contest against FC Augsburg. Their dominating run in this league continues and they have not lost a game in 2020 so far. They are clear by four points from the first spot hence they can now afford to lose a game. Their goal difference is also phenomenally well with a record of +12.
Borussia Dortmund have overtaken RB Leipzig after Leipzig yet again drew with Wolfsburg while Dortmund managed to beat Monchengladbach. They are, however, just one point clear of the third spot.
RB Leipzig have dropped to the third place despite just drawing their last game, thus showing how close it is amongst the top spots. They are still three points clear of the fourth spot and they need to get back to winning ways in order to make it further up the points table.
Bayer Leverkusen has too taken over Monchengladbach after they won against Eintracht and Monchengladbach lost. They too, however, are just one point clear as well and it is definitely very tight amongst the top five.
FC Wolfsburg has taken a long stride to the seventh place, overtaking both Hoffenheim and SC Freiburg. Although Wolfsburg still has a long way to go in this tournament, their comeback run must have rung bells for the other teams and is surely a wakeup call for all of them as well.
FC Schalke stays at the sixth spot despite tying against Mainz.
FC Koln has too started finding a way back into this tournament as they are now tenth from eleventh, thus climbing a spot.
Fortuna, Werder and Paderborn are on the verge of relegation.
Keep following Allsportspk for football and other sports updates