The Week 28 of the English Premier League (EPL) featured several upsets where the highlight of this week remained to be the breaking of Liverpool's winning streak at the hands of Watford. Moreover, Leicester City and Tottenham also suffered upset defeats as well. Allsportspk presents the main highlights of Week 28:
Liverpool FC vs Watford was one game that has been all over social media for obvious reasons. Liverpool was thrashed by Watford, which meant that their winning streak did not just get broken but to the dismay of Liverpool's manager, Jurgen Klopp, the team can no more eye the Golden EPL trophy which has been only been given to Arsenal on their invincible run back in 2003-04 season. Liverpool lost 0-3 but they still dominate the Premier League by a huge margin.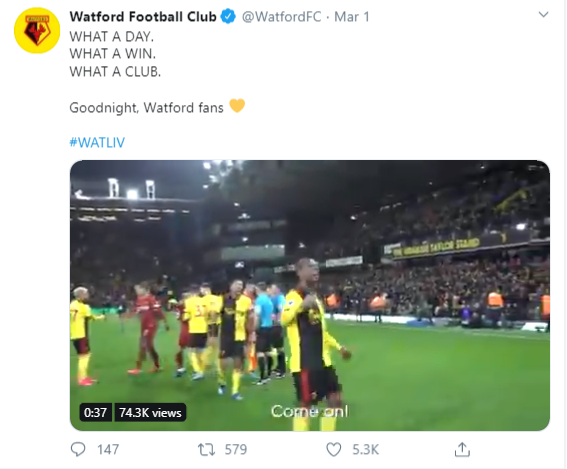 Leicester even lost its important contest against Norwich City 0-1. In what was an evenly poised game with Leicester possessing the ball for 58% of the time, Norwich City managed to get the ball past Leicester's goalkeeper, Kasper Schmeichel. Norwich won this game, courtesy a brilliance by Jamal Lewis in the 70th minute.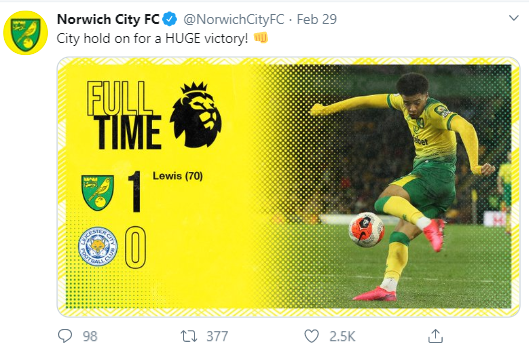 Wolves even upset Tottenham 3-2. Tottenham had got an important early lead over the Wolves where Serge Aurier scored a goal in the 45th minute to lead the Spurs 2-1. However, Wolves came back strong with goals from Diogo Jota and Raul Jimenez scoring back to back, leading the Wolves to a 3-2 win over the Spurs on away conditions.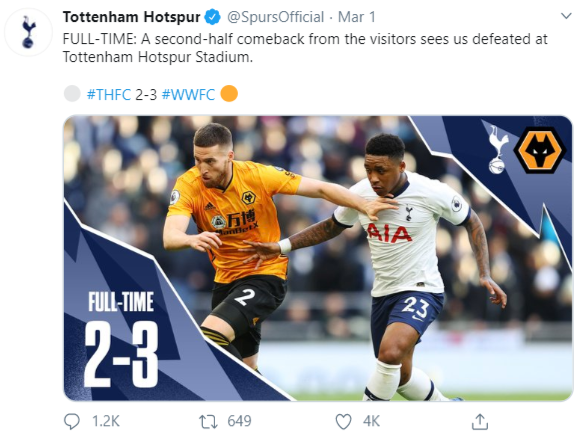 Everton drew with Manchester United 1-1, Chelsea drew with Bournemouth 2-2 and New Castle drew with Burnley FC 0-0.
The games between Manchester City and Arsenal and Aston Villa and Sheffield United have been postponed to a date that is yet to be announced.
Week 28- Points Table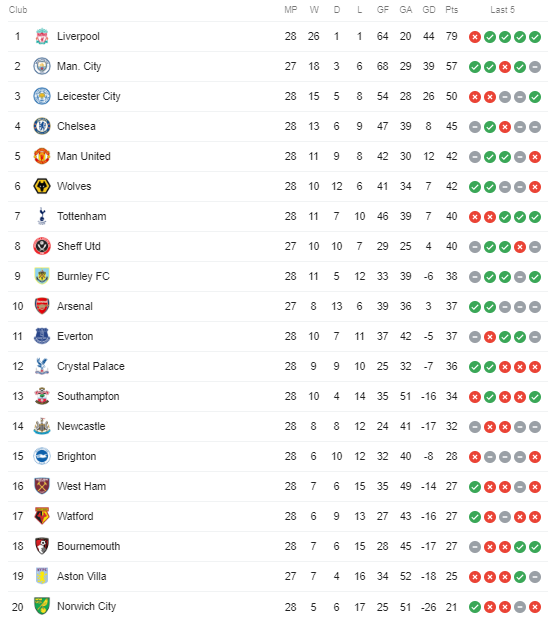 Points Table Overview
Liverpool continue their fantabulous run in the league despite a loss and look all set to win the league despite an upset loss against Watford FC. They are currently twenty two points clear at the top of the table.
Manchester City are second and are seven points clear of the third place despite having played a game less.


Leicester City retain the third place in spite of losing their last game. They need to pull off blinders in their games to follow in order to comeback into the contest.
Chelsea are fourth although they have not played their 28th game against Arsenal.


Manchester United are now well in the top five after overtaking both Sheffield United and Tottenham. Manchester needs to win all its important encounters to make a place amongst the top four and go all the way. Tottenham and Sheffield both have dropped a place due to a loss and a tie respectively. These teams are sixth and eighth and need to work harder to make a comeback in this competition.


Arsenal are still in the top-ten but they yet have to play their 28th game.


Watford won an important contest against Liverpool and are kind of safe from relegation due to a better goal difference.


West Ham, Bournemouth and Norwich City yet again lost their games and remain on the verge of being relegated.
Keep following Allsportspk for regular EPL & Sports Updates.